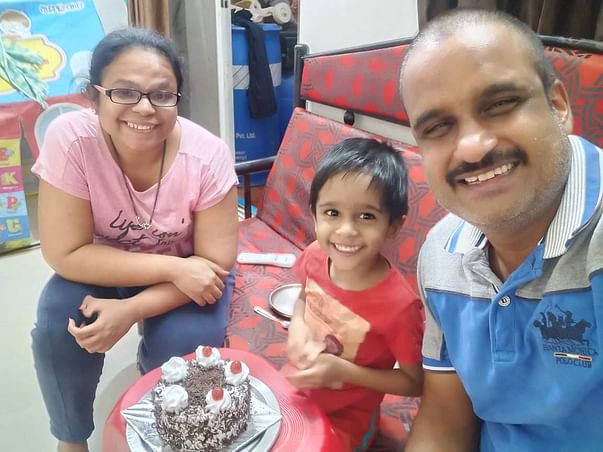 Ashwini Zaparde my wife, mother of our son Adhiraj (5 years), from Pune suffered from a massive brain hemorrhage on Wednesday, 20th January.
She was operated on Thursday morning at Sterling Multispeciality Hospital, Pune and the surgery was successful. We were expecting our second child, which now needs to be aborted for Ashwini's well-being.
She is still unconscious and hasn't yet responded, almost a week post the surgery.Ashwini is still in ICU and on ventilator under the close watch of the efficient team of doctors at Sterling hospital, Nigdi.
While uncertainty looms of her condition, the treatment needs to continue while she is still to be kept in ICU.
As a family we have almost exhausted our financial resources and will appreciate any financial aid from you.
Ashu is my life partner and I am hoping she comes out of this soon.
We need
YOUR
help
NOW
to continue medical care for Ashwini and get her home to her family.
Details so far –
Ashu fainted at home on Wednesday, 20th January at around 8.30 PM.
We admitted her to Sterling and she was operated by Dr. Vivek Bonde ( Neurosurgeon) to stop the internal bleeding caused by the blood clot burst.
The surgery was successful and Ashwini was expected to regain consciousness in 2-3 days.
Ashwini is 34 years of age and as per the doctors should have responded to the treatment and regained consciousness by now.
Today even after 6 days of the surgery she remains unconscious and the fetus growth is stunted now.
Its critical she comes back to consciousness so the next medical procedures can be conducted.
The family has spent about 8lakhs already and thus exhausted all the savings.
To continue medical treatment expenses anticipated are an additional 12-18 lakhs.
Please contribute and share this with your friends and family.
Any contribution from you will be a great help.