THE PODLIST X THE ARTIST PROJECT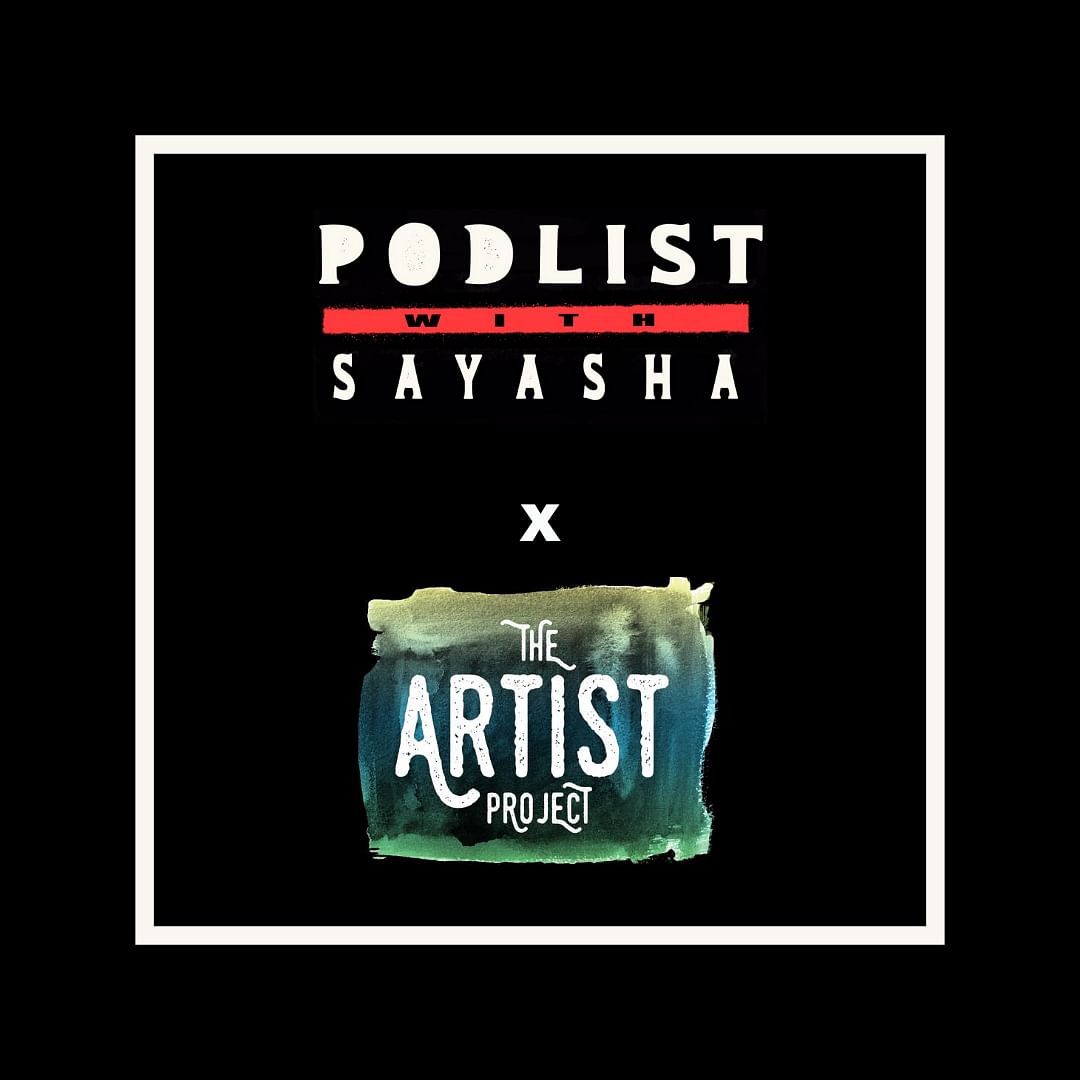 The Podlist and The Artist Project have joined hands to help raise funds for Artists' and their families in need. Owing to the prevailing pandemic, most of our local artists' livelihoods have been threatened. Artist's grass roots business model predominantly deploys small workshops or pushcarts, with their sales heavily relying on footfall, which is now absent.
Together, we aim to raise funds by generating awareness about their work and showcase their talent, hoping to somehow be there for the community during these trying times.

No matter how tiny a contribution you can make, you won't imagine just how much it can help and aide our friends from the community.
Here's introducing a couple of them, who would be helped with whatever you graciously contribute :MUTHULAKSHMI || PONDICHERRY :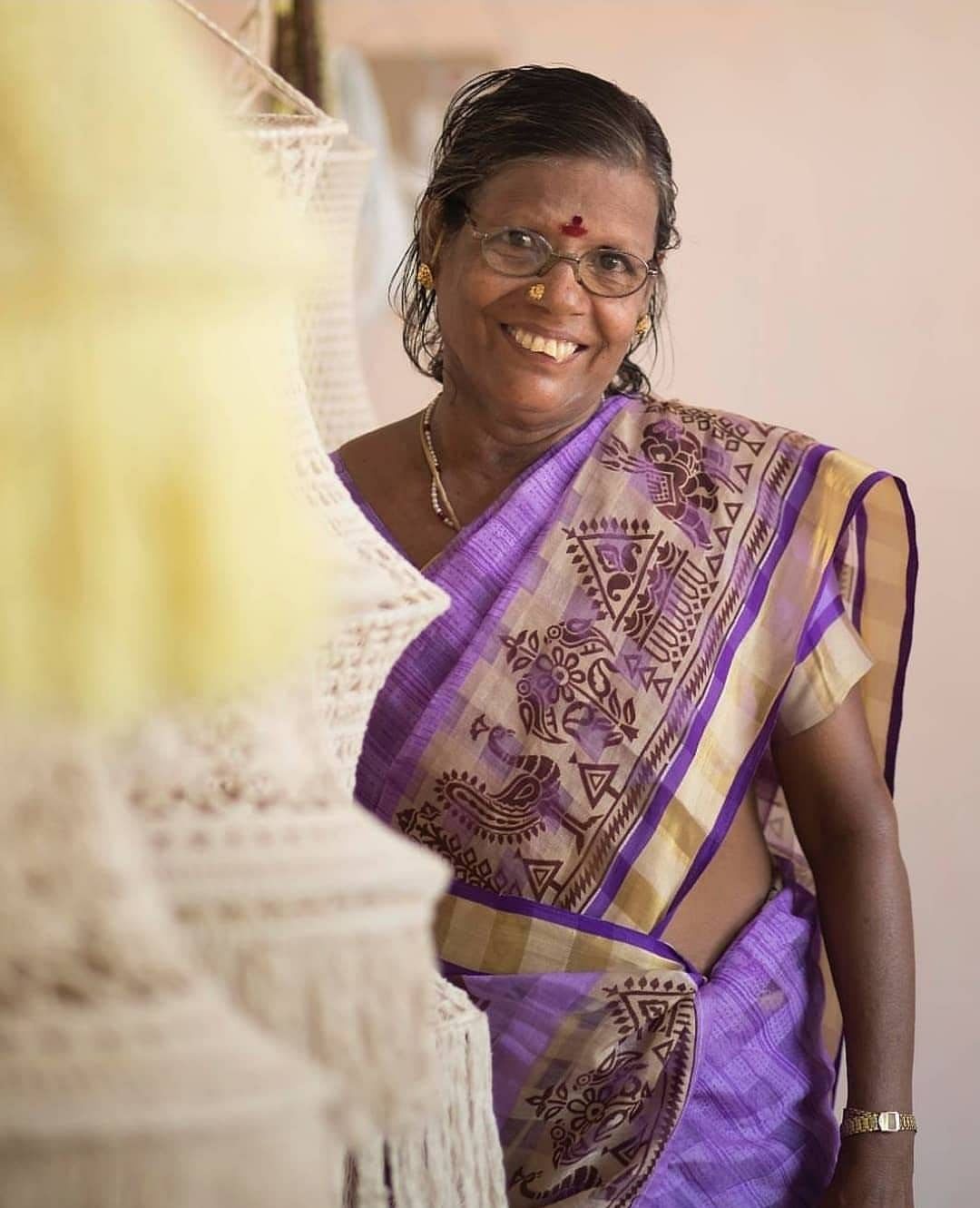 The year was 1976, an inquisitive 18-year-old Muthulakshmi was finding herself increasingly drawn towards arts and crafts. In the little seaside town of Pondichery, her love for making things helped her find a mentor in Jeanette. A French national, Jeanette made Muthulakshmi her protege and taught her the intricacies of crochet. After her tutelage ended, Muthulakshmi found herself working for a shoe company, but this was a period of self-realization where it became clear, her heart truly belonged to making crochets and lampshades. Heeding the call, at the age of 35, with her husband's support, Muthulakshmi commenced ' Gokulam crafts' and returned to doing what she loved doing the most. Her devotion to her craft firmly established Muthulakshmi as one of the most innovative creativists in the country, and soon she was recognized by the Government and was granted a small workshop out of which she works to date.
Today, Muthulakshmi runs the store along with her two daughters and son as a family business. However, because of the pandemic, Muthulakshmi has not made any sales in over 3 and a half months. Being a traditional craft business that heavily relies on footfall, the state of things gives her no assurance of being able to get back to what she loves doing and earn her livelihood. Help us offer Muthulakshmi and her family aid through these trying days. All the funds raised through the sale of these products will be donated to Muthulakshmi & her family to procure raw materials and get themselves setup again.Her story started with simple curiosity and within it, she found a purpose that defied everything else. Let's get together to keep her purpose alive!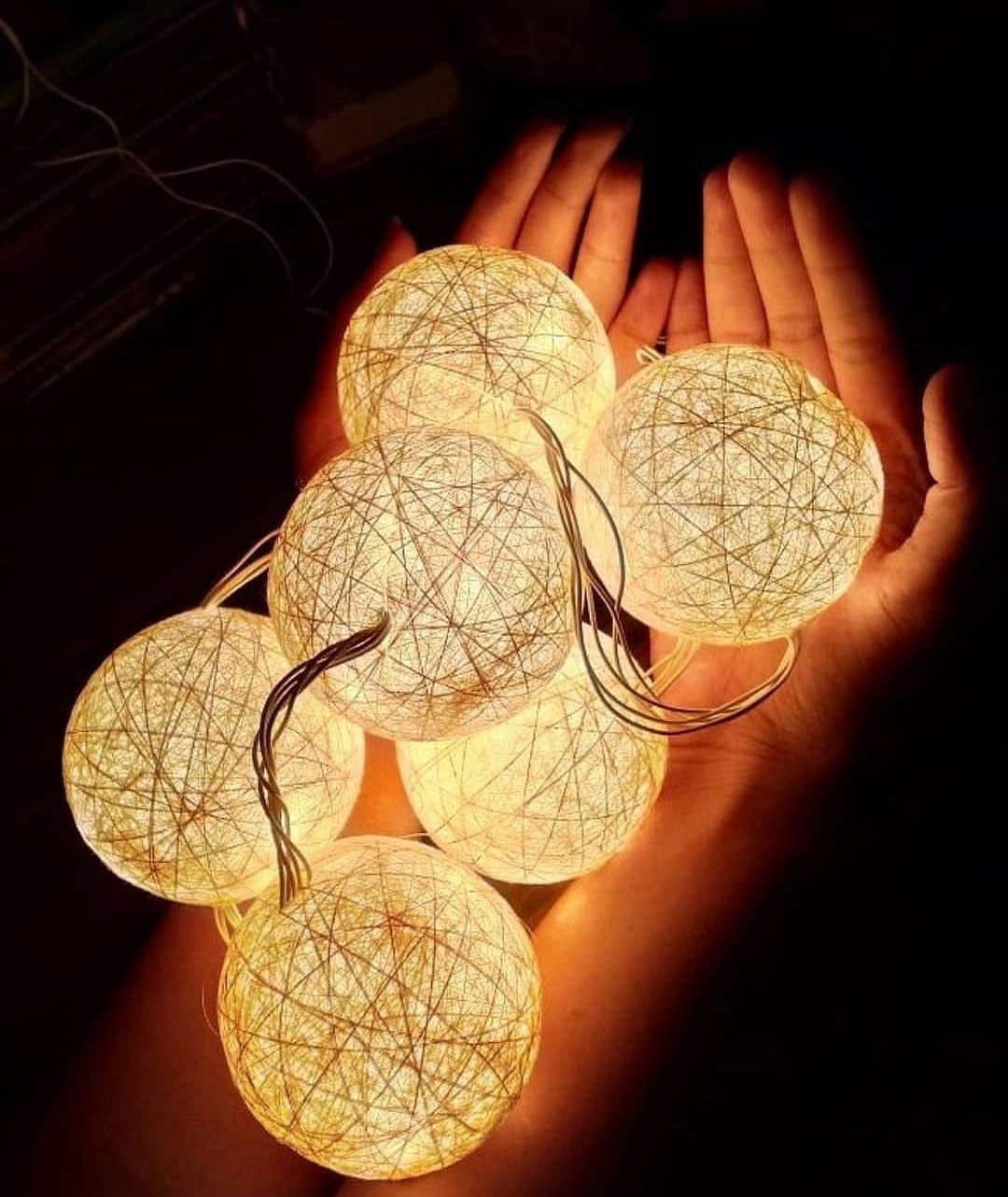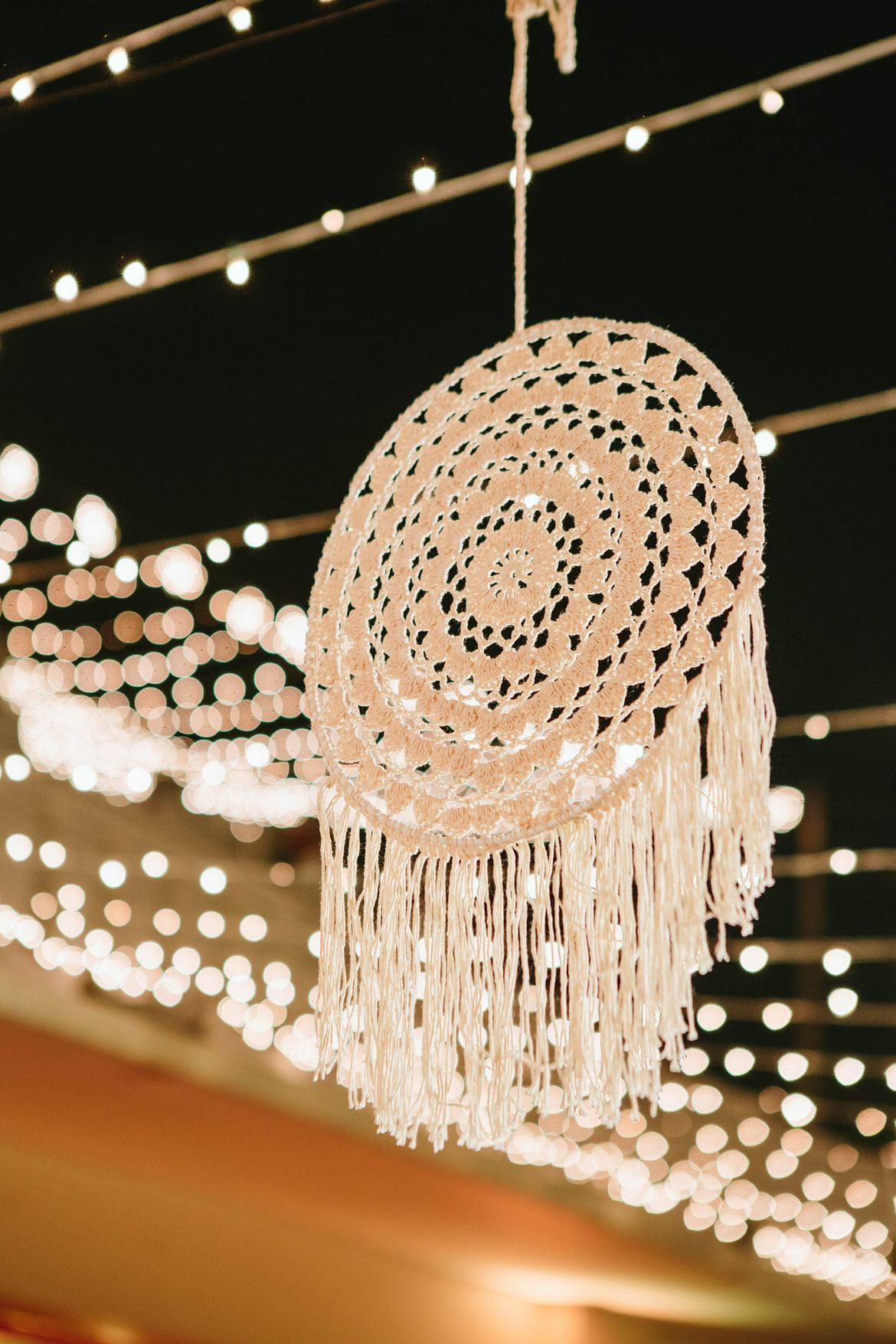 MR. RAMADASS & MR. VENKATRAMANA || ANDHRA PRADESH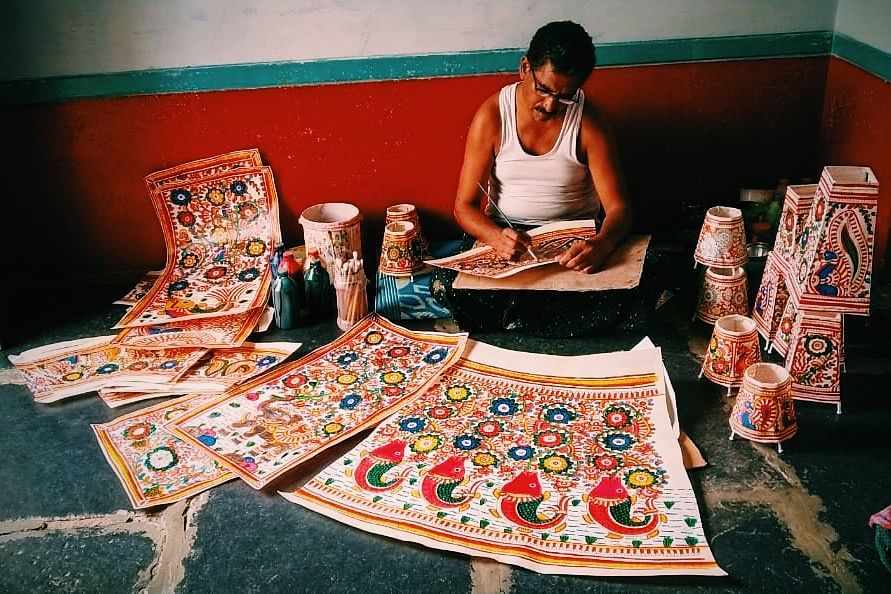 Mr. D. Venkatramana & Mr. K. Ramadass, state award-winning artists from Dharmavaram & Nimmalakunta village. For the significant roles they've played in the last two decades in the preservation of the puppet show industry and the culture that surrounds it, the government has deemed them both as important cultural assets. Both these decorated master craftsmen had similar humble beginnings, learning the craft of making leather puppets from their fathers. Subsequently, they slowly started to imbibe their works with their own little touches and details which unmistakably made their respective works their own. Both Venkatramana & Ramadass push their craftsmanship to new levels & took unique initiatives in their struggle to keep the art alive and one of the results you see are these home decor products. It has been an honor to be associated with both these incredible artists for the past two years and for them to sell their art through our platform. With the closure of their workshops & the puppet village due to the current situation, their financial situation has been greatly affected, and we are committed to helping in any way possible. The proceeds of this campaign that we have planned for will be utilized exclusively for getting both of our master craftsmen back on their feet, and in extension keep their schools of art alive.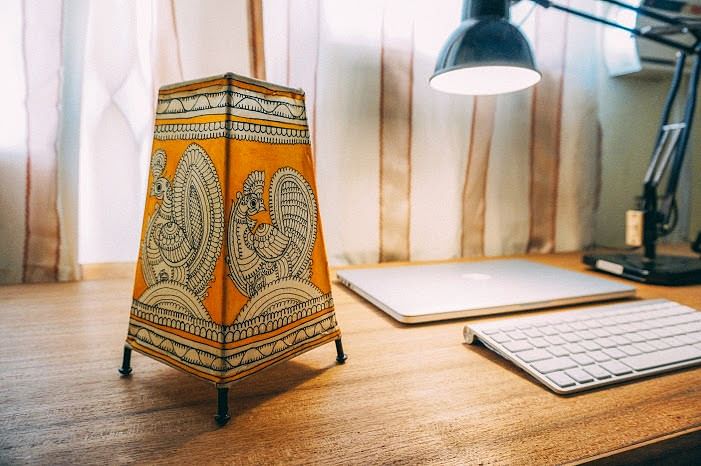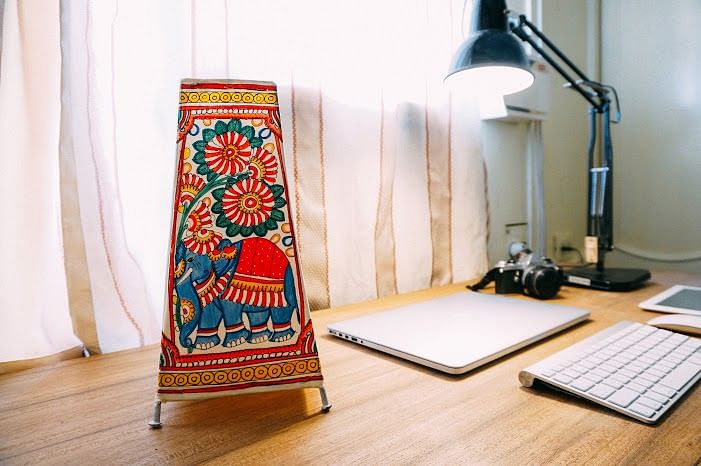 GOPAL LAL || KOTEJAVAR, JAIPUR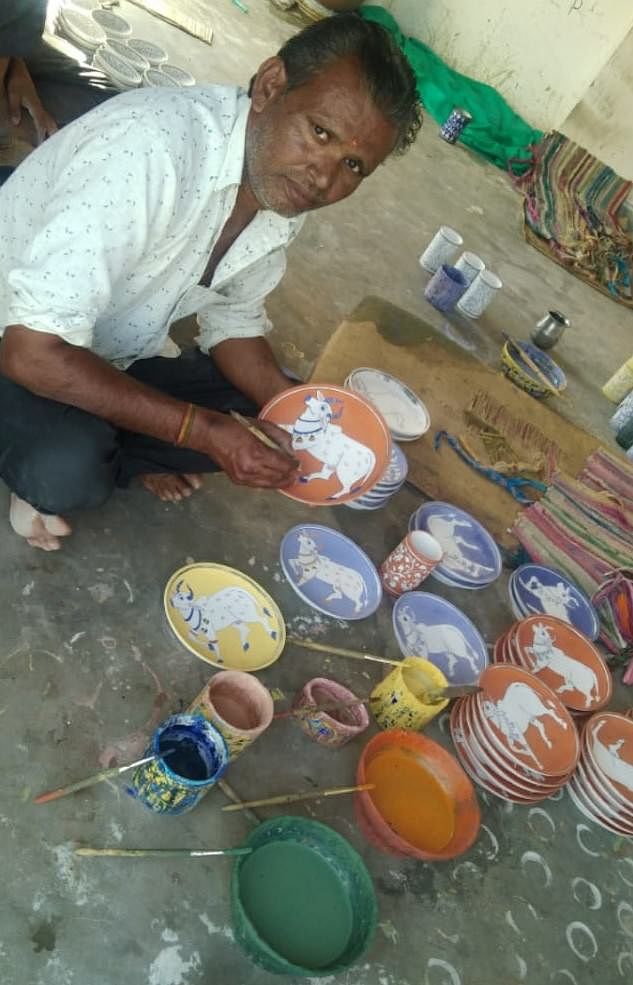 Gopal Lal, an artist based from Kotjevar, a village 50kms from Jaipur who runs a fourth-generation institution that crafts Jaipur style blue art pots and earthenwares. His small scale workshop is recognized as one of the oldest handicraft banners in the country, rich in heritage and history. Pottery products aside, the artisans use traditional techniques to interpret more contemporary ceramic wares like wall hanging plates, planters, vases, containers, soap dispensers, mugs, pots, and many other home-related items. This conscious attempt to add a contemporary dimension has helped them expand their horizon in recent years. Having coached and up skilled most of his village, Gopal's team also happens to be a predominantly female team that meticulously work on all of its products with the same vigor and craftsmen spirit. Their products are so detailed and layered, more than 50 skilled artisans contribute towards each and every piece that the institution puts out for sale. Unfortunately, since the lockdown, their business has been severely affected. By choosing to contribute, not only would you be indulging in a discipline that oozes of heritage and character, you'll also be helping all of the artists involved given the current state of things.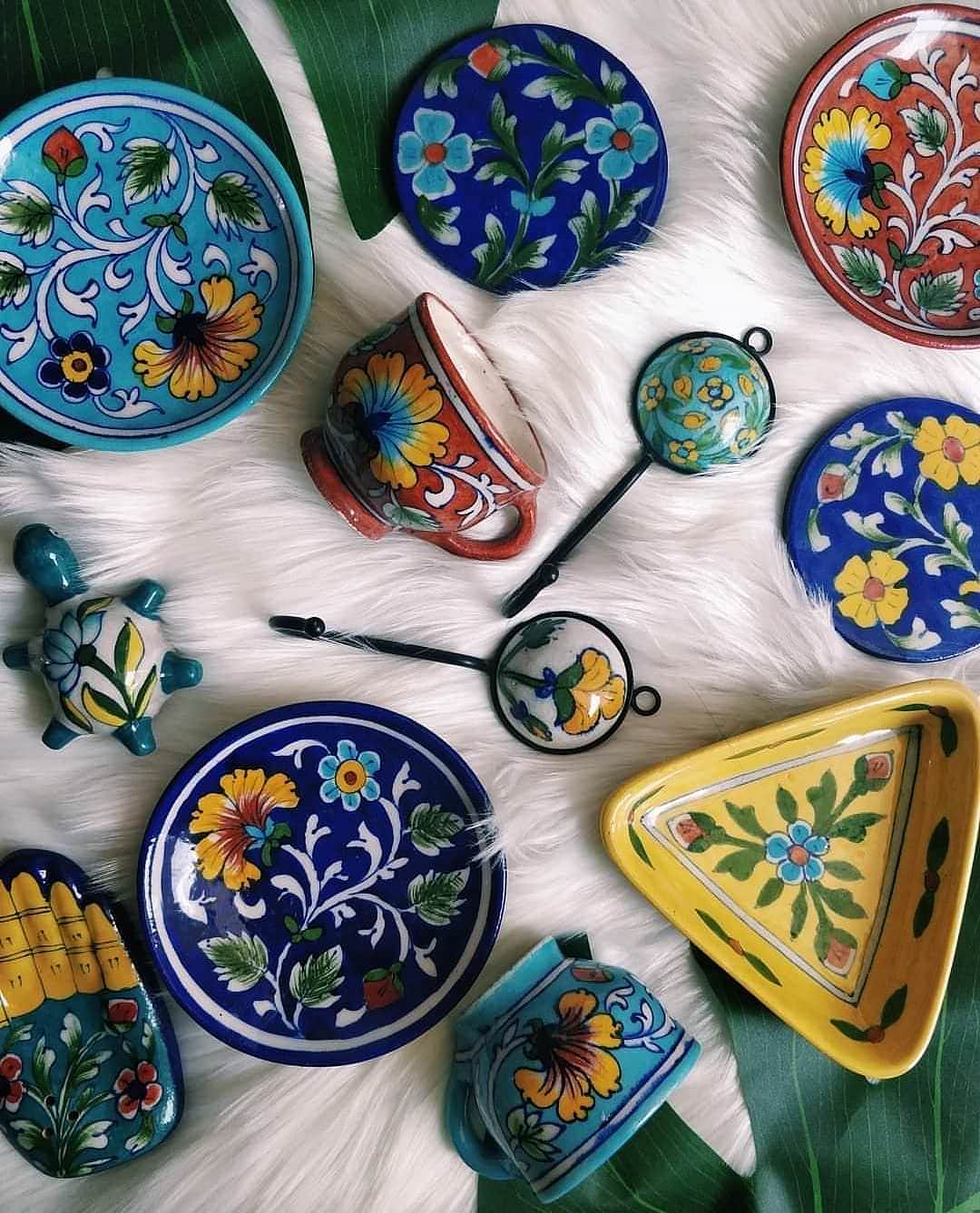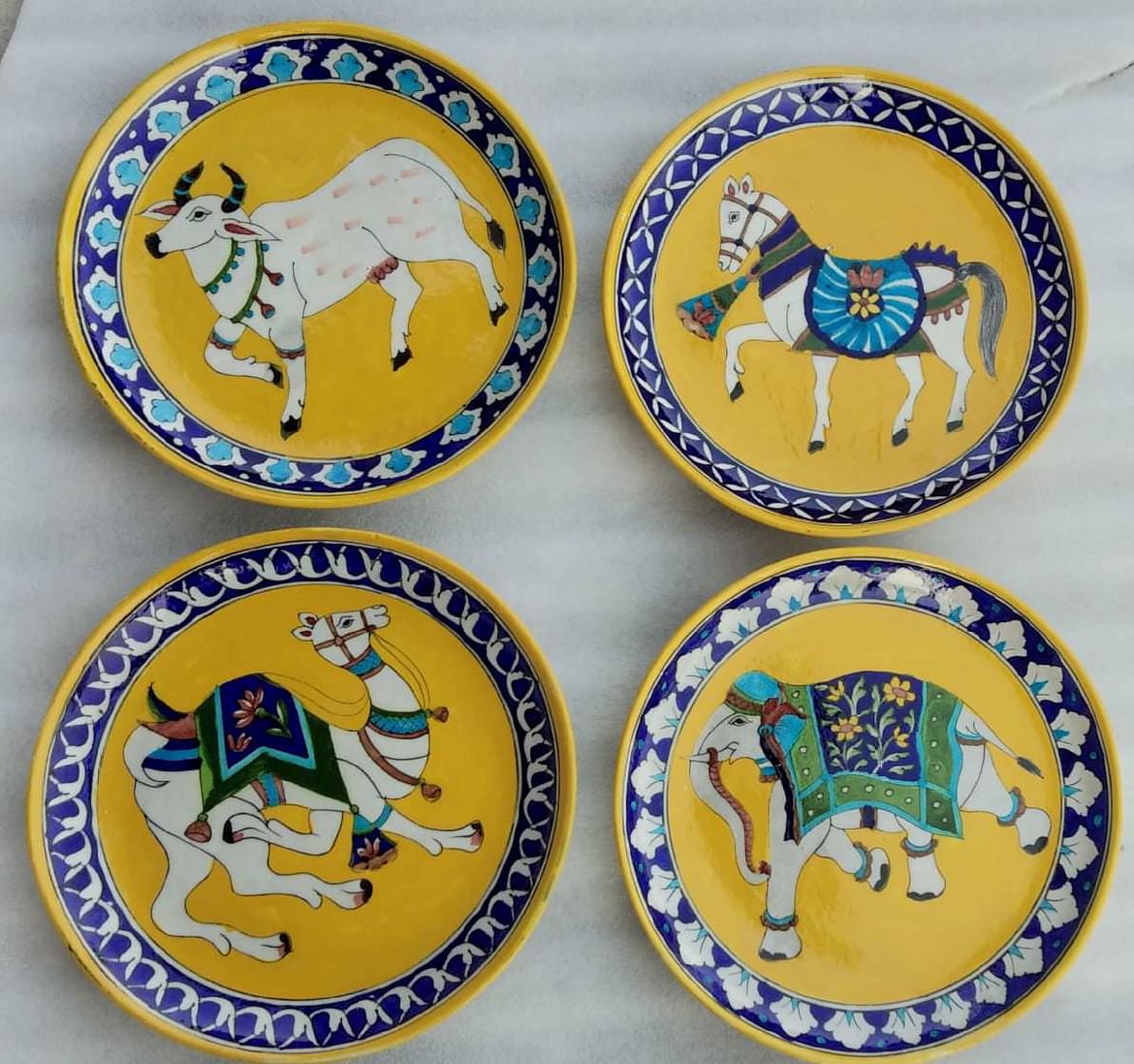 LUHAR SALIM HUSEN || NIRONA, KUTCH
Luhar Husen - one of the most famous handmade bell makers from Nirona Village, Kutch, Gujrat. As an artist who has carried on his family's craft for the 7th generation, he has been able to distinguish his creations by gradually incorporating carefully planned out yet subtle changes over the period of the last few decades. His bells can easily be told apart even by a not so well trained eye, thanks to the unique ways in which Mr. Husen sets the structure and curvature for his bells, using a harmonic hammer. More notably, the wooden thong on his bells is made strictly only sourcing wood from the Khirad trees, to give the resonation a very distinctive deepened effect. A celebrated artisan, his are always the bells of choice during the Rann Utsav season. With the pandemic curtailing the footfall to almost zero, this champion of bell-making and his family are facing a very uncertain future. The funds raised through this campaign will be used to help Husen and his family tide over these trying times!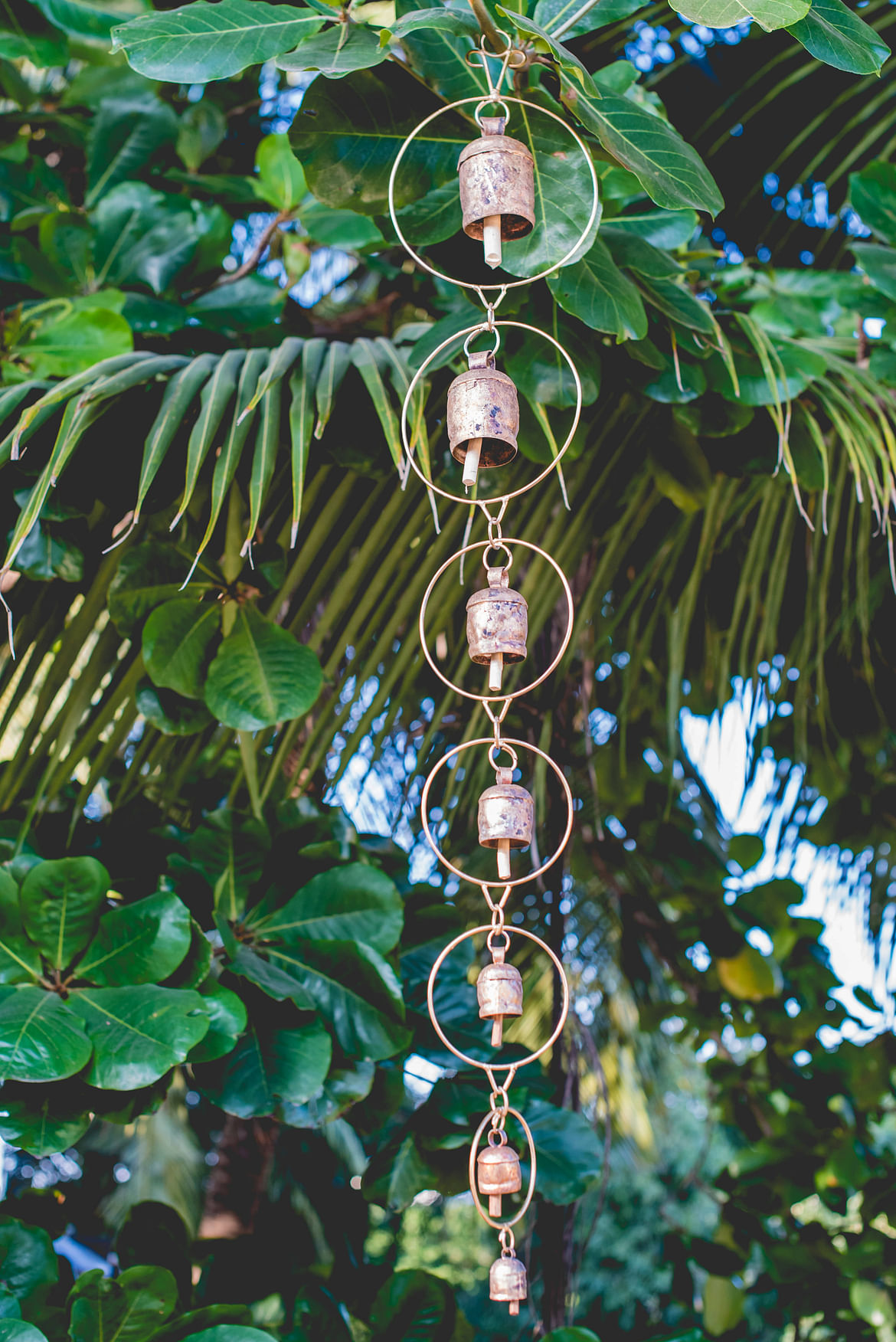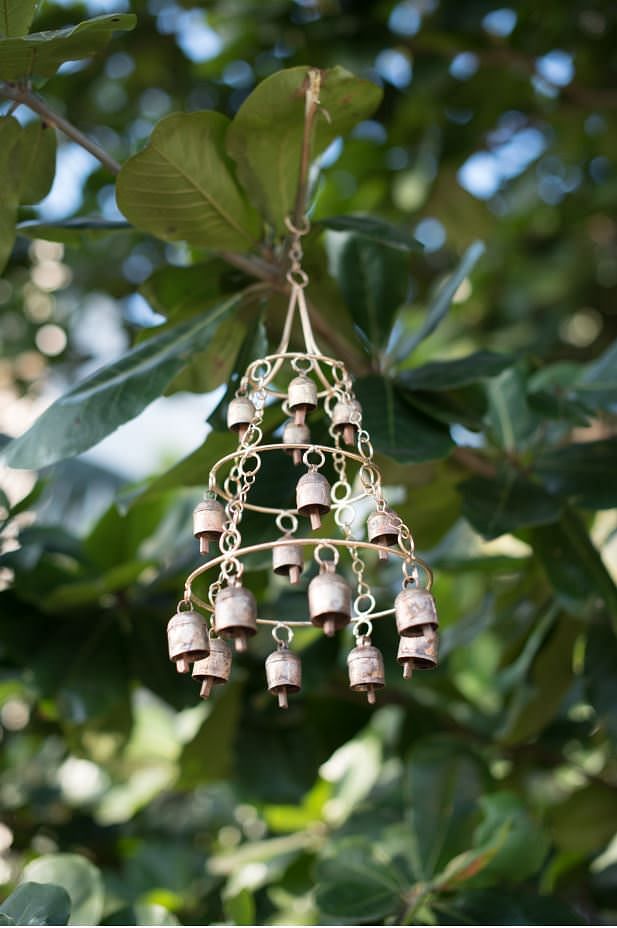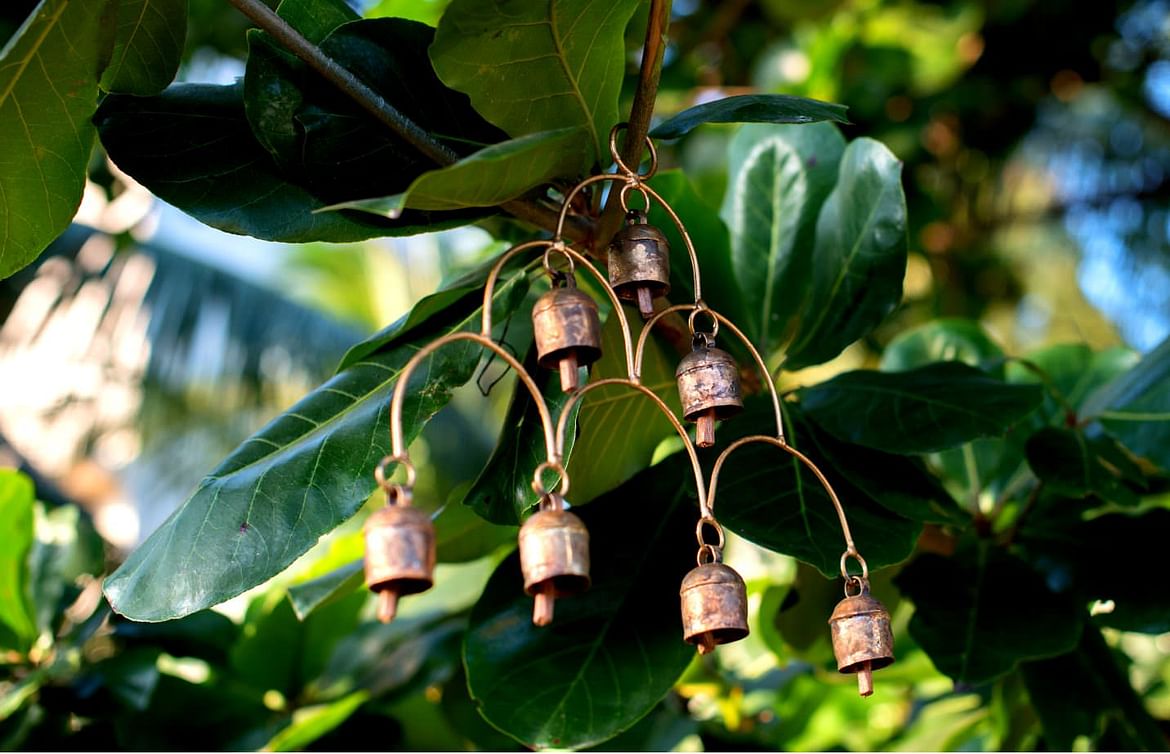 RAJASEKARAN || AUROVILLE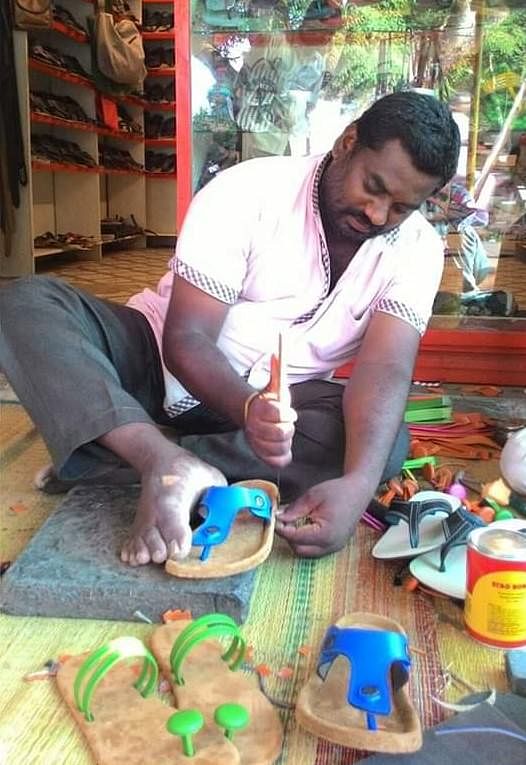 Rajasekaran- A shoemaker who's been specializing in his craft for the last 21 years using traditional cutting and hand stitching techniques.A skill set he originally acquired from his uncle, he used it to establish Aasai footwear, a shop that has over the years cemented itself as the go to place in Auroville for all footwear needs. One of the reasons why his work has become so popular is his adherence to old world techniques that gives his footwear a distinctively floaty feel. Running a team of 3 men and 3 women(Mugunthan,Ranjith,Veeramuthu,Suguna,Sarala & Mariyamma), Rajasekaran has not always considered himself to be a fortunate human being. An individual who battled his circumstances as much as he could to get through high school before giving up, he now tries to ensure the uninterrupted education of as many children as he can in and around his community. We are very pleased to feature the works of Auroville's very own master footwear craftsman Aasai Rajasekaran! For the past 4 months, owing to the pandemic situation, Rajasekaran hasn't been able to resume work and has been finding it greatly difficult to sponsor the education of the kids as well.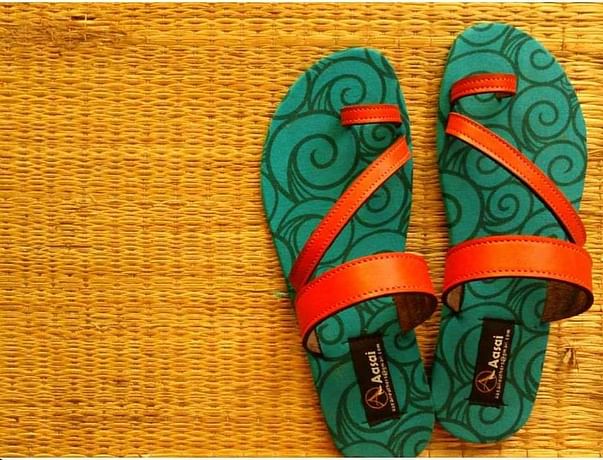 JEEVAN SHARMA || UTTAR PRADESH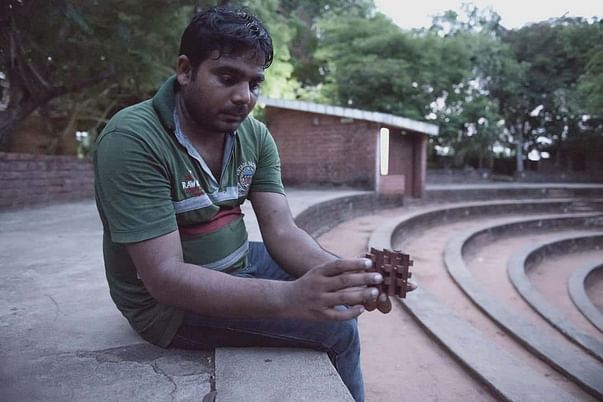 Jeevan Kumar Sharma,a craftsman for whom education has primarily revolved around a skill that has been passed on from two generations,one he learnt to watch and as he grew older began to master.From a town called Nagina in Uttar Pradesh,his grandfather started this humble venture of making wooden boxes.The sesame wood sourced from the forests were available in plenty.They began to witness success which inspired them to innovate and expand their products.In 1987,their wooden comb which had intricate Mughal khalim carvings won them the state award.After this there was no stopping them,they began to experiment with their products and introduced a whole range of inspired by childhood.These toys are simple in design and are beautifully crafted in wood,making them a timeless collectible,something you can go back to on days laced with nostalgia. Jeevan has always made the most revenue through displaying their products at exhibitions around the country.With a warehouse full of dead stock at this given time, it has been a hard journey the past few months for this master craftsman.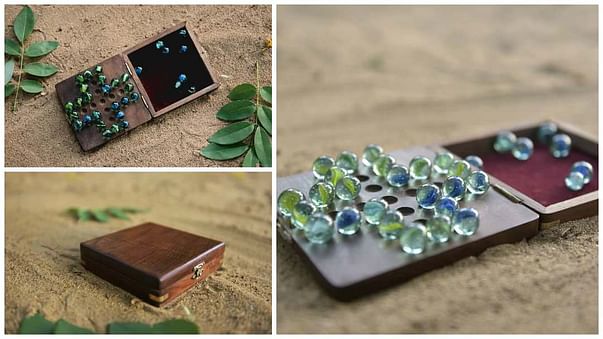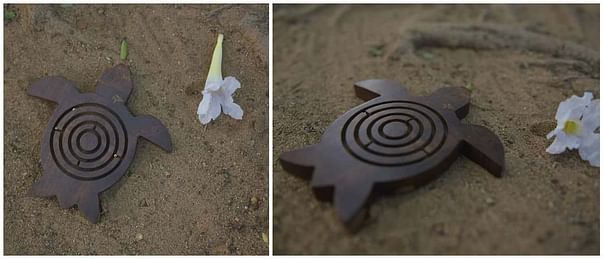 The Artist Project
is an initiative to promote underserved handmade artisans around India. Up until now, we've worked with and helped over 45+ artists from various parts of the country.We serve as a platform to highlight the work of artists from rural regions, to celebrate their art forms & ultimately make the end customers more aware of the culture that surrounds the artisanal products they opt to buy. We aspire to be a hub that would allow for a healthy exchange of energy between our folks and the artists who interest them.
Podlist with Sayasha
, a Hubhopper Original, is a one-of-a-kind podcast show. A podcast about podcasts, bringing together the very best in the business.
Born and brought up in a family that's always encouraged the arts, Sayasha Pillai has been in awe of local art forms and their rich history. This has also sensitized her to artists' who not only lack representation but are also underrated, underpaid, and underappreciated. Keeping in mind that every single one of us banks on art in its many forms, throughout our lives - this collaboration was initiated to try and encourage people to unite and stand up for our local artists and artisans - especially when the community needs us most.
You can reach out to us at :
INSTAGRAM
@sayashapillai / @theartistprojectindia
EMAIL :
writetosayasha@gmail.com / mailtheartistproject@gmail.com