CHHANV FOUNDATION MEDICAL DRIVE
__________________________________________________________________________________
"Contributions to Chhanv Foundation have been notified for 50% deduction from Taxable Income under Section 80(G)(5)(vi) of Income Tax Act, 1961".To get the 80G Receipt for your contribution, please reach out to us at chhanvfoundation@gmail.com or +91-8009955500.
______________________________________________________________________________
Introduction
Acid Attacks are predominantly a problem of India, with a wide gulf between city and town when it comes to care. More than just an individual problem, such attacks often affects face and eye, including blindness, is a societal one that can broadly affect economic productivity and access to education, leading survivor to live in isolation. Situation is worst as the specialized treatments are only available in 2-3 hospitals in whole India and one travels more than 1000 KM to receive the treatments. Many times, people lose their hope and never receive treatments.
This fundraiser project proposes to help to acid attack survivors in their medical treatment. Based on the available data related to the treatment of the survivors, we have drafted a project focused only on the medical care of a selected number of beneficiaries. The Key objective is the assessment of the medical condition of the survivors, design of medical care plans on individual basis, assessment of complications after surgery and cost estimate.
About the organisation
We are a Delhi based NGO, founded in 2014 we, today, are a network of almost 100 acid attack survivors among them 30 are employed with the foundation on different projects. Chhanv works in the multiple directions for at-risk, socially isolated acid attack survivors. Chhanv works as one point centre for all kind of help needed to a survivors.
The Chhanv Foundation is relentlessly working for the betterment of acid attack survivors and believes in providing equal opportunity to the survivors along with good quality treatment. Thus, we prioritize their medical treatment and run a treatment drive. The treatment drive is an initiative to provide a better quality treatment, medications and surgeries through which we endeavor to bring the survivors back to their normal life with the help of funds collected and also through collaborations.
Pledge
The gravity of the acid attack can be felt through the scars, deformities and pain it leaves behind for a survivor to suffer throughout their life. Despite the survivors having grown stronger, the thought of not seeing the same person in front of the mirror as they were prior to attack haunts them often. The question is not only about their looks but also about their consequent disabilities that hampers them to simply live. This serves the very intent of attackers who are atrocious enough to inflict such pain. Therefore, the issue being a part of society, it is important for us to come forward and help these acid attack survivors in all possible ways and defeat the purpose of attackers altogether.
Why we are raising the funds—Statement of Need
We are looking for help in the treatment head. The key areas which will be covered in this project are
Hospital Fee
Logistical expenses during treatments in metro cities
Living expenses and after care
Regional centres and hospitals in India are inadequate and unequipped. As outstation stay and expensive treatment is a major problem because most of the victims are from economically weaker background, for them it is not possible to bear the cost of operations and surgeries for a long time. The previous experience suggested that often, travel and lodging cost in big cities are more than operation costs, because of which the surgeries take years to complete. Medical costs are so expensive and government hospitals don't have even the basic facilities such as diagnosis or dressings. We are working with government agencies to cover the hospital fee of the survivors when they undergo surgeries. As outstation stay and after care is a costly affair, we want to ensure that survivors get uninterrupted medical care in their crucial phases.
Foundation has a list of more than 150 survivors who need surgeries to get back to their routine lives. To begin with, we will select 5 candidates with urgent medical conditions and their medical need assessment will be done by the surgeons at different hospitals.
Case Studies
Case-1: Tuna Devi, 41, Bihar
Lives can be turned upside down in a fit of rage. On 25th April 2020, Tuna Devi, her sister and her daughter were attacked with acid outside their house. Tuna Devi's eyes were severely damaged post crime and she faces immense difficulty due to it. She requires assistance from her son in carrying out her daily activities. Her treatment is still going on, but the family is facing problems considering their financial state which isn't well. One of their relatives has been providing them with financial aid which may not be sustainable in the long run.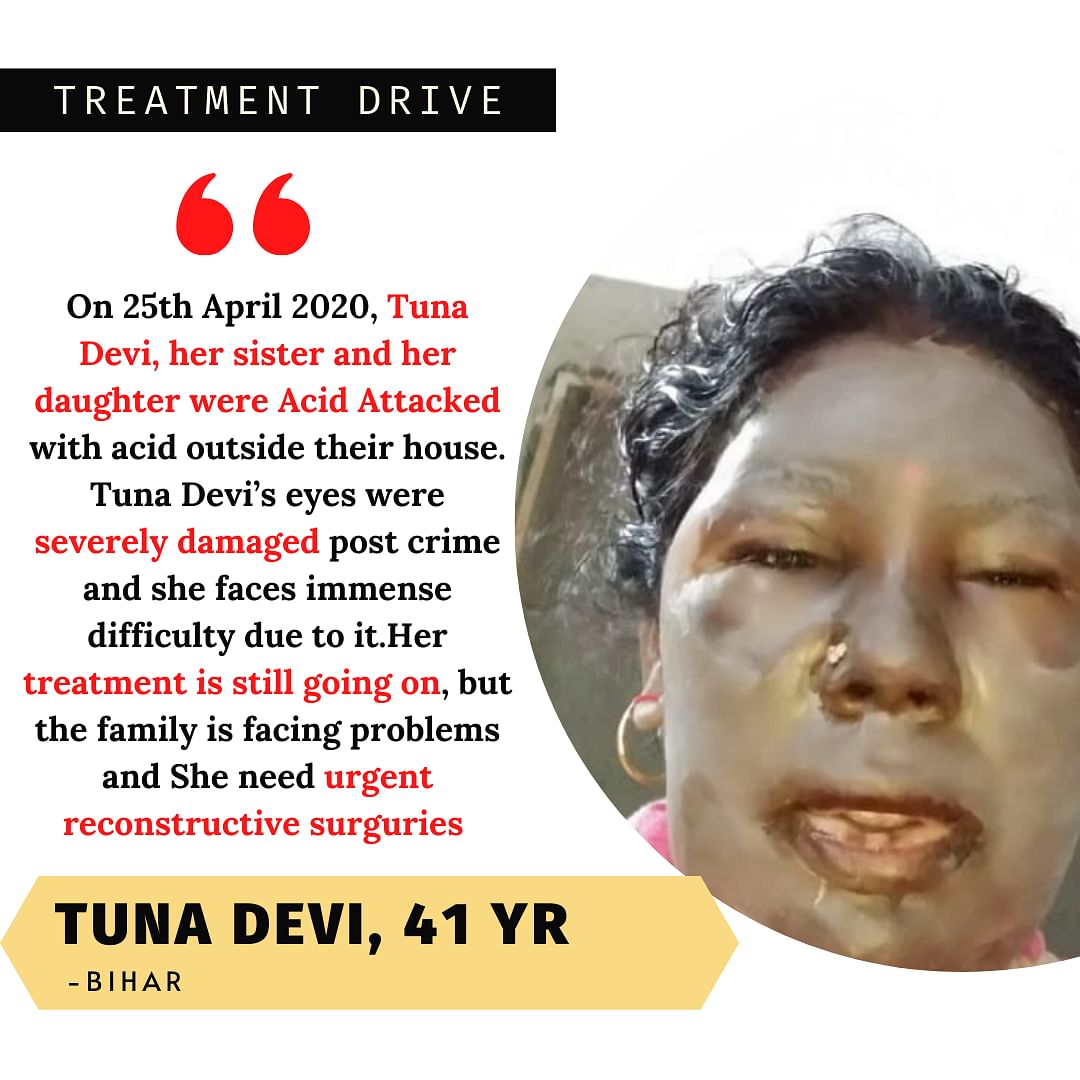 The medical board found following deformities which will require correction in several stages:
Deformity in both the eyes with vision limited to only 10%.
Scar on the whole face.
Scar on both the hands.
Scar on the lips.
Scar on the nose.
Scar on the back.
Scar on the chest.
Currently, she seeks help for her following urgent medical treatments:
Reconstructive surgery of face and lips.
Ophthalmic treatment of the eye.
Case-2: Gulshana, 14, Uttar Pradesh
On February 17th, 2019 at around 4pm some of her distant relatives threw acid on her. She suffered almost 40% burns. She was taken to Chandous Hospital where she was given first aid and then referred to Malkhan Singh District Hospital near Rampur village. Afterward, she was referred to Safdarjung Hospital in New Delhi where she was treated. As her skin was damaged, she had to go through 4 surgeries to restore skin on the disfigured parts of her body in J.L. Medical College, AMU, Aligarh where all the expenses were taken care of by her family who was already going through some financial crisis. This horrific incident took her one eye forever on top of her paralysis in one hand by birth.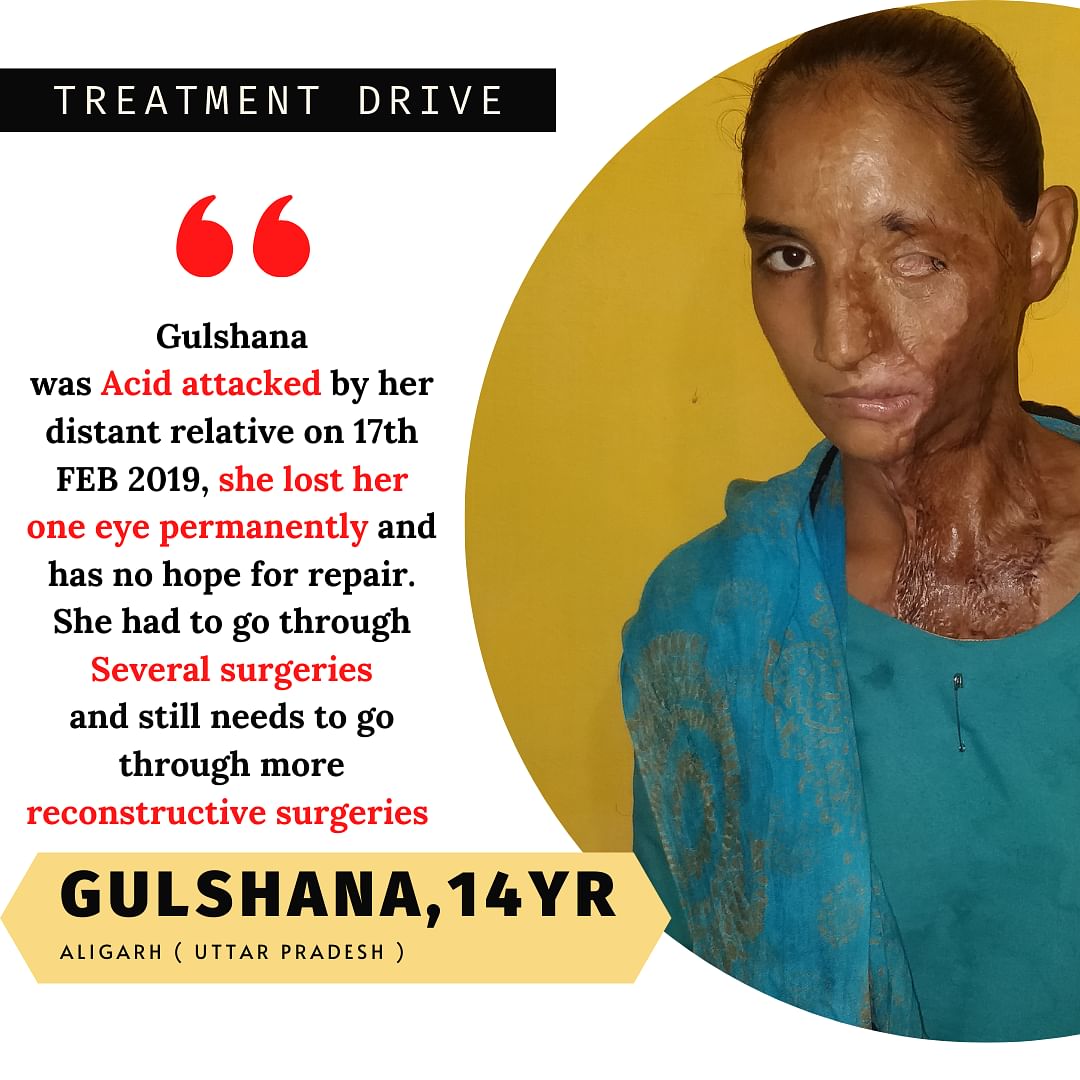 Her family is already in debt of almost ₹ 3 lakhs due to her medical expenses and pandemic made hard lives harder. The government has provided some financial aid which is insufficient to meet the demands.
The medical board found following deformities which will require correction in several stages:
Lost her left eye.
Scar on the neck.
Scar on the chest.
Scar on the hand.
Scar on the nose.
Currently, she seeks help for her following urgent medical treatments:
Ocular prosthesis implant.
Reconstructive surgery of neck and hand.
Ophthalmic surgery of left eye (Eye transplant).
Case-3: Sutapa Das, 25, West Bengal
Sutapa was attacked on 14th September 2016 by two men for refusing the marriage proposal and due to family disputes that followed later. The attack affected her right arm, ear, neck, abdomen area, chest, and left leg. She got admitted for months with 40% burns. Her family had to bear ₹ 11 lakhs for her surgeries, which has been challenging for her family. Though she has received ₹ 3 lakh from the government in 2018, it is insufficient to bear her medical expenses alone. Her uncle, who is an earning member in the family, is striving hard to meet the daily requirements and necessities. The pandemic led circumstances have toughened her family's state and they are struggling to afford costly medications for Sutapa's proper treatment.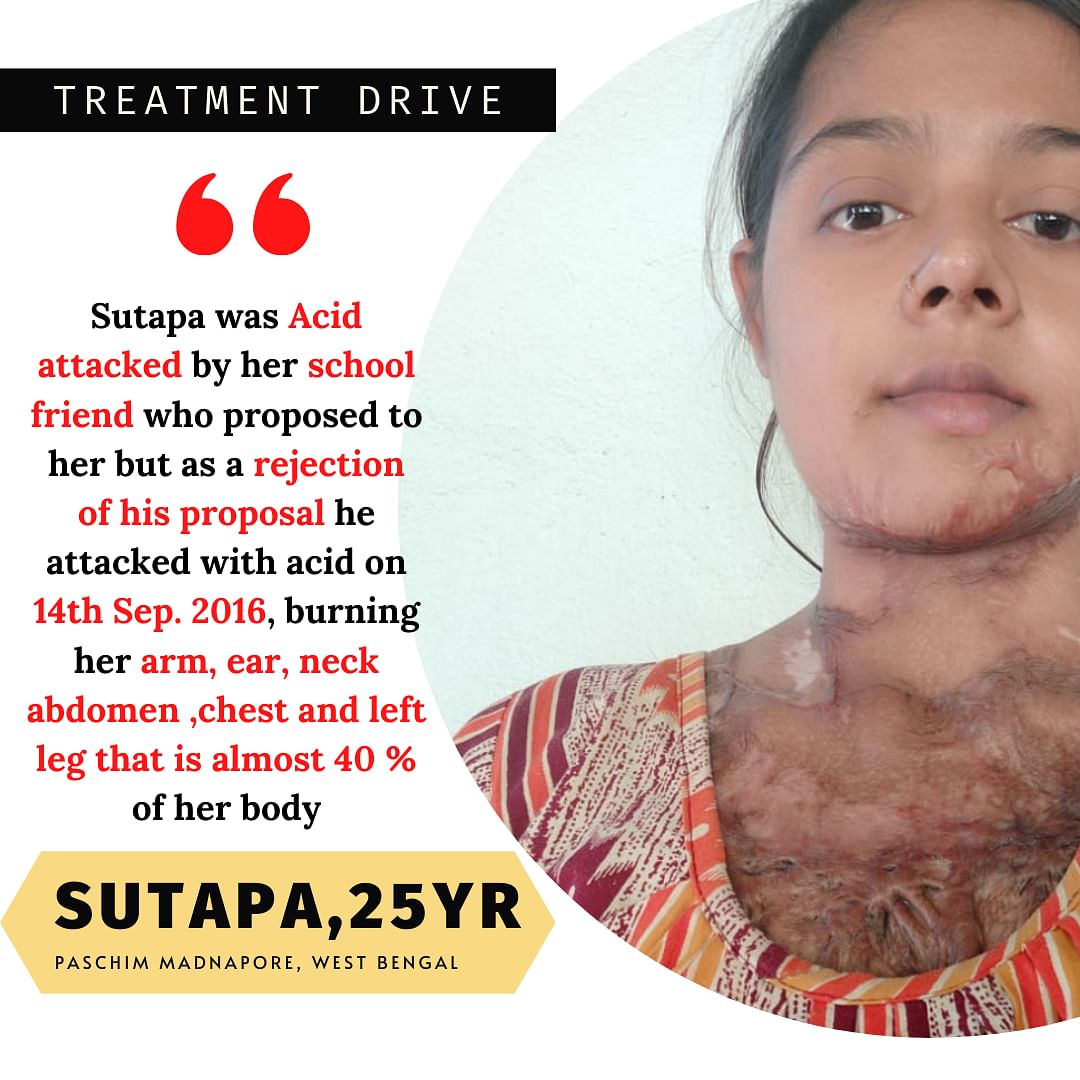 The medical board found following deformities which will require correction in several stages:
Scar on full head.
Scar on ears.
Scar on the neck.
Scar on the chest.
Currently, she seeks help for her following urgent medical treatments:
Ear pus and body infections.
Scalp irritation, burning sensation and infection from acid attack.
Unable to afford costly medications.
Case-4: Himanshu Barik, 27, Odisha
The horrific experience of acid violence on 10 Oct 2012 occured to Himanshu just because he stood up against the wrongful acts occurring in the society. He pointed out and busted illegal alcohol business for the betterment of his village but to his surprise he was opposed strongly for his actions. As a result, a group of men plotted against him and barged into his house while he was sleeping and attacked him with acid. He has lost an ear and both his eyes which led to him losing his job as well. Currently, his father is the only bread earner in his family. The government hasn't extended any help to him during the lockdown or eased his pain in any manner. His family is going through all kinds of financial problems and they are fighting to sustain themselves on a daily basis.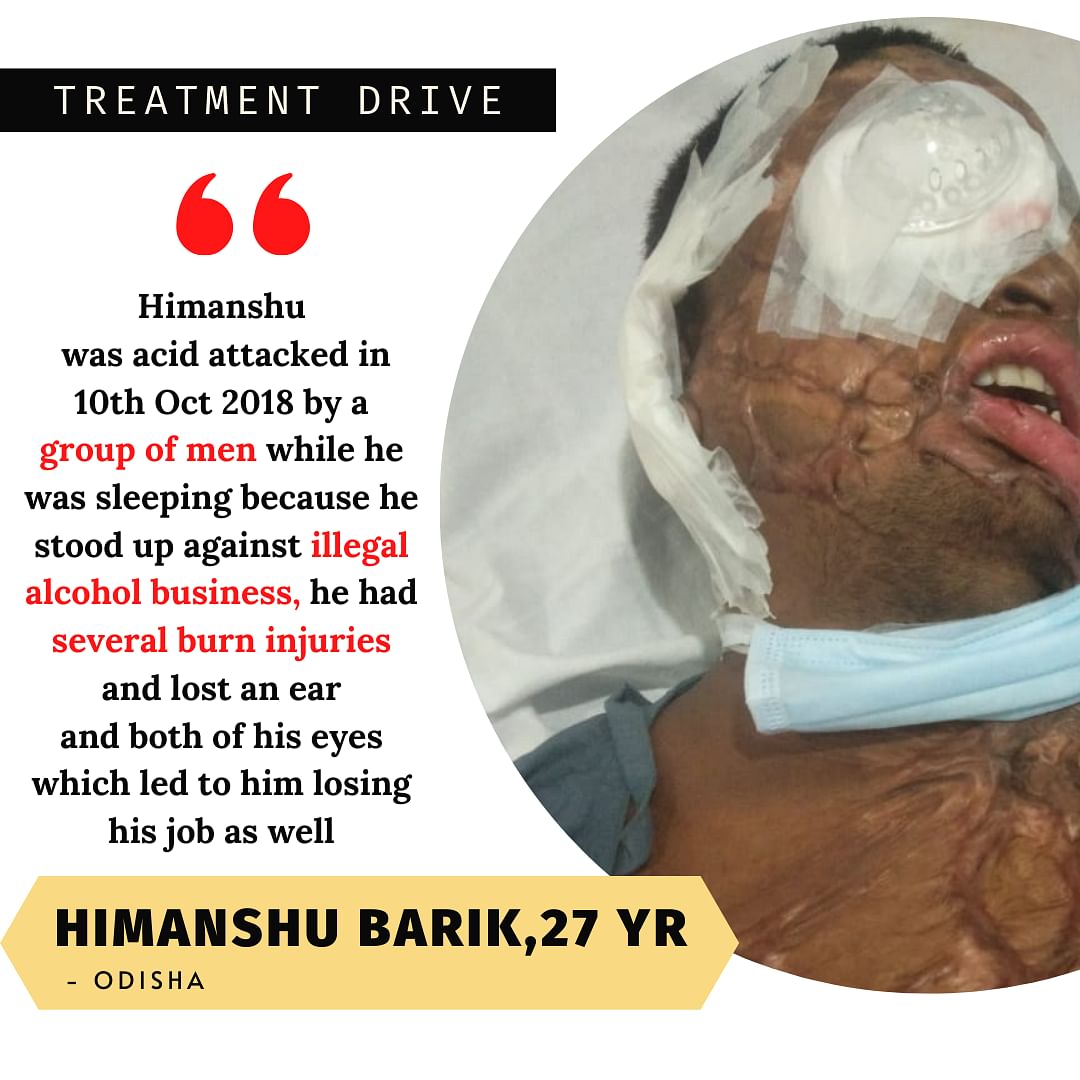 The medical board found following deformities which will require correction in several stages:
Lost both eyes.
Scar on the neck.
Scar on the chest.
Scar on the lips.
Scar on the shoulder.
Currently, he seeks help for his following urgent medical treatments:
Face reconstructive surgery.
Eyes treatment.
Case-5: Nand Kishor, 40, Bihar
Nand Kishor has already been leading a challenging life because of being paraplegic but his situation worsened when he experienced an acid attack on 27Aug 2019 due to intrafamilial conflict. The acid attack has caused severe burns on his both hands and legs as well as damaged his both eyes. Despite such conditions, he doesn't own a disability certificate. Nandkishor was immediately hospitalized after the attack but later he went to Nepal and Patna for better treatment, however his damaged eyes or eyesight could not be recovered. Although, his treatment is still going on but the expense of the treatments has overburdened him as he has lost his physical ability to work due to the acid attack. He has received a compensation of ₹ 3 lakhs from the government but it was an insufficient amount comparing his travel expenses for his treatments which has cost him the whole compensation, besides the doctors suggested him to visit Hyderabad for further medical treatments but he could not avail the treatment opportunity in Hyderabad due to lack of financial means.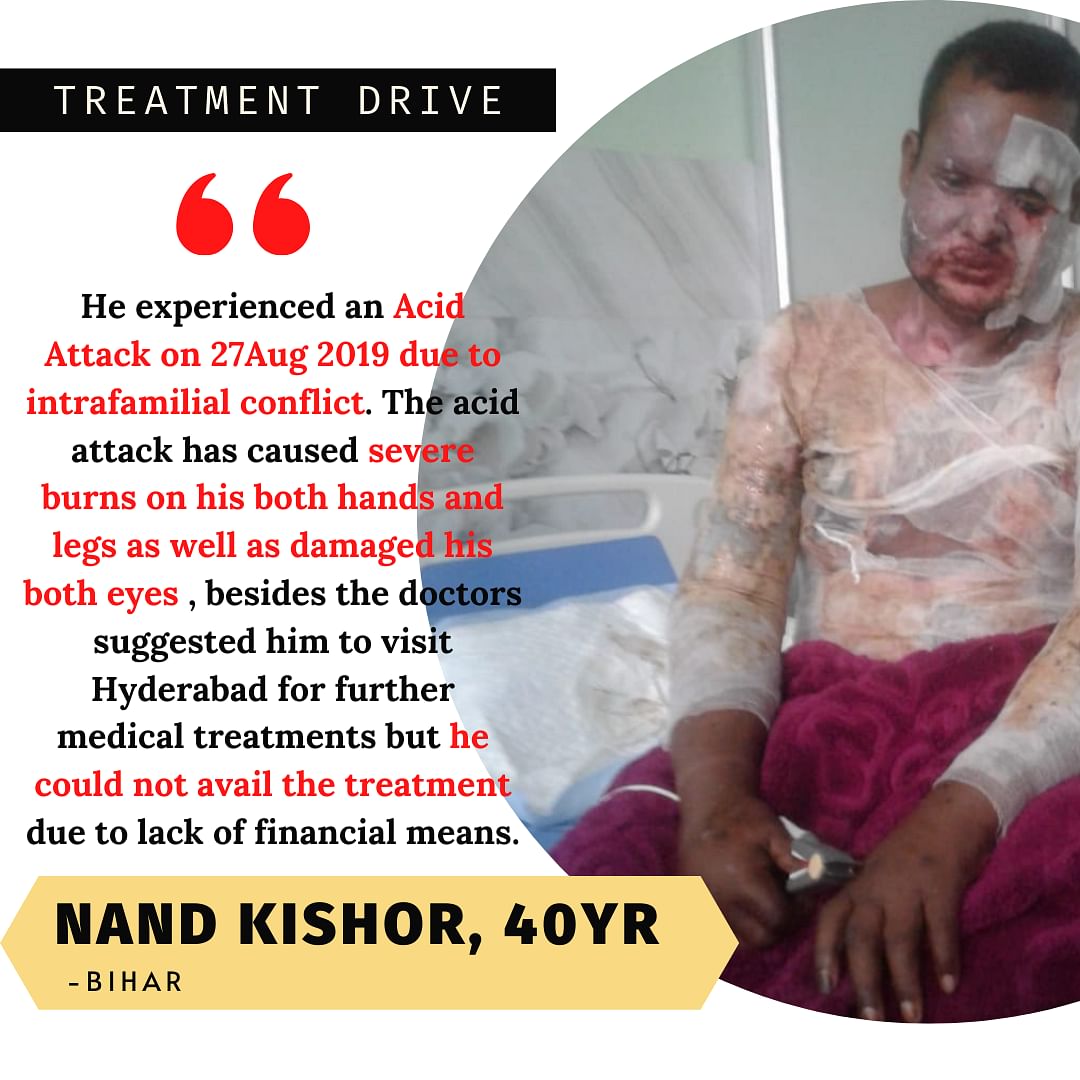 The medical board found following deformities which will require correction in several stages:
Eyes were damaged.
Scar on full face.
Scar on the lips.
Scar on the nose.
Scar on the shoulder.
Scar on the chest.
Currently, he seeks help for his following urgent medical treatments:
Treatment of both eyes
Face surgery
Case 6: Promodini Raul, 26, Orissa,
Everyone lovingly called her "Rani". Rani was 16 when a 28-year-old paramilitary soldier threw acid on her for rejecting his marriage proposal.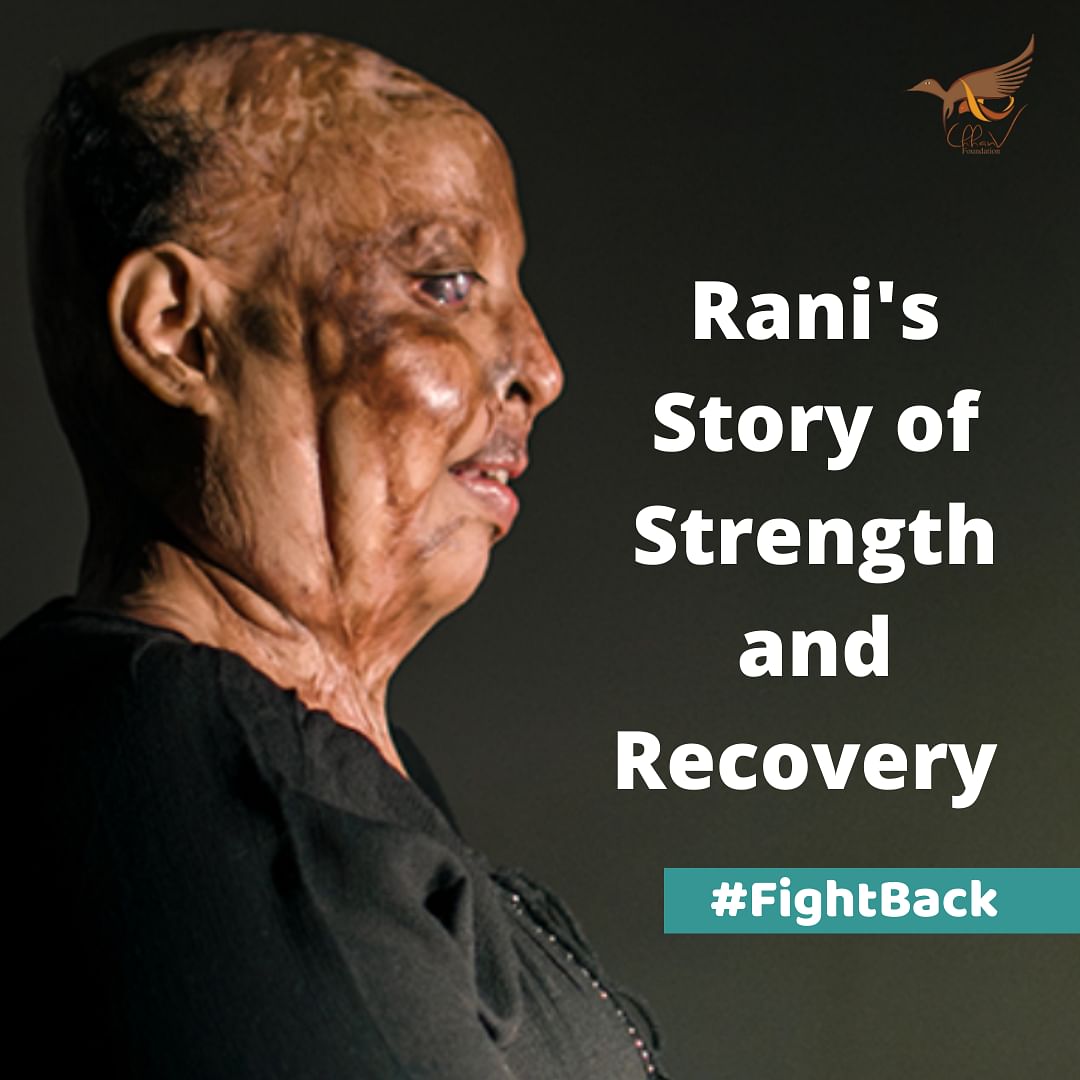 The world which was full of dreams had suddenly turned dark for her. The day of the attack Pramodini was returning home with her cousin, when the man stopped her saying he wanted to talk to her but when she denied, he threw acid over her from the back.
Pramodini spent four months in the ICU after the incident and was bedridden for four years in her house in Odisha, where her widowed mother single-handedly took care of her. The attack had left her with severe burns all over her face and blind in both eyes. In 2014, she developed an infection in her legs and doctors informed her that it would take four years for her to start walking again. She refused to give up and underwent five reconstructive surgeries (one of which restored partial vision in her left eye) and battled severe depression.
Pramodini, is being looked after in a Chennai hospital. Despite her sickness and lockdown, she did not go to Chennai for her treatment. She must put a large number of eyedrops, such as saline droplets, antibacterial droplets, and steroids every day. She has got to buy them online. The transport was halted due to the lockdown and the medicines couldn't be taken. There is a chance of permanent loss of vision.
The Deformities she faced;
1. Complete Burn on head
2. Complete Burn on face
3. Burn on Neck
4. Burn on chest
5. Burn on both the hands
The treatment she needs;
1. Reconstructive Surgery of Face
2. Ocular surgery for eyes
3. Ophthalmic surgery for eyes
Why should you contribute?
This is a very crucial moment and we are looking for your participation as there has been a shift post-COVID lockdown, from delayed treatments to more hygenic needs for those who can't afford it. Most of the survivors are spending a lot of time at home and the Indian health system is stressed. Surviving acid burn injuries can be a traumatic and distressing injury to cope with and the often prolonged recovery process can stress an individual or family's resources. Burn injury patients survive with larger and more severe burns within the current medical system but sadly governments in India never made any arrangements even during the COVID situations. There has been a need to address the varying needs of survivors in this new setting. Most of the hospitals are still not fully functional and travel/stay in major cities has become too expensive. Many girls couldn't travel to cities for their routine checkups and this affected their physical condition. We might not be able to erase their scars entirely but our attempts will definitely make their lives better. They are at the verge of either losing their eyesight for life or have some other physical deformities permanently if they don't pursue their medical treatment timely. Heavy medical expenses have always been burdensome for innocent acid attack survivors. Despite the laws related to government compensations and free medical treatment to acid attack survivors, the loopholes exist in the execution part.
Hence, we as a part of civil society, need to take the responsibilities and help the less fortunate ones. Let us walk through this together and make India free from acid attacks!
Budget
| | | | |
| --- | --- | --- | --- |
| S No | Particular | Estimated Unit Cost | Amount |
| | Treatment Expenses | | |
| 1. | Eyes Surgeries (4 Girls) | ₹ 1,50,000 | ₹ 05,00,000 |
| 2. | Reconstructive Surgeries (5 Girls) | ₹ 2,00,000 | ₹ 10,00,000 |
| | | | |
| B. | Logistical & Aftercare Expenses | | |
| 1. | Travel (2 Round Trip) | ₹ 5,000 | ₹ 50,000 |
| 2. | Stay (Minimum 10 Days) | ₹ 1,200 | ₹ 60,000 |
| 3. | Food (Minimum 10 Days) | ₹ 500 | ₹ 25,000 |
| 4. | After Care Medicines | ₹ 1,000 per day | ₹ 50,000 |
| 5. | Local Travel (Min 4 Visits to Hospital) | ₹ 1,000 per day/Roundtrip | ₹ 20,000 |
| | | | |
| | Sub Total | | ₹ 17,05,000 |
| C | Administrative Expenses | | |
| 1. | Administrative Cost including the logistical expenses of official member of CFN during Hospital visits & Accounting expenses | | ₹ 3,40,000 |
| | Grand total | | ₹ 20,45,000 |
Thank you
Anshu Rajput
Campaigner
Chhanv Foundation