Objective
Annapurna Charitable Foundation (ACF) is looking at raising INR 15 lakh (US$ 20000) to assist in rebuilding homes in Rayranyachak village, Haldia, West Bengal (India). These homes have been destroyed by Cyclone Amphan.
Our office help of 15 years Purnima comes from this village which is now completely devastated. Our current immediate objective is to reconstruct a minimum of 30 to 50 homes in her village Rayranyachak, a village that has suffered quite a lot and the villagers live upon daily wages. These families have lost their entire homes which were built from bamboo. Our aim is to make it partially brick and cement (the base) and partial bamboo with a tiled roof. The local government has given them thick plastic sheets to cover their homes so they can continue living there till their houses are rebuilt. There is currently no talk of government assistance. With the onset of monsoon in July, these families run the risk of exposing themselves and their young ones to the vagaries of nature.
The amount collected will help villagers purchase raw materials (bamboo/bricks) and get help from local masons towards the re-building process. Each house is estimated to cost approximately INR 50,000.
Cyclone Amphan
Cyclone Amphan ripped through Eastern India and Bangladesh on May 20, killing at least 86 people in West Bengal, destroying thousands of homes and uprooting innumerable trees. Authorities are still struggling to mount relief operations amid a lock-down to contain the unprecedented corona virus pandemic.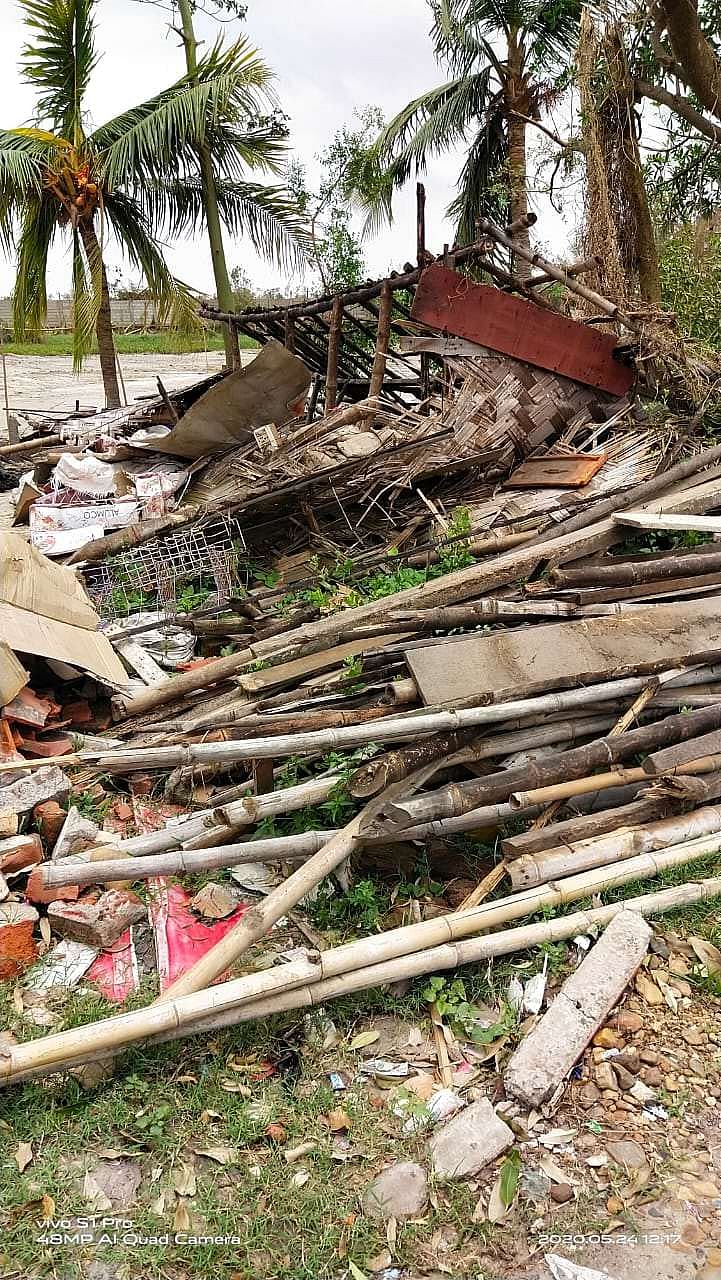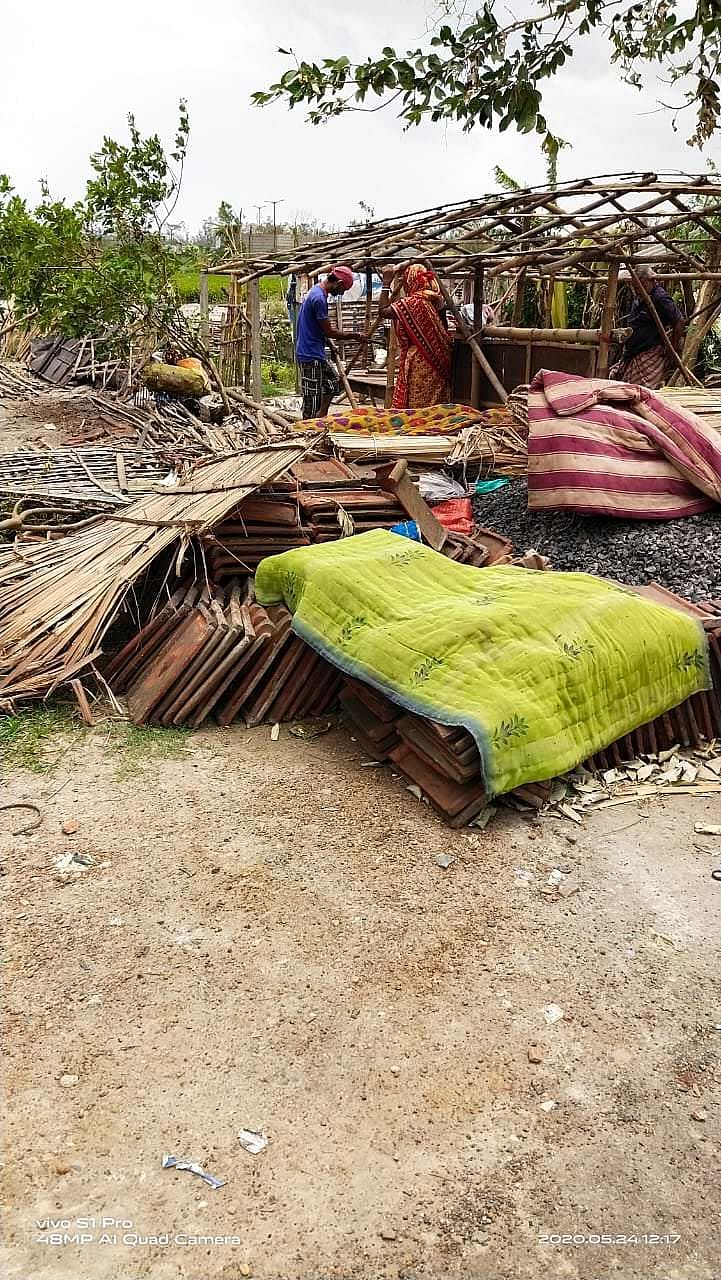 The cyclone, equivalent to a category-three hurricane, tore through thickly populated areas of Southern Bengal, making landfall on the coast at sustained wind speeds of 170 km per hour, with gusts of up to 190 km/h and storm water surges of up to 16 feet. The plight of millions who have lost their homes has been made worse in a situation when the corona virus epidemic is raging across the region.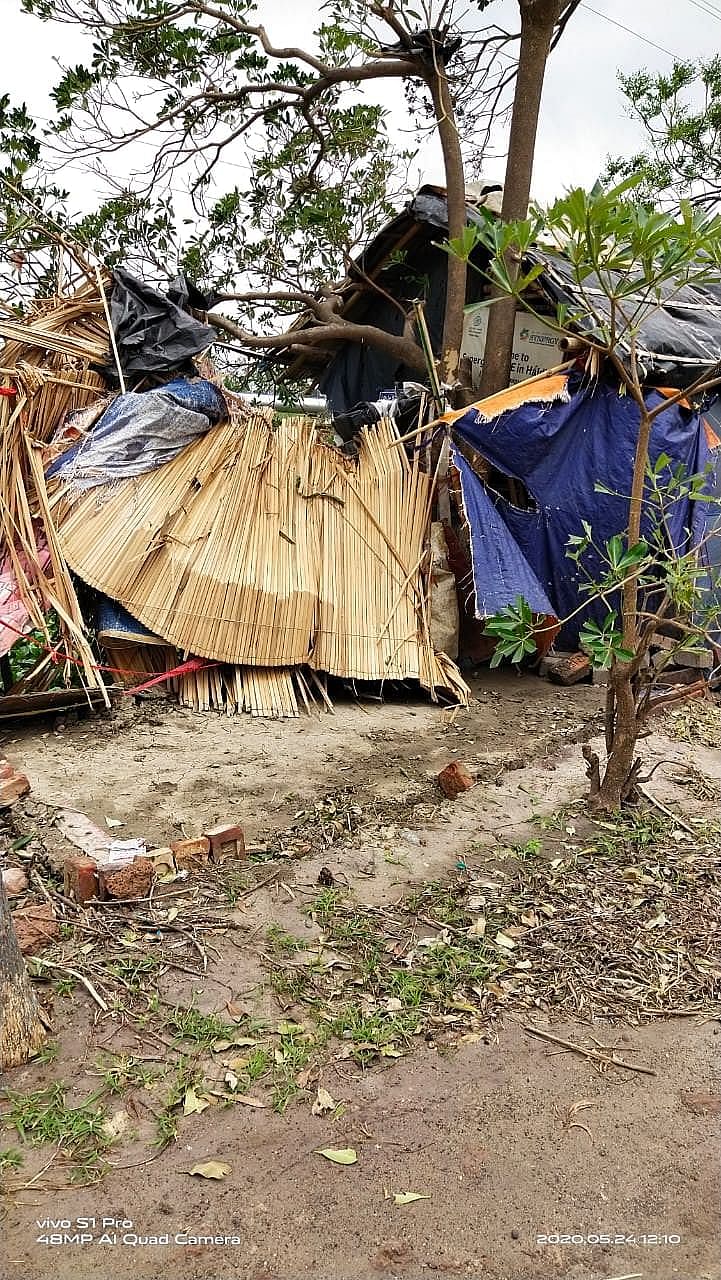 Covid-19 has multiplied the vulnerability of people who are at risk of displacement by storms, floods and other climate disasters. The government infrastructure has been inadequate to provide shelter to all the people evacuated as the cyclone hit. Now, to maintain social distancing to avoid the spread of corona virus, there is a risk that cyclone shelters will be too small and will lack proper sanitation services, especially for women."
It a well-known fact that our disaster mitigation infrastructure falls short in ensuring social distancing.
Rebuilding lives
In the immediate aftermath of a disaster, displaced people need food, shelter, security and healthcare. However, it has to be kept in mind that they also need support to rebuild their houses and restart their livelihoods. The super storm, the first in this year's season of cyclones and floods, once again underlines these issues that need to be addressed in the medium and long term.
South Asia has emerged as a global hot spot for disaster displacement in recent times. The region recorded 9.5 million new displacements associated with disasters in 2019, the highest figure since 2012, according to the
2020 Global Report on Internal Displacement
. Floods triggered by the monsoon in India and Bangladesh and Cyclones Fani and Bulbul were among the events to force most people to flee their homes last year.
About ACF
The founders of ACF are in the hospitality and tourism business. In our personal capacity, we have been working with the marginalized community in several ways since the last 25 years, initially working with several non-governmental organisations, assisting individuals, taking up fund raising campaigns during natural disasters etc. (Sent 1 truck of bedding and clothing during the Kashmir floods) Currently engaged in feeding the hungry during the Covid 19 crisis through donations to NRAI and Seva Bharati. Regularly, donated blankets and bedding to homeless in New Delhi.
One of the biggest projects that we have undertaken in creating self-employment opportunities is a home-stay project in Village Peora. The average annual income in most villages in the state of Uttarakhand is US$ 600. We also during our travels understood that there were a lot of "ghost" villages where the younger generation had moved out due to lack of opportunities and therefore such villages had no population living there anymore. We got an opportunity to help the enterprising villagers of Peora set up home-stays in their homes. The objective being to create employment opportunities and additional income.
Right from designing the rooms, creating of some standard operating processes, audit of their understanding of some key processes on service, hygiene, sanitation and safety was also conducted. for this purpose, we roped in a leading international hotel chain. We also finally helped them set up a cooperative to manage their business. The project is in its ending stage with the setting up of their website which has got delayed due to the current pandemic crisis.
In this process we had to be careful to also handle the attitude of the men in the family to be understanding and share the work load. The women handle all the household work, bring up children, rearing cattle, etc. Our effort was to bring an additional earning opportunity without burdening the women. We were more than successful in bringing about this change.
In order to give a better structure to our work towards creating a more equitable society, ACF was founded in 2018 with three objectives;
Girl child education: We identified areas within cities like New Delhi that could be termed "rural" areas where it is still considered not important to spend money on educating the girl child. ACF is aiding families in educating their daughters.
Creating self - employment opportunities: The tourism office of Uttarakhand has already identified a few villages where we will roll out the home-stay project.
Disaster relief: the current disaster of Cyclone Amphan and our efforts towards rebuilding homes will be the first project under Disaster Relief.
So far ACF has been funded by using our personal funds. Due to the negative impact of COVID on our business we are requesting for external funding for the first time.