Update on what we are doing now (7/4/20):
Times of India front page on 5th July 2020: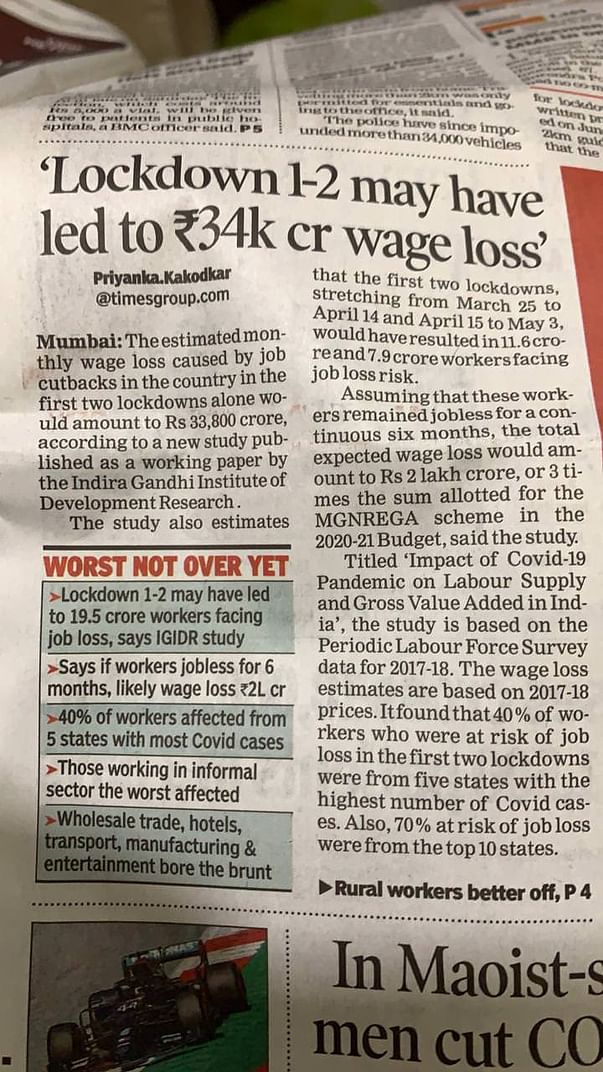 More article from newspaper on 5th July 2020: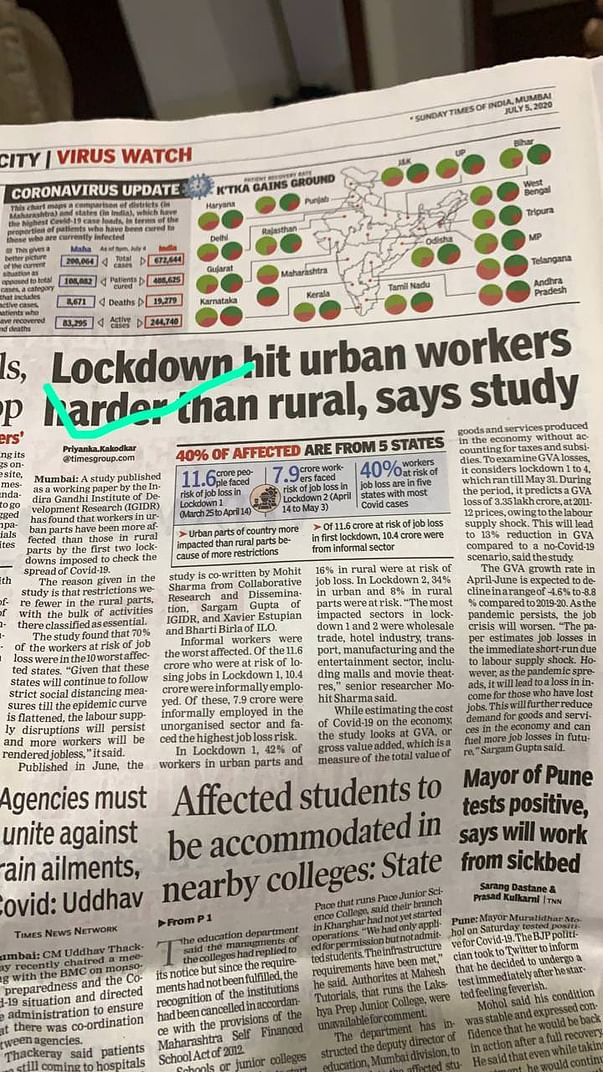 Our message on the day we went live with the campaign:
The world is trying to come to terms with the Covid19 pandemic. Major population of the world is under lockdown by respective governments. For most, this is a healthcare crisis. But poverty has also made it a humanitarian crisis in many places in India. Everyday social media and news outlets are sharing stories of human struggle and suffering. From news about people losing jobs and income to news about below-the-poverty-line migrants trying to make their way to their homes from urban cities via rail or road sometimes just walking 1000s of kms. It is disheartening to see visuals of men drinking spilled milk from the streets, or eating carcasses of animals, or group of men struggling to get a hand on bottle of water or a pack of biscuits, or a girl cycling almost 1200km from Delhi to Bihar with her old father, or people trying to go home and eventually dying in accidents. While some are struggling with basics, we - the fortunate ones, are only slightly inconvenienced by having to stay at home for our safety and enjoy all the delicious meals and baked goods that we are learning to make during this shelter-in-place. Many of us want to help the needy, but do not know where and how to help. Sometimes we don't even trust if NGOs will utilize our money most efficiently. This is a time of unprecedented crisis that is everyone's opportunity to come forward to help others.

I finished my Masters in Computer Science from University of Southern California in Los Angeles. Currently I am working as a Software Engineer in a prominent Silicon Valley Startup, led by industry leaders, and had come to India for my mother-in-law's first death anniversary rituals. Due to the lockdown in India and in the US, for the time being, I am staying back in Mumbai with my family. Near where I live, there are many low- income migrants who are from villages around India. About 1500 of them would gather every few days at a bus depot (Dindoshi Bus Depot) in the Goregaon neighborhood (of Mumbai) hoping to get their chance to board a bus that would drive them to the railway station or to their respective villages. There are migrant families, with children and elderly, that cannot afford food and water. Everytime the authorities take 1500 of these people, a few days later, there is another batch of 1500 more such people. Realizing that not everyone has this option of leaving the city and go back to their villages, I, along with the support from my friends, have started an initiative to provide food (ration kits) to those people who have helped us build this city but are now struggling to make ends meet. We feel that we don't have a solution for all their struggles. The least we can try to do is to make sure that they don't sleep on an empty stomach. If you could donate some amount toward this cause, the little drops would add up and help many of these families. If you cannot donate, that is fine too. Please help spread the word!

We want to be able to raise money so that all these migrants/workers who have helped build this city are able to live with dignity and feel that the city had compassion for them until they can resume with their pre-covid-normal lives. Our modest goal is to be able to at least offer ration kit support to 20000 such families for up to 5 months. If we can raise enough money, then we could potentially arrange for support for much more needy families and also in cities other than Mumbai. Or we can even come up with solutions that are long-term and self-sustainable and can help the needy much beyond the timeframe of this campaign.

Please donate whatever you can! I will be posting periodic updates on how every penny has been used. Many have turned a blind eye to this issue due to its severity and magnitude. We are choosing to address it even though it is on a small scale. We need your support to succeed in our effort.
Frequently asked questions
Q: Can I look at your expenses/finances?
Ans: Please send us an email at rotisabzi4raahi@gmail.com and we'd be happy to share.
Q: What percentage of my donations do you use for administrative etc. purposes? The remaining will go to making the kits?
Ans: We are at 5% overhead. The remaining 95% goes to making the kits.
This 5% is used for: protective kits for the volunteers and transportation for the kits and volunteers
Facebook
Q: You guys are doing such an awesome job. You should be in news.
Ans: Yes. :) Here is one of the portal that covered us:
Q: Where do you think that the country is heading?
WSJ also reported about the future outlook:
Covid-19 Hits India's Already Faltering Consumers Hardest
WSJ reported India's shrinking GDP:
GDP shrunk by almost 24%!
Q: Who are we?
Ans: We are a bunch of people who want to give a helping hand in this time of need. Here are our details:
Myself: Alok Rathore. Completed undergraduate engineering from Mumbai University and then Master's from University of Southern California. I worked in Cisco Systems for 10 years and now I am working in a prominent startup company in Silicon Valley.
The rest of the gang are my friends/family/colleagues from USA and in India.

Q: Why we need so much money?
Ans: While we all hope that the pandemic eases soon and people can resume their lives. But until that happens, the problem is huge. Any amount of money is not enough. We want enough money to help 20000 families with ration for up to 6 months or beyond. I doubt any amount of money is enough to tackle this problem at the grassroot level.
Just to know the magnitude of the problem in India, you can refer to many such videos:
Economy to Shrink 12.5%, 50M to Lose Jobs
Q: There are so many people, how can we help everyone?
Ans: Yes. We probably cannot help everyone. Even if we help one, it makes a huge difference to that one!
Q: Where will you get families to be able to distribute 100k ration kits?
Ans: Right where we live, there are easily around 50k families (if not more) living in the slums. These people come from all walks of life. They support our neighborhood by providing services such as domestic help, security guards, delivery boys, waiters, barbers, etc. Ideally we want to be able to support each one of them. But want to first be able to support at least 20k of them.
Q: Are you guys thinking of providing meals to the needy who are not traveling?
Ans: Absolutely. We have already distributed 500 ration kits to help support 500 families. Each of these ration kits has enough food to support a family for about 3-5 weeks. We have already found a vendor who is providing provide the kits for $13.25(Rs1000)/kit. If you have any suggestion for quantity/another vendor, please let us know and we will be happy to use your suggestions.

Q: I don't have money or don't want to contribute. What do I do?
Ans: It is absolutely fine if you cannot help monetarily. But can you please spare a few minutes from your busy schedule to help spread the awareness and help us raise money from within your contacts?
Q: How far can my contribution go?
Ans: VERY FAR.
$1 can help pay for 19 hygiene packs
$15 will feed a family for a month
$30 will pay for 10 N-95 masks
$700 will pay for 1 meal and 1L water for 1500 people.
Q: What do you gain from this?
Ans: Satisfaction. That we tried to do something at a time of crises to help the needy. Make the world a better place to live.
Q: How much money do you want to raise?
Ans: Ideally, as much as we can. No amount is going to be sufficient. But we'd like to believe this. :)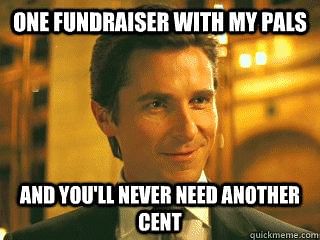 As an example, here are some reports that are not getting a lot of attention:
Transgenders in Mumbai left with no straws to clutch at
Only quarter of 80 million migrants got govt food aid
Household incomes hit hard
Waiting For A Train Home
"Extend Supply Of Food Grains To Poor By 3 Months": Sonia Gandhi To PM
Covid-19 Crisis May Push 40 Crore Indian Workers Into Poverty
14 crore lose employment
Domestic helps at Noida societies cut off by employers, some forced to beg
Train takes 63 HOURS, no food for 44 HOURS
Baby Tries To Wake Dead Mother At Station
600 Migrant Workers Find Their Homes Burnt To Ashes
Hopeful Of Boarding Train Home, Migrants Gather Outside Mumbai Station
Over 8,000 migrants gather at Suncity ground, Vasai.
Domestic helps losing income
Q: Would you like to tie up with bigger names in this domain and try to scale up?
Ans: Any help is appreciated. If we can raise enough funds and then take help from experienced people in helping us with utilizing those funds in the best possible manner. Then, yes!
Q: Any handles on twitter that I can follow to know more about the situation and how people are trying to help?
Ans: There are many. But here are just a very few people helping in their individual capacity:
Barkha Dutt
Sonu Sood
Rana Ayyub
Q: Aren't you late in trying to help now?
Ans: It is never too late. Yes, we should have started earlier. But better late than never! But Mumbai is turning out to be pandemic epicenter of India. So no amount of help is going to be enough even from here.
This news is from the day after we launched our campaign:
Hopeful Of Boarding Train Home, Migrants Gather Outside Mumbai Station
Then some more:
Will there be a Reverse Migration now?
Q: For how long will you run the campaign?
Ans: For as long as it is needed.
Q: Are you registered with NGO/Charity Organization?
Ans: No. We are average folks like most of you. We are just trying to make a difference in the society we live in. But if there are any trustworthy Charity Organizations/NGOs that you'd like to suggest, please let us know.
Q: Are my donations tax-deductible?
Ans: We are not sure. Please check with the professional who helps you with filing taxes. Or check with this platform on this
link
Q: Why not just contribute to PMCARES/Chief Miniters Relief Fund?
Ans: Do that also. Let the government do their bit at their scale. But that does not mean we should not do our bit at the grassroot level ourself. Not every govt. help reaches the most needy at the last mile:
Give free ration to all using indelible ink marker
Q: What is your motivation?
Ans: Comments like these from friends and family:
"you taking that step is great - generally many people feel the urge to give, but the last act of effort involved in making it see through to get to people is what makes people think of doing it 'later' - you are making it easy by citing real ground first hand situation - so it is actually very easy to give."
"Thanks for giving us all this opportunity to do our parts!"
Q: Aren't you encouraging people to resort to begging for ration kits instead of trying to make their own living?
Ans: Our upbringing has been such that we always wanted everyone to find a job for themselves and hence be able to support themselves and also put their kids in school for a better future.
But over 90% of the people we have helped so far have all done the above their entire life. But because of them losing their wages due to lockdown (unlike many of us, none of them have the option to WFH), they are suffering from a lot of stress and malnutrition.
Even though you might hear in the news that government is trying to relax lockdown and at some point all businesses will be claimed to be "normal". But at least in the medium term, we don't see these people getting back to their pre-covid-like normal life. Most of them who are renting haven't been able to pay their monthly rents to landlord. Almost all of them know that once lockdown is completely lifted, their landlords will come chasing them for the rents due. And with many of them resorting to taking unreasonably expensive loans, we don't know how they will be able to repay those loans back, ever.
We are sure we cannot help everyone enough. And even with the 1 ration kit/family, we are not going to be able to give them all the support that they need for a mess that they are not responsible for.
But even food for 1 month is a great help to each one of them. The beneficiaries so far I have talked to, have literally told us how much they are grateful to our team. None of them even remotely wants to resort to begging. Almost all of them want to be able to earn their livelihood. We are only trying to create the smallest of cushion for them until they can resume with their normal lives.
Q: How can we get in touch with you?
Ans: Please send us an email at rotisabzi4raahi@gmail.com