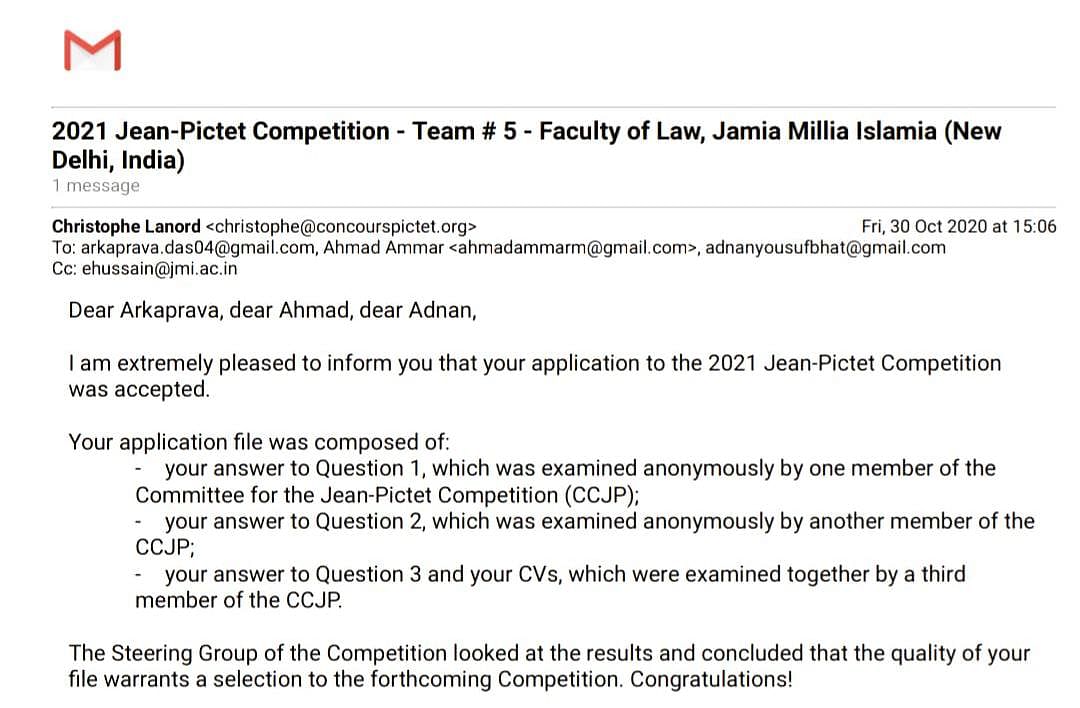 We, Arkaprava Dass, Adnan Yousuf Bhat and Ahmad Ammar, are final year students at the Faculty of Law, Jamia Millia Islamia, India. Our team has been selected to participate in the 35th edition of the Jean-Pictet Competition, 2021 at Durres, Albania organized by the International Committee of the Red Cross (ICRC) from 3rd April - 10th April. The criteria for selection was our knowledge and experience of Public International Law, a Statement of Purpose, and two core theoretical questions which had to be answered as a part of our Application. This is the first time Jamia Millia Islamia will be participating in this prestigious competition. Additionally, our letter of funding was also selected pursuant to which we have been assured some concession on our overall expense. Despite such assistance, we are left to bear significant monetary expenditure to cover the costs of the competition. Our team has been unable to obtain any financial support from our institution due to paucity of funds. It is for this reason that we have turned for help towards your philanthropy. We seek financial assistance to cover the Registration fee and flight tickets, the breakup of which is given below-
Registration fee - €1250 (₹1,10,000/-)
Flight tickets (Delhi to Tirana roundway) - ₹1,50,000/- (50,000/- X 3 persons)
Total= ₹2,50,000/-
We are hopeful of getting a maximum concession of ₹50,000 on the basis of our Letter of Funding. Therefore, we seek to collect ₹2,00,000 in order to meet our expenses.
Our university is a publicly funded institution that enables students from humble backgrounds to get an education. This allows our university to be an inclusive and diverse space which is reflected in the composition of our team. But due to a lack of economic resources at our disposal, we do not possess the requisite means to support the entire budget.
Despite all constraints, we have been resolute in our goal to strive for academic excellence. Our experiences in the form of our selection to participate in the Nuremberg Moot court competition, Germany 2020, finishing as Quarter-finalists and bagging Best Written submission awards at National Academy of Legal Studies and Research (NALSAR) Public International law moot court competition, 2019 as well as in the 18th Henry Dunant Moot court competition, 2018, have been crucial stepping stones to our growth as law students. The funding would ensure that financial limitations do not hinder us in the pursuit of our dreams.