MITTI Cafe is a non-profit organisation. Our vision is to create livelihoods for persons with disabilities, towards ensuring that they earn with dignity. We empower hundreds of people with disabilities through our chain of cafes in institutional and public spaces. However, with the COVID 19 pandemic,
all our cafes shut down, impacting the livelihoods of hundreds of persons with disabilities we supported.

Our cafe at Wipro, Bangalore. We have similar cafes in Infosys, Accenture, Wells Fargo, IQVIA, ANZ and others. All are in hiberanation due to the pandemic.
We pivoted quickly to find innovative and unique solutions that addressed the plight of vulnerable and economically marginalised communities, including our team of persons with physical, intellectual and psychiatric disabilities.
Since the pandemic began, our fantastic team of adults with disabilities have poured their compassion into preparing and serving Karuna meals to over 2 million people who were struggling for sustenance.
Now, it is time for them to transition into their regular livelihoods. We are seeking support to
start new cafes that will provide sustainable livelihoods through employment and skilling.
We will be opening our new cafes in hospitals, airports and public areas where there will be a flow of customers despite COVID.
We urge your
urgent support to help us rebuild livelihoods. You will be their HEROs
in their journey towards a life of dignity and empowerment.

A glimmer of hope shines in the hearts of our fantastic team as they await new cafes and new opportunities:

Kirti: Our first employee, came crawling into our lives, because her family could not afford a wheelchair, is the manager for our cafe. She waits for a cafe to open to resume her work which brings her pride and dignity.
Murthy: Our Single Handed Warrior:
He looks forward to serve with a smile.
Damini: Our favourite customer support executive is waiting to charm customers with her wit and smile. She has Down Syndrome.
Gauri: 100% Visually Impaired. Is our trainer and lead for Karuna Meals program. She waits to see a day when her cafe is buzzing with persons with disabilities she can train towards their lives of dignity and empowerment.
Bhairappa: has dwarfism and motor disability. He got married during the COVID pandemic and working hard to distribute Karuna meals to the needy.
Bhairappa and Roopa
(who also works at MITTI Cafe) are hopeful of cafes opening where will feel empowered to plan a life of dignity.
Siddhama: with Orthopedic Disability
is MITTI Cafe's Nighingale. She waits for joyous times when cafes will give her an audience for her talent.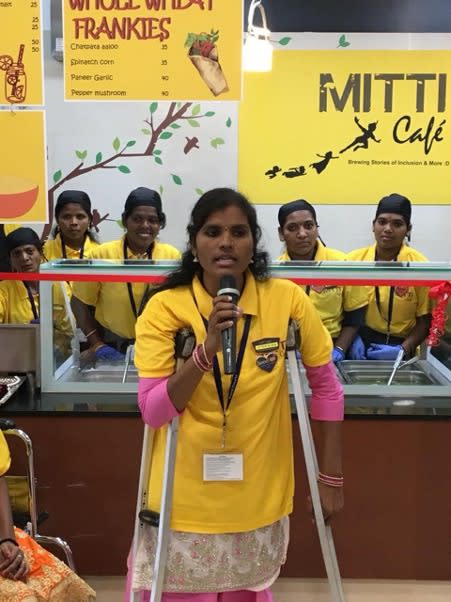 Rathna: Paraplegic: did not know how to read or write. After training at MITTI, she is the cashier at our Infosys cafe and handles the team, inventory and cash like a Pro. She recently got married to Basvaraj (who is also paraplegic and works with MITTI Cafe). They dream of the cafes opening soon.
We need your support to bring their dreams to reality. Please help us to start our cafes that will provide empowerment through livelihoods and skilling to hundreds of persons with physical, intellectual and psychiatric disabilities.