Hello,
My name is Aakash Yadav and I recently completed my 10th grade (Secondary School Examination) from Gumpha Road English Municipality School with 76.40%. I need your help to continue my studies. I have a family with six members three younger sisters, myself, mummy, and papa.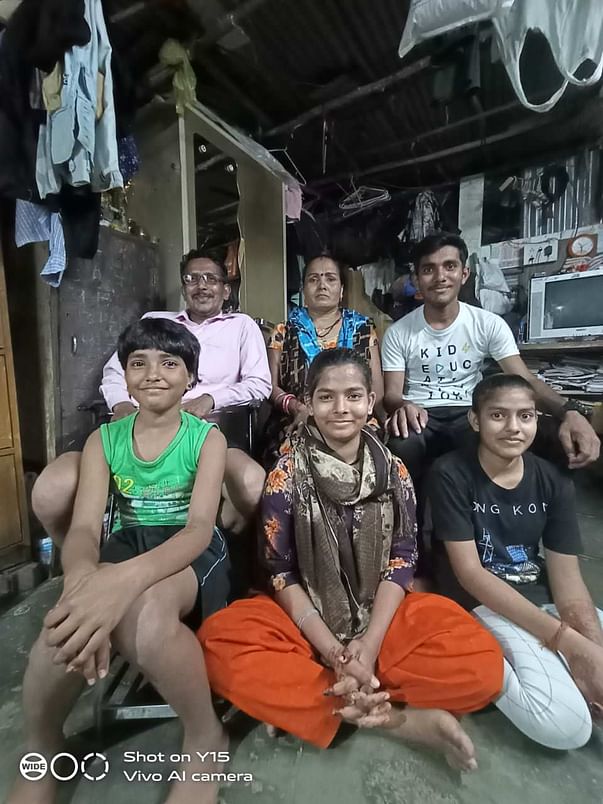 We came to Mumbai for better avenues when I was 5 years old. Since then, we have been living in Mumbai for 10 years now in a temporary shed without proper walls around us, without electricity for 10 years, no proper water supply, or no washroom facilities.
My father is a painter. He wakes up in the morning at 6'o' clock despite the health issues that he has to face and goes to his work. He gets his payment on a daily basis. The first thought that comes to my father's mind is "If he will not go to work today maybe his family have to stay hungry for the day ." And my mother is a housewife. She works the whole day and night without complaining about anything. When she starts her day the first thing that she thinks of "Maybe she will be able to see her husband today or not ." They both work day and night with a smile on their face and with the hope that the next day would be better.
Listen to my mother telling about the problems we are facing

Now I am a big hope for my family as I am the eldest child and I am good with my studies.
Listen to my father here in this video

My family couldn't afford me to put in a private school so I got admission to a government school. Our class was lucky to get support from TFI (Teach for India) since 3rd grade. TFI fellows have been the biggest support for me and with the help of encouragement and belief in me, I got several opportunities such as KER (Kids Education Revolution) National summit, then we as a class team hosted and conducted a cultural fest (SANGAM), and we also ran projects like Eklavya or GURUKOOL to support other students in the school and in the community.
I completed my 10th-grade last year only with 76.40% and I am currently in 11th grade.
But due to the pandemic, my father lost whatever means of livelihood he had earlier. And now as everyone knows that in today's world education has gone online, but in my situation, I am not able to attend my online classes because of a lack of devices and resources (mobile phone, books, internet , fathers loan,for traveling to my college etc.). So please help me to continue further studies.
Your help may bring light and happiness to our family. In my community, a lot of people suggest to us that we shouldn't study but work. I want to prove all of them wrong that every child should study and then I also want to contribute to the education of other children, the way I have been doing it in my school and community already.

Please help me to complete my education