BACKGROUND

In 2019, five of us friends, with a passion for education, met and decided to set up a village community school. Most of us have rural background and wanted to give back.
We also wanted to evolve a new model of teaching and learning. A model that connects people to their community rather than separating them from it. We decided to build a school and demonstrate that an alternative school can be created in rural India too.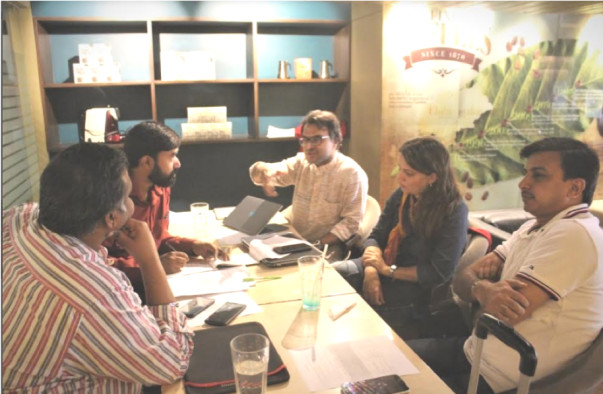 Clockwise from left: Senthil (university education administrator), Girish (our CEO in the village), Yugank (university professor), Harini (community architect), Piyush (CA). Missing: Divya (UNICEF)LOCATION & PILOT
One of us had close community ties in Tumariya Ghat village of Gunnaur tehsil in Sambhal district of western Uttar Pradesh. We ran a small pilot for almost one year, in an empty home. It was hugely successful, we had 180 children studying under broken roofs. Inspired by its success, we decided to build a proper school in the village.
Announcing the launch of Pilot
The Pilot School
PROBLEM
The region (district Sambhal was carved out of Moradabad and Budaun in 2012) has one of the lowest educational indicators in the country (ASER Reports). The private schools are expensive and mediocre, government schools in the region dysfunctional. Our survey revealed that most families want to send children to school, but since none promise access and quality, children often remained out-of-school, especially girls.
(The video below shows the situation.)

SUCCESS
We are proud to announce that we were able to build the school through the pandemic, using personal funds and involving donors from outside.
It was done through village community participation. The land came from the villagers themselves. Engaging with locals and children helped us decide the design. The School's architecture is inspired by community and vernacular construction techniques.
Head mason with architect: notice the walls are made in rat-trap bond, which leaves cavity inside. This reduces number of bricks to be used and offers climatic insulation.
School building under construction (south view): wide corridors as learning streets. Staggered classroom with creative niches allow more huddling among children. Jaalis give a unique, functional and creative appeal.
PEDAGOGY

We want to develop a new model of teaching and learning, which involves participation, collaboration and learning-by-doing. We allow children to make mistakes, encourage them to express anything, make them learn through engaging with each other, and most of all, involve parents. We are trying to demonstrate a new way of learning in rural India.
The vision of the School is, "
to enable people discover their own life journeys
."
Teachers come from nearby villages and we spend considerable efforts in their training. We recently secured a grant from Harvard University for teachers' training programme (in Pre Text pedagogy).
PRESENTLY
The School is 'almost' constructed now, and classes have begun. We have almost 250 students from five villages. We charge very nominal fee to make it accessible and to sustain it.
The School has infused new-found hope in the entire region. It inspires parents and village community. We also plan to use the space for various community initiatives and capacity building programmes.
NEED
We are experiencing a shortfall of around 10-15% of funds to finish the last bit of our construction (parts of toilet block, water tank and pipelines, boundary wall, gate, doors, windows, levelling). It would help us a great deal, and allow us to focus to what we really aspire to do: cultivate teaching and learning in rural India.
Our website:
http://www.gyanganga.org.in