ONE ONE ONE WE ARE ALL ONE, PARAMATHMA IS IN EVERYONE
I am here to help those who are in need. I am here to say to you all, please help them, make one step forward towards the people who lack something in their life, some people lack everything, but we unitedly make them feel, that we are with them we all are family. Everyone has to get equal opportunities, yeah this world is made for everyone and this is all ours. Everyone has the right to live. But, what is today's situation, think, there are people not going to school, there are people still suffering from hunger, there are people with unemployment, and people lacking basic requirements to live life, like food, shelter, clothes, occupation, and do not have awareness regarding hygienic practices and suffering with illness, and some people are suffering from health problems. It is not because they are not capable of or not willing to have happy lives. It's because of our incapability to help them and to bring them to the limelight, it's because we are not willing to make those people happy and do not even think about what we can do to people around us, to bring smiles to the faces like us. Everyone can study, ability to concentrate, and focus on their studies, few of them want to explore many fields, and they have the willingness to do and are curious to learn and to have and live the life that everyone has. So, firstly to make our dreams true, and to work hard for the betterment of our lives we must live healthily right! there are people not having food to eat they are going to bed with hunger. Please, help those around us with a kind and pure heart with what you have. You buy groceries right, keep aside some amount for them and from everything you buy think about them. It's not about money! You can do, it if you have a pure and kind heart with the intention to do so, we were once ruled by the British in our motherland and how they treated us, puppets in their hands and servants and we have no freedom to do as we like and they were ruining our culture and practices, and we Indians unitedly fought and brought Independence to us. Now we have to be as united right, as we all are Indians, then why are these discriminations in the society and if we are not feeling bad for those people in needy, then where is the difference between us and Britishers. We should help everyone and work together to make India free from those scarcities and sufferings. It is not one issue that our people suffering and facing there are many, you can search and you can know. So, everyone should help people around us, kindly work with humanity, you can give what you have, I am requesting not to think of profits, instead, you can serve and help people and bring happiness to the lives of everyone. Making someone happy brings you more satisfaction than making anything. We people created money and all. But before that, we are all One, humans. listen and understand carefully,
Trees, soil, Earth, and birds, all are as pure as and as lovely as they are from the beginning of this creation but we humans changed, changed due to money, selfishness, jealousy, and all negativity and desires we have. Please learn generosity from that creature with pure loving nature. As generations go ahead our value systems and traditions' moral values are diminishing. I am requesting you to protect the moral value systems, ethics and love, humanity, and altruism and bring back glory to our motherland and
our
motivational Speaker sir Sandeep Maheswari Ji gives motivation through his YouTube channel and always is on the top list in subscriptions and views and he never takes a penny. Here are the words from Sir Sandeep Maheshwari Ji
"If you have more than you need, simply share it with those who need it the most". - Sandeep Maheshwari.
You can also be one of those inspiring and real human heroes, do whatever you can, think of it, and execute it, could you please share this so that we can change lives and bring smiles to faces.
Everyone can help regardless of their profession and occupation if they are kind and pure enough to help. So, one can also join An NGO so that you a team or group can do it together, it's appreciable if you do it on your own and also spread it to others and inspire others with your work. Thank you very much for reading and coming up here. Please be a change you want to see in others. A plan without action and action without a plan both are not good right! So by reading this you have got some idea right! So, think about that. Plan and Act accordingly. Thank you and All the best. God bless all of Us. Jai Hind.
HELP US FIGHT HUNGER!
Hamari Pahchan NGO has come up with an initiative to fight hunger, as a part of our hunger project we aim to provide food to the ones in need. We need your support to make sure that no one goes to bed with an empty stomach.

DONATE TODAY!
Ration for 1 family includes:
Three types of Pulses, Rice, Atta, Eggs, Tea, Sanitary Pads, Soap, Shampoo, Cloth, and Utensil Washing Powder.
COOKED FOOD :
1. Cooked meal for 1 person for 1 time: Rs.50/-
2. Cooked meal for 10 people for 1 time: Rs. 500/-
3. Cooked meal for 100 people for 1 time: Rs. 5000/-
RAW FOOD MATERIAL :
1. necessities for 1 family: Rs.2199/-
2. necessities for 10 families: Rs.21990/-
3. necessities for 35 families: Rs.76965/-
Poverty and hunger are some of the deep-rooted issues that our society has been dealing with for quite some time now. Approximately 190 million Indians go to bed hungry every day!
Be like Annapurna Devi

In last year's global hunger index, India ranked 101st out of the 116 countries, lower than before. The current scenario gives us little hope of improvement, in fact as per the studies we might as well slip amongst the worst performers in food security.
Hamari Pahchan has come up with an initiative to address this issue at the ground level. We have a dedicated team devoted to the hunger project, to make sure that no stomach goes to bed empty.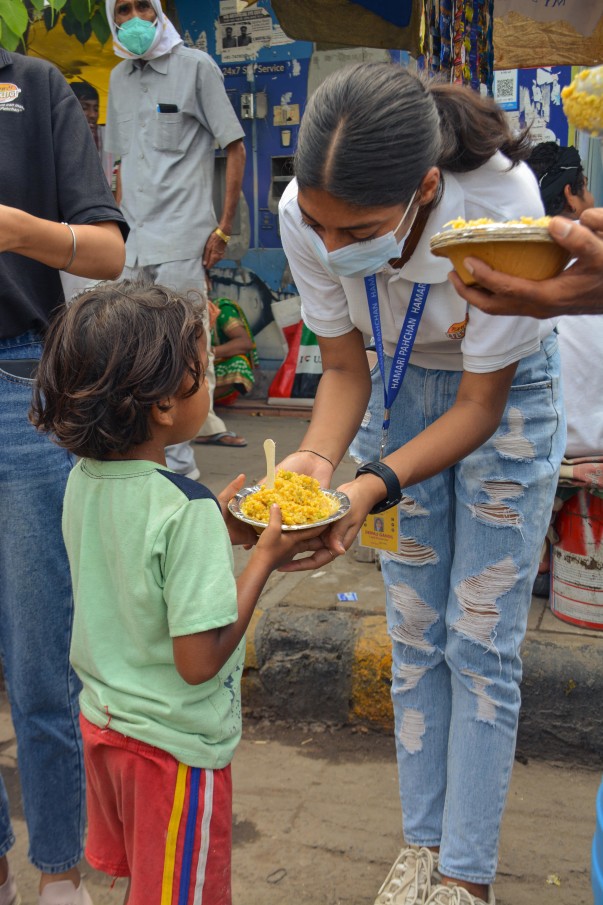 According to a report by the International Food Policy Research Institute, it has been predicted that the Food Production of India could drop by 16% as a consequence of which
hunger may increase by 23% by the year 2023
.
Hence, we must do something right away!
Many have been working for this cause relentlessly with the help of this organization. We aspire to reach the goal
'of complete eradication of hunger
with your humble support. Contribute to donating rations or meals to the unprivileged people who might need food right now.
Share and spread this word across your network...
No amount is big or small, it's the contribution that matters! You can donate for a one-time meal i.e. Rs.50/-
Donation to Hamari Pahchan NGO entitles you to Tax Exemption under Section 80G of the Income Tax Act.

Thank you! Check out our social media accounts: