Sang is supporting School of Rural Development and Environment (https://srdenetwork.com/what-we-do/) in catering to more families in Kashmir who with the political situation, lack of economic activity and now nationwide lockdown are worst hit.

J&K has 1.50 crore population is still home to the number of poor in the world. The Corona Virus has hit J&K hard and as of 1st May 2020, the J&K Government has confirmed a total of 614 cases, out of which 546 are in Kashmir and 58 in Jammu, and 8 cases of death reported. Once the lockdown was announced on 24 March, it affected the entire population who have been confined to the homes since August 05, 2019 the already distressed economy and livelihoods of people in Kashmir region as well.

We are bringing focus to some of the vulnerable communities in Kashmir, and particularly in Budgam, Bandipora, Srinagar, Kulgam and Baramulla which have been impacted by the lockdown of COVID-19 response. Women have been particularly hit due to limited availability of sanitary napkins forcing them to resort to unhygienic practices and thus impacting sexual and reproductive health.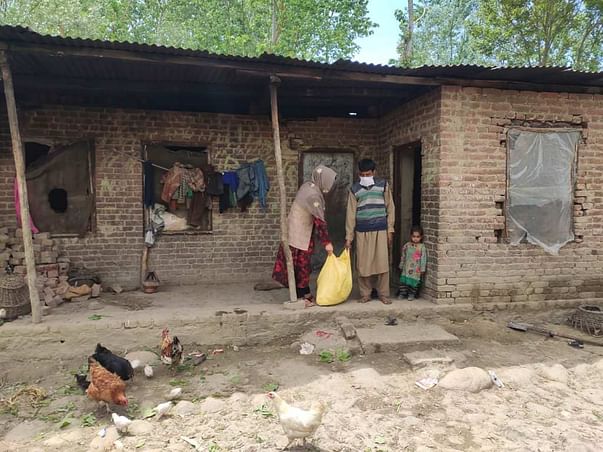 Simultaneously, due to lack of healthcare facilities the healthcare workers do have limited access to even basic protection for the use in hospitals. There is huge deficiency of Personal Protection Equipment in the region compromising protection and safety of many frontline workers.
Therefore, SRDE initiated response to the COVID-19 and we have thus far directly supplied essentials including dry ration kit to 600 households, and 1200 delivery kits, 125 PPEs, 1400 sanitary napkin packets to hospitals in
Bandipora, Budgam and Baramula and Srinagar
. SRDE also formed Relief coalition to bring together various volunteers and organizations, which has reached to over 10000 families across Kashmir region thus far.
However, considering the gravity of the situation the demand is surging, we seek your desired support in the relief and rehabilitation to help the economically underprivileged sections/communities in Kashmir. Our immediate needs vis-à-vis COVID-19 are support:
Ration and hygiene kits for around 5000 families each in Budgam, Bandipora, Srinagar, Kulgam and Baramulla

50 Sewing machines and raw material for bulk production of masks and sanitary napkins

10000 PPEs for doctors and other healthcare workers
Our next level interventions would include restoring livelihoods, access to education and mental health of the affected in the aforementioned districts of the Valley.
~
SRDE
----------------
Support SRDE in providing relief to those who might the worst hit in the country.
Warmly,
Team Sang