A genuine change must first come from within the individual, only then can he or she attempt to make a significant contribution to humanity. We believe that the youth of our community can be change catalysts through their sheer determination and perseverance. We are raising funds to support these youth through their fellowship journey and also to establish Community centres within these communities.
Dear All, We are changing our priority to support the scavenger community in India due to the COVID-19 because the sanitation workers are working in the high risk without any safety. We are trying to make sure the safety of their families by providing them food and safety equipment. The sanitation workers are also working like doctors and police to prevent you from the COVID-19 virus. But they are the most ignored section of the society.
Our response to COVID-19:
We launched our Jai Bhim Community Kitchen to provide free food and safety tools to the sanitation workers and needy people at there homes and work in different cities like Solan-Himachal Pradesh, Ladwa-Haryana, Bhiwani-Haryana, Guwahati-Assam from April 19th to 25th in our first round.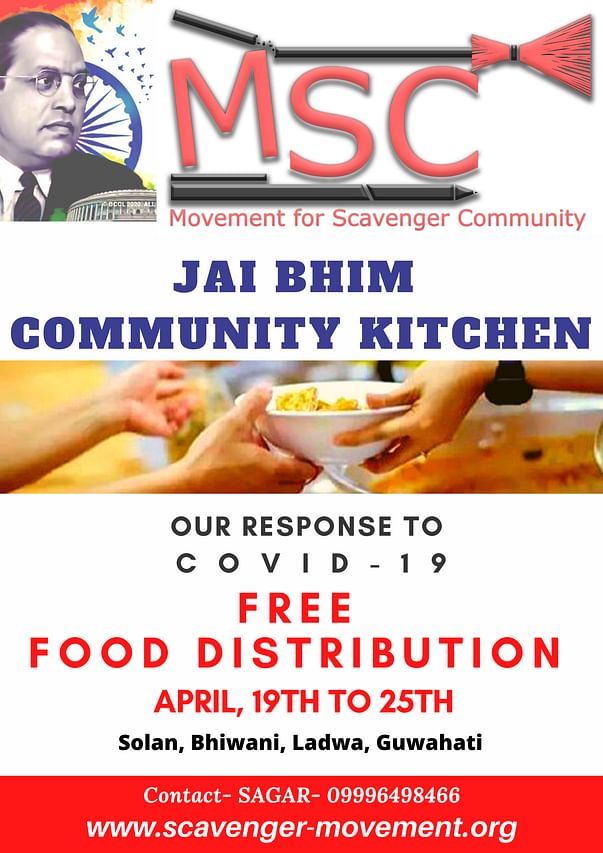 India has the second-largest scavenging population in the world after China. According to the2011 census showed that there are between 800,000 to 1,000,000 people engaged in manual scavenging.
The scavenger communities of India are the most deprived. Occupying the lowest rung of the caste hierarchy, they are marginalized within marginalized communities. Manual scavenging is a caste-based, hereditary livelihood for Dalits that is predominantly linked with forced labour. Manual scavenging involves the manual removal of human excreta from dry latrines and sewers (using basic tools such as thin boards, buckets, and baskets lined with sacking) and then carrying it on the head. In India and other caste-affected countries in South Asia, the term 'scavenger' is perceived as a human being who is considered an 'untouchable' or 'polluting' by other castes. As stated by a UN Special Rapporteur, "the degrading nature of this work is an extreme case and is very much tied up with the inequalities of a deeply ingrained caste system and the lack of choice in finding other types of work. Majority of workers are Dalit women. In cities, they work as domestic sweepers. These women are sexually harassed by their employers - they are the victim to daily rape in the houses of their employers. Yet, these women continue to sweep houses for fifty to a hundred rupees per month. Dalit scavengers are rarely able to take up other occupations due to the stigma associated with their caste, untouchable social status, and occupational status. They are paid less than minimum wages and are often forced to borrow money from upper-caste neighbours in order to survive - thus they end up maintaining the relationship of bondage.
Some NGOs have been working with this community for the last thirty years and the government has, on paper, put in place means of abolishing this occupation, yet the situation remains the same.
Death in the SEWERS:-
At least 22,327 workers from scavenger community die every year- this translates to more than 61 scavenger deaths every day due to scavenging work. The degree and frequency of discrimination against the scavenging community clearly identify them being the most discriminated group within Indian society.
Our Ideas and Initiatives for Scavenger Community:-

Movement for Scavenger Community is an NGO founded in 2009 by a group of young social activists and professionals belonging to the scavenger community, has the mission to empower the community through education, organization and economic diversification. MSC is has been working towards building a community-led movement for the development and liberation of the manual scavenging community. Through our work with community-led movements, we have realized that there are many grassroots people working tirelessly for the eradication of manual scavenging and development of the people. MSC has been able to connect with many community-based movements located in different regions of India through leadership workshops and community interactions. MSC has designed The "Fellows for equality" programme with a vision to enable and empower youth leadership within the manual scavenger community scattered across India. The fellows act as catalysts in facilitating and leading development through education, employability and entrepreneurship initiatives. They also act as a network to connect the scattered communities to the movement and a common purpose. Right now MSC has four 'Dr. B.R.Ambedkar Community Resource Centre' in four different states under the leadership of four fellows for equality. We need more funds to expend this unique
"fellow for equality"
program.
About "Fellows for Equality" program:
We believe that the youth of our community can be change catalysts through their sheer determination and perseverance. With the aim of leveraging the abundant energy in youth, we aim to identify 7 promising youth from scavenging communities in different part of India and work with them to enable and empower their communities and pave a path for their careers in social change while improving education and development indicators within the communities. The 7 chosen youth leaders will go through a one-year fellowship with the Movement for Scavenger Community where they will be trained through 5 residential seminars on community mobilization, institution building, participatory development, project management and etc which will enable them to facilitate and lead change within their communities. These budding leaders will also be assigned coaches who would walk along with them through the journey of leadership and growth. We are raising fund to support these youth through their fellowship journey and also to establish Community centres within these communities. The centres will initially provide tutoring to the children along with access to Internet services in the community. It is envisioned that the community centres will become a centre of development and increased community engagement. Please support the "Fellows for Equality Fellowship" for the education and development of the scavenger community. We already started this fellowship in 2018 with four fellows from Himachal Pradesh, Haryana, West Bengal, and Assam. The result of the fellowship is amazing and life-changing. Therefore, there is an urgent need to continue this program.
Dr. B. R. Ambedkar Community Resource Centres:
The B R Ambedkar Community Resource Centre is central to the work of the Movement for Scavenger Community (MSC). The centres are established within and near the colony of people from Manual Scavenger Community. A centre formed with informed consent or demand from the community. The centre will register people from the community as members through a formal application process and a minimum membership fee as decided by the executive committee of the Centre in consultation by the community. The working of the centre will be governed by an executive committee.



Vimal is a leadership advisor at Adaptive Change Advisors(ACA) and the founder of Movement for Scavenger Community (MSC), an organization committed to the eradication of manual scavenging in India and bringing education and awareness to the existing scavenger community. Under MSC he also operates the Dr B.R. Ambedkar Community Resource Center which provides career counselling and a small library to disadvantaged students in different parts of India. As a PhD scholar in social work with a focus on caste violence at the Tata Institute of Social Sciences in Mumbai, he was awarded the Young Professional Fellowship from the Dalit Foundation in 2008. Vimal holds a Bachelor of Arts and Master of Social Work from the University of Kurukshetra in Haryana. Vimal also completed his research fellowship under DAAD for his research with the University of Muenster, Germany.




Website:

- www.scavenger-movement.org