"At a time when the human race is facing an immense crisis, there can only be one true response: The expression of Humanity itself.

This is a moment for all of us to come together in a collective effort to make each other kinder, stronger and braver to face the days ahead." – Shah Rukh Khan
Help Meer Foundation provide PPE and ventilators to healthcare providers fighting COVID-19
With the number of COVID-19 cases rising exponentially, our limited number of healthcare workers need a constant supply of Personal Protective Equipment (PPE) and ventilators to help them test, diagnose and treat more patients.
Source:- WHO
We have provided 50,000 PPE kits for healthcare workers. Now, we aim to escalate our support.
How will my donation help?
• PPEs defend healthcare workers against the virus, while ventilators are essential in saving infected patients.
• These two essential supplies can help our healthcare heroes sustain the fight against COVID-19 more effectively.
• Your donation will be used to obtain PPEs and Ventilators as per direction from the Central Government.
Together, as we help them, we will secure our future too.
How much should I donate?
We understand that it is a difficult time for all of us, which is why we welcome you to contribute as little and as much as you personally can to help these heroes.
This is a 100% not-for-profit campaign and we will provide utmost transparency from the disbursement of funds to the procurement of these items.
What has Meer Foundation done to fight COVID-19 till date?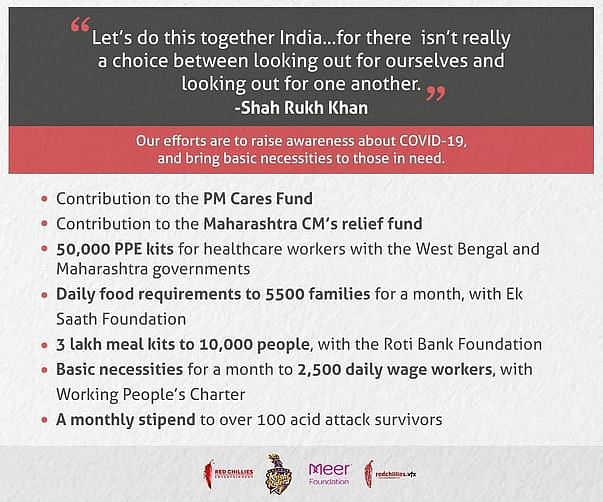 About Meer Foundation and its history:


• Meer Foundation, an NGO founded by Mr. Shah Rukh Khan, aims to build a world that empowers women and promotes societal togetherness.
• Meer is a philanthropic foundation that supports victims of acid attacks and major burn injuries by providing medical treatment and rehabilitation.
• Meer Foundation has carried out numerous work in environmental causes, provided relief support for Kerala floods, supported cancer survivors and para-athletes previously when circumstances necessitated.
How to claim tax benefits?
If the payment is made via the Virtual Bank account, PayTM deep link or UPI deep-link, it has to be claimed by the donor. The donors can claim the payment by visiting www.milaap.org/payments.
Alternatively, you can reach out to Milaap at feedback@milaap.org or whatsapp+918889688889, with the screenshot of the donation and the donor details (Name and Email ID).