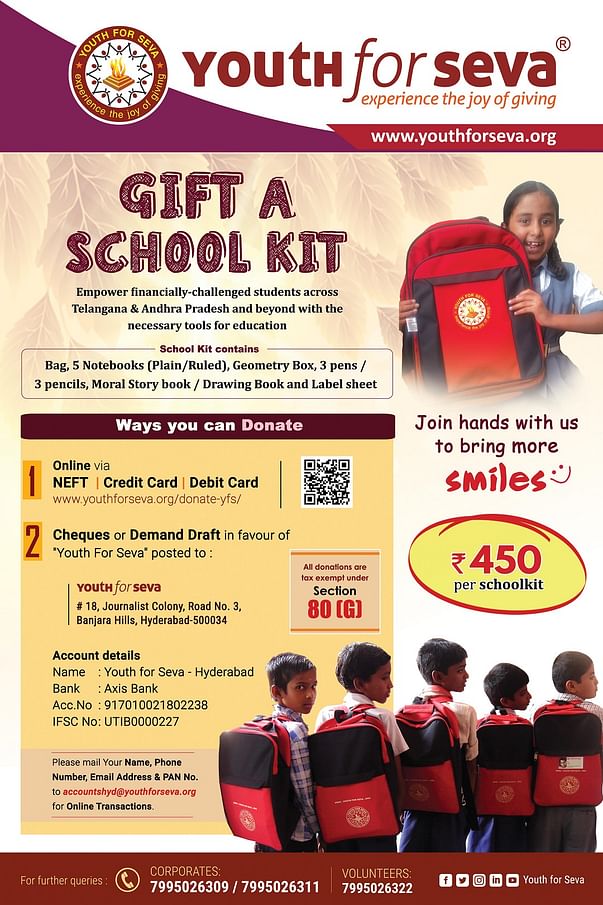 Namaste,
Youth For Seva (YFS) is a non-profit organisation which aims to empower and enable individuals from under resourced backgrounds of the society. YFS is working towards improving the quality of education for the under privileged students of the society. One of the project we are working with for this cause is the School Kit Drive. We are trying to raise funds for 1000 school kits which will be distributed to the students from a very low financial background and are at the verge of dropping out from school . Giving a school kit motivates them to continue school and also encourage their further interest in studies.
With the current COVID 19 epidemic, there are lot of kids belonging to migrant labor families and they are in dire need of supplies to even to go to school. We can help these kids to continue their education even under such situations.
Each school kit costs Rs 450 /- and a kit includes 5 notebooks, Geometry Box, 3 pens/ 3 pencils, label sheet and a mask all packed in an attractive new school bag. Kindly support our cause by donating and sharing our fundraiser...
The cost of one school kit consists of
Bag=225,
Note books 18*5=90,
Geometry Box = 50,
Label sheet=10
Pens=10,
Mask=10,
Packing, Distribution and Transportation=15,
Admin=10%