May 29: Donated 44 BiPAP ventilator machines to Uttrakhand (Dehradun, Tehri-Garhwal, Uttarkashi), Uttar Pradesh (Aligarh), Delhi (Sardar Patel Covid Care, Indira Gandhi Hospital) & Patiala, Punjab through Khalsa Aid.
11 BiPAPs are in transit for Muzzafarnagar, Champawat & Rudrapur.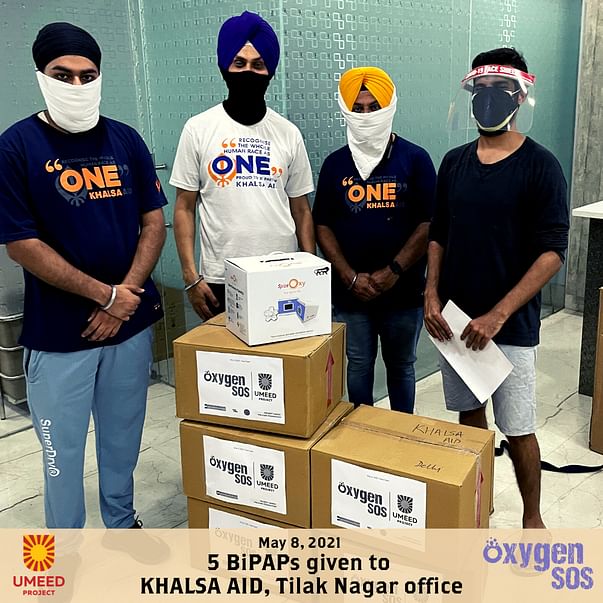 India has more than 25 Million cases with an average daily cases 300,000+ and more than 5000 daily deaths!
Recent evidence has shown Non-Invasive Ventilation to have a more significant and positive role than initially thought. - Clinics in Integrated Care & NCBI
Doctors have realised that an easily-available BiPAP machine could come to the rescue - Telegraph India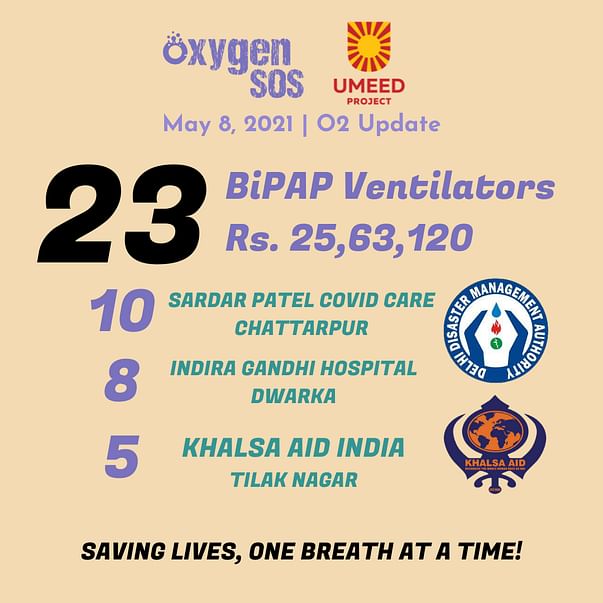 We are currently donating
Spice Oxy
ventilators to public & makeshift hospitals through the Care Taking branch, Revenue Department, Delhi Govt and Khalsa Aid through local distributors at a cost of Rs. 99,500 + 12% GST.
Donate now and help India fight the Oxygen crisis. Help us lower the daily death toll. We urge you to come together and save a million lives in India. Help India breathe and spread the word in your personal and professional network, and urge all institutions/companies/businesses to donate generously for India Oxygen SOS.
Help India Breathe & Survive!
Umeed Project Team
umeedproject.org
|
instagram
|
twitter
We are keeping our donors updated with weekly updates here and through emails, and frequent updates on our social handles. For direct donations, please drop us a mail at donate@umeedproject.org
Campaign Organizers:
Amir Siddiqui
- Founder, Project Umeed Welfare Foundation - is known for his work in the media and social work sector. His motivating & empowering attitude merged with compassionate enthusiasm has helped us envision solutions that save lives in real time.
Chirag Mediratta
- Co-founder, Project Umeed Welfare Foundation - is a behavior and cultural researcher & visiting faculty. His enterprising nature and commitment to the cause helps us scale up in no time with actionable solutions.
'Umeed Project' is run by a Delhi based registered NGO - Project Umeed Welfare Foundation with a coalition of NGOs and good samaritans on the ground since the first wave of Covid hit Delhi NCR. Till date, Umeed Project has provided
continuous food and Covid-19 essential relief to more than 9,00,000 people
across
43 locations in Delhi, UP, Rajasthan and NCT with 4,50,000 cooked meals and dry ration & essentials kit to more than 43,000 families.
Media & Collaborations
Food & Hospitality:
Radisson hotels, Fortis Memorial Research Institute, Wendy's
NGOs:
Goonj, One family, Each one Feed one
Govt:
Haryana govt, Delhi govt, MCG, MCD
Brands in Support:
Vh1, Skillbox, Azadi Records, Reproduce Artists, Wildcity, Instrupad, Wendy's
Artist Community:
Peeinghuman, Kunal Kamra, Kusha Kapila, Saba Azad, Madboy Mink, Papon, Papa Roach, Indian Ocean, Louiz Banks, Anushka Manchanda, Danish Hussain and more
Media coverage:
Indian Express
|
Times Now
|
Umeed Project on IndiaTV
|
PeeingHuman on Umeed Project
Fundraisers:
Milaap for Migrant & Vulnerable Families
|
Skillbox - Artists for a Cause
|
Shayarana Umeed
Organisation Details
This campaign is managed and executed by Project Umeed Welfare Foundation registered as Not-for-profits Section 8 NGO under Companies Act. The financial and admin management and transparency is maintained by our trusted partner Bhartiya Navdeep Samiti - 80G & FCRA approved - registered in 2001 under Society Deed and has been doing tremendous work for the last 20 years.
Our association during the first wave helped us garner immediate support for the most vulnerable sections of society and since then we have worked together towards providing emergency relief for the most needy - migrant workers, daily wagers, non-contracted labour, widows, orphan children, high risk & vulnerable families, transgender community and those who need survival and food relief from dry ration, cooked meals, masks, Covid19 essentials, sanitary pads and even hospital emergencies in some cases.