"When she started complaining of a headache, we thought it was nothing serious. But then, she started to struggle to see distant things, and I anxiously took her to the doctor. A few tests later,

doctors told her cancer had now spread into her brain. I was completely shattered. It's been just a few months since she recovered from blood cancer and now she's losing her sight because of it

!" - Pooja, mother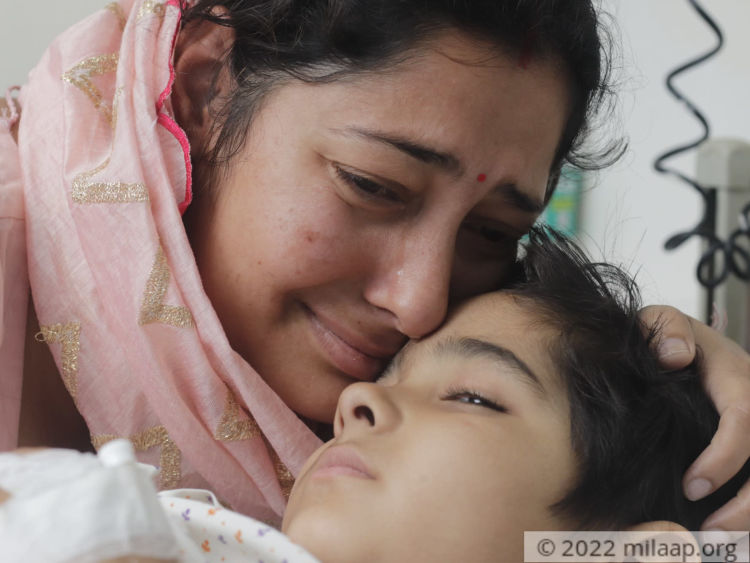 3 years ago, Yatika's toughest battle with blood cancer began
When Yatika started complaining of pain in her legs, her parents thought it might be the effect of jaundice, which she had just recovered from. Their little concern was further truncated when the doctor confirmed their diagnosis. Yatika had acute lymphoblastic leukemia, a blood disease due to which Yatika's body doesn't produce enough red blood cells.

"The past three years were no less than a nightmare for us. We knew about cancer but we didn't know that it would affect even small kids.

She was scared of those painful injections at first. But as time went by she got used to it and we helplessly watched her go through all of it.

" - Pooja, mother
Cancer that once infected her blood has now spread to her brain
After three years of rigorous chemotherapy, Yatika was declared cancer-free in September 2021. Just when her parents thought that she could finally live a normal life, she started having severe headaches. Arun and Pooja prayed for it to be nothing serious, but their worst fear came true when the doctors informed them that Yatika's cancer had now spread to her brain, affecting her vision.

"We never missed her chemotherapy sessions. We gave her medicines on time. We didn't even let her go out of the house, fearing she might contract infections. I don't know where it went wrong! We were cautious and careful, yet it came back to destroy her life again." - Pooja, mother
Arun could afford Yatika's cancer treatment the first time, but now he has nothing left
Arun works for a garment export company. With financial support from his family and a personal loan of INR 10 lakhs, he was able to meet the expenses of Yatika's treatment when she was first diagnosed. Now, with the money he borrowed from others, he was able to start Yatika's chemotherapy again. But it isn't enough to continue her treatment.

"Our daughter is now silently enduring those chemotherapy sessions just because I told her she'll be able to see everything clearly. She needs to continue her chemotherapy for one more year. If I can't afford the rest of her treatment I'm afraid she'll lose her vision completely. Please help me." - Arun, father
Yatika is responding well to the chemotherapy she's currently going through. Her episodes of severe headache have reduced and with continued treatment, her vision will improve.
All she needs is your generous support and contribution to fight cancer once again.