"9 years ago, I lost my husband. I watched him fight for his life till the end, until throat cancer took him away from us. I was only starting to move on from his death, when my son was diagnosed with cancer. I could not save my husband as he was battling end stage cancer, but my son… I have to face the pain and trauma, all over again. I can't lose my son too!"
- Pramila, mother
He had squinted eyes, caused by a cancerous tumour in his brain
In August, earlier this year, Dhairya's family noticed that he suddenly had squinted eyes, and was struggling to keep them open. Worried, he was taken to an ophthalmologist, who recommended they get an MRI scan done.
"I had first taken notice of his symptoms and thought that he was just having trouble with his eyesight. At most, I assumed he would need high-powered glasses. I wasn't expecting for the doctor to sit us down and explain to us that my brother had a cancerous tumour in his brain. He also some fluid build-up and needed to undergo urgent surgery…" - Shraddha, elder sister
10-year-old Dhairya was diagnosed with

Medulloblastoma

, a malignant brain tumour that starts in the back of the brain (cerebellum), which controls muscle coordination, balance and movement. It most commonly occurs in little children and can spread to other parts of the brain and spinal cord.
He underwent a surgery, but it failed and left him with complications
"In September, he underwent surgery to remove the tumour. We thought that would be it and he'd be free of cancer. But how wrong I was. Only days later, his MRI scan showed that the tumour hadn't been removed completely. It is growing again and he will need one more surgery. All my hopes were shattered! My child is still suffering..." - Pramila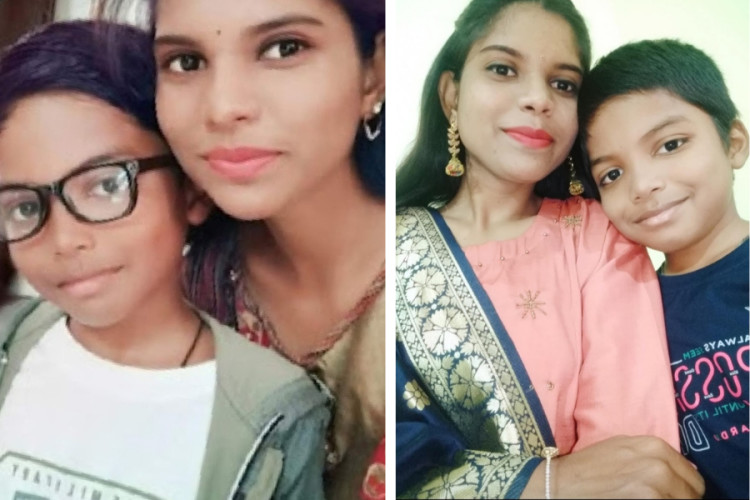 Dhairya with his sister, Shraddha.
The surgery left Dhairya with several complications.
For one, he is confined to a bed and hasn't been able to move at all, or even talk, since the tumour has affected the part of his brain associated with movement and speech. Dhairya is currently undergoing chemotherapy and radiation, but his life depends on another surgery to rid him of cancer.
They have no way to keep his treatment going
Pramila, a homemaker, has raised her two children single-handledly all these years. Meanwhile, 23-year-old Shraddha, had just started working recently and was the sole breadwinner, but she had to quit following her brother's diagnosis. Dhairya's father, Vinod, had put aside money for their future, and the family had been living off of these savings following his death. They have spent over INR 5.5 lakhs on Dhairya's treatment and surgery so far, and now, they've exhausted everything they had.
"Dhairya has no idea about the cancer that he is suffering from, and we can't bring ourselves to tell him about it. He has gotten so weak, and is very frustrated with his condition. He can barely walk or talk like he used to. He misses school, and is dying to get back to how life was before all this. But we're failing to save him. I've already lost my father, and I'm terrified of losing my brother too. Now, I am helpless. I don't know what to do…" - Shraddha

With your contributions, you can help him Dhairya undergo surgery and beat cancer.