"

He was born earlier than normal premature birth and weighs only 935 gms. He is not completely developed and needs close monitoring as his body continues developing in the NICU. He has already had jaundice twice and needs to be protected from any kind of infection.

The doctors have told us that while he has a good chance to survive, anything can happen at any time." – Deependra Singh, the baby's father
Deependra and his wife Swati have waited a long time for a child
Deependra is a school teacher and his wife Swati is a police constable in Agra. They have been married nine years before finally expecting a child. They did everything in their power to take good care of Swati health in the time – visiting doctors regularly and taking all necessary medicines.
But in the sixth month of her pregnancy, needed an urgent C-section since the amniotic fluid had dried up inside.
"We were taking all necessary medicines and missed an appointment by two days. Suddenly the doctors told us that the baby had to be delivered right away. But when he was born, he was very underdeveloped and we had to come to Delhi and admit him in the NICU here." – Deependra
The new parents were not prepared for exorbitant NICU expenses
With their modest income, the parents have already spent approximately Rs 7 lakhs towards expenses.
They are deep in debt and they don't have the means to give their precious child the treatment he needs to survive.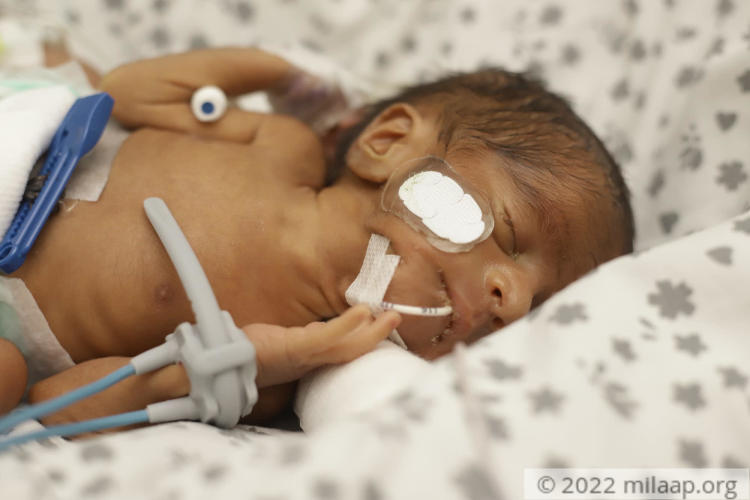 "We don't have the financial ability to continue our child's treatment. Since this was a difficult pregnancy, we spent a lot of money on my wife's good health through it. My father who is a farmer gave us some money, and we borrowed the rest. Our savings are also all gone. We don't have anyone to turn to in this time." – Deependra
The baby needs support to breathe and continue to grow till he can survive outside the NICU
The last trimester of pregnancy is crucial in that the baby is developing multiple critical body functions.
Major organs like the brain, kidney and lungs need to mature so they can function outside the womb. At this point, Deependra and Swati's baby's vision is also not fully developed and he is severely underweight. Stopping treatment will certainly be fatal for this newborn baby.
"This baby will live if we get help. We will forever be grateful to anyone who can help us save our boy. We will name him in honour of our benefactors and always pray for their wellbeing. They will be nothing less than this child's saviours." – Deependra