Meet Sathiya Sundari - beautician, single mom, survivor, SHERO.

" Myself Sathiya, born and brought up in small town in South India. My parents are farmers and illiterate. I am the first person to complete 12th standard in my family," shares Sathiya Sundari, a member of the
SHEROES
community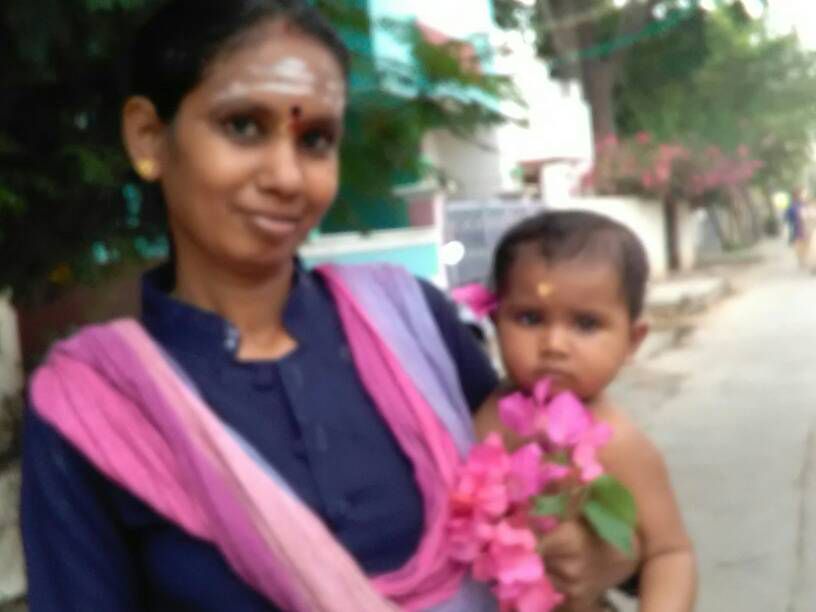 A strong women, Sathiya has survived many struggles - a tough marriage, unsupportive in-laws and the fight for a livelihood to support her little girl and her elderly parents. "I have 10-month old baby named Amritha, and she and I live with my parents due to a lot of trouble in my in-laws home," shares Sathiya.
A determined young woman, Sathiya's love for her child and passion for her work have helped her stay focused. True to her name 'Sundari', she got into the beauty business! She got herself trained in beauty at Pivot Point Beauty Academy by Blossom Kocchar and in sewing through Usha sewing schools.

Now, everyday Sathiya sets out with her little one on a cycle, bringing her expertise to the doorsteps, in and around her village in Tamil Nadu. But as we all know too well, the idea of a professional taking her baby to work, is not an accepted norm in India.
(In pics: Sathiya (along with her baby) taking beauty therapy classes at the Indian Bank Self Employment Training Institute in Tiruvannamalai, Tamil Nadu)
So, Sathiya is now determined to set up her own beauty parlor, and grow her business. This would allow her to serve more clients during the day and become financially stable, plus keep her baby close and safe, in her own space.
Sathiya has arranged INR 50,000 from her savings and loans from her gold, and needs another INR 67,150, to set up her parlor. She even has a lovely name picked out - 'Ladies Special', and has already excitedly printed the banners.
Now, all she needs is your help to set up the parlor premises. The cost for setting up is as follows:
Budget for the 'Ladies Special Beauty Parlor'

Deposit for shop premises

50,000

Mirror and styling station


15,400

Parlor Chair

14,500

Washbasin for hair wash

15,000

Steamer for facials

4,750

Clipper and straightener

3,500

Rent for 3 months (3,000 PM)

9,000

Beauty supplies (shampoo, makeup, facial, bleach)

5,000

Total

108,150

Less Sathiya's personal contribution of 50,000

67,150

Will you open your hearts this festive season, and support this young woman with big dreams?
Join
SHEROES
, India's largest growth network for women, in supporting hardworking, passionate women like Sathiya who #TakeCharge of their destiny!