At Dunzo, we've been getting so many messages from you about how happy you are that we're there during this time of crisis. And we're so grateful for your love and support at this time. However, we know that love is purely a reaction to the amazing work your Delivery Partners do every single day, on every single order. We never tire of hearing your stories about how your Dunzo Partner went the extra mile to ensure you got what you were looking for or the help you needed in an emergency.
They are an extraordinary community of individuals whose sole purpose is to ensure that a helping hand is never far away. In this difficult hour, even as they brave the street to keep us all safely at home, delivery partners are the most impacted by this global crisis. This is an emergency for them.
As daily wage earners, many of your Partners are struggling to stay afloat and we at Dunzo are doing as much as we can to support them. During the next few weeks, we aim to raise ₹3 crores for Dunzo delivery partners and their families, which will enable so many of them to rise above this uncertain situation.
Our team members have contributed 50-75% of their salaries to this campaign and now we need your help.
Dunzo as a company will contribute 10% of all donations made, to help us reach our goal of ₹3 crores.
We know every bit helps to ensure that no one is left behind in this fight against all odds so if you would like to make a difference, you can donate via this campaign.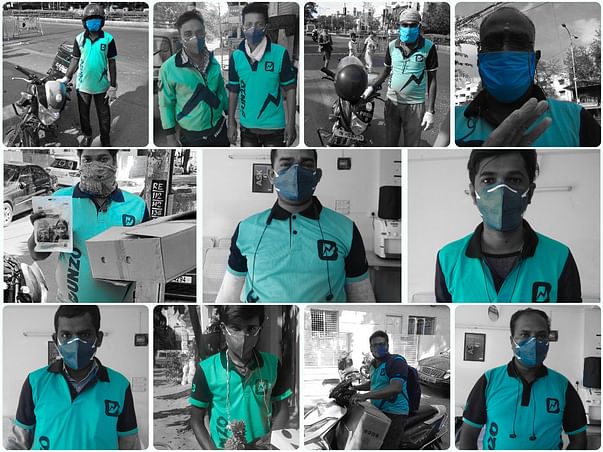 All proceeds from this campaign will go directly to support Dunzo's delivery partners who need a helping hand and a ray of hope. We can all do this for them, together and make sure no one is left behind during this crisis.
Thank you for your love and support.
Team Dunzo
How will your donations help?

Your funds will help support Dunzo Partners in numerous ways, some of which are listed below:

Financial relief package if a partner is in quarantine due to any COVID related concern
Insurance cover for any testing or medical expenses incurred by the Partner
A hygiene pack, that allows for partners to practice precautionary measures
Grocery and essentials package for Dunzo Partners for a month


About Dunzo Delivery Partners

During this lockdown, we know life doesn't come to a standstill and essentials across the city are still needed. Dunzo delivery partners are ensuring that the city's essential needs are always met, while all of us can stay indoors safely. Whether its delivering groceries to the elderly or medicine to the isolated, Dunzo partners are rising to the occasion to help their communities during this emergency.

We at Dunzo want to ensure that we are there for them in their hour of need and provide whatever assistance we can so that their lives are less impacted by this crisis. With your kind support, we know we can make a significant difference to thousands of delivery partners and their families who count on all of us to earn a living.

Dunzo is an on-demand platform that allows you to access your city like never before. You can order or pick up anything from your city - from food, groceries, medicines and a lot more, and a delivery partner will have it delivered within the hour!
For UPI payments, please make a contribution to rzpy.givetomlpdunzo000016@hdfcbank