It was not very long ago that Suman Chhipa's brick-walled workshop in the small town of Bagru, Rajasthan, was abuzz with activity. While Suman trained other women in the art form and worked with them, her husband aired richly coloured fabric out to dry in the backyard, and her son sprinkled sawdust on another cloth behind her. That is what a family business looks like in some parts of the country! Suman's workshop has been silent for a while now, and the stomachs it fed are staring into a bottomless pit of uncertainty.
Suman and her family belong to the Chhipa community, indigenous to Bagru, that has specialized in the art for centuries. It is a centuries old art-form involving 100% natural dyes and a surprising technique of Mud Resistance. Besides Bagru printing, they also Businesses like Suman's shoulder the crucial responsibility of preserving and passing on traditional art forms. Even at their small scale, they keep cultures alive for centuries, while also stimulating economic growth and generating employment opportunities.
Local textile companies generally hire businesses such as Suman's to print their cloth and pay them on a per-piece basis. Depending on the size and style of design and length of the cloth, they can earn between Rs.10 and Rs.50 for a piece. Usually, a day's earning for each woman depends on how fast and for how long their hands can tirelessly print patterns on fabric with accuracy in design.
The town of Bagru has sustained itself on art-forms. While its particular style of block-printing is what makes Bagru famous, handicrafts such as Aratari and Bandhani work are also widely produced by artisans here, and a major part of the workforce is made up of women. The pandemic has wreaked havoc over their source of livelihood, and left them with no supply of raw materials even in the face of a negligible demand at this time.
They are in desperate need of support to sustain themselves and keep alive the business which is a life-line for their entire community.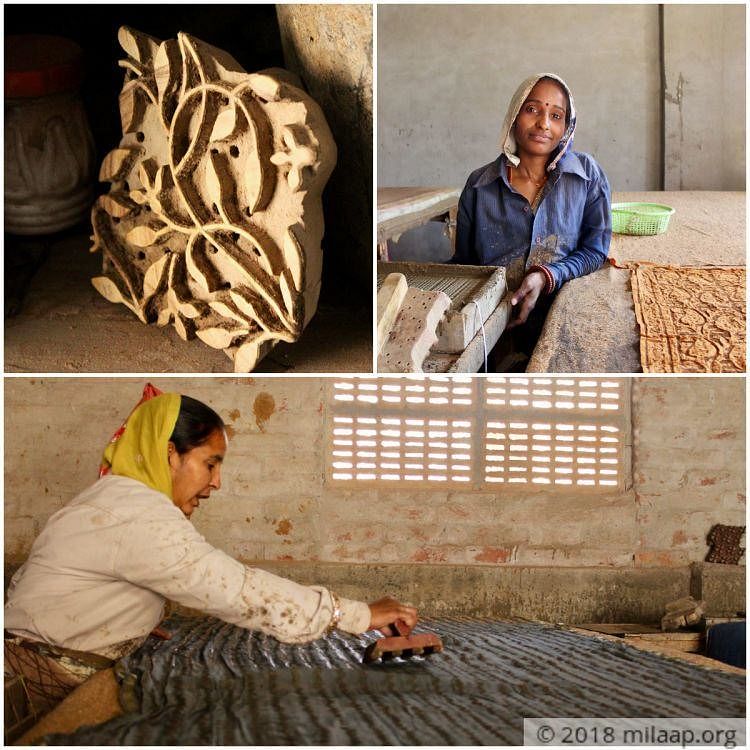 A community we have nurtured and supported over the years is facing grave losses, their lives halted, and their livelihoods at stake. You can help 100 textile artisans like Suman by making a contribution to Milaap's Small Businesses Relief Fund. Milaap will take complete onus of beneficiary identification and execution. We will be posting weekly updates, and highlighting stories of grant recipients so that you can see the direct impact of your donation.
A small grant could be more than just a temporary solution for these businesses. It can actually help them get back on their feet and translate to a stable source of livelihood for even multiple families relying on the same business