Kolkata is regarded by many as the cultural capital of India, and quite rightly so. Book fairs, film festivals, literary fests, theater festivals, Christmas, Durga Pujo, Eid, all of it and so many more things make Kolkata a fun city to explore, enjoy and also a place where one can expect to gain rich experiences and knowledge at. "Calcuttans" as they identify themselves, know for sure how to have fun while indulging in intellectual pursuits. For them culture and knowledge score higher than materialistic entities. And why not? Where do we find the romanticism of Rabindranath Tagore, patriotism of Kazi Nazrul Islam, and bohemianism of Sunil Gangopadhyay? Their works are still very much relevant. Their books still top the list of best sellers. Their literary works have not only been able to keep the minds of Bengalis captivated for decades, but have also, quite effortlessly, made their reach and touched hearts, beyond the borders of the state of Bengal, even surpassing the frontiers of Indian nation. It is said that one out of every three Bengalis is a writer and there has been no Bengali ever who hasn't tried his or her hand at writing; which makes it quite apparent that it is perhaps not a simple task to manage to impress a Bong with writing skills without attracting constructive criticism.
In an age when people are moving towards embracing digitization of every possible thing, Bengalis have proudly maintained their affinity towards books, real books with their real coarse pages and the real book fragrance. No amount of French "parfum" or freshly baked cookies can match the bitter sweet smell generated from the pages of a newly purchased book. This addiction, this love, this passion for books, brings lakhs of Bengalis, and most of Calcuttans to the International Book Fair of Kolkata, a grand excuse to celebrate books and book-lovers. Earlier held in the expansive ground of Maidan, now the book fair location has been shifted to Salt Lake, which is extremely well connected with various modes of transport.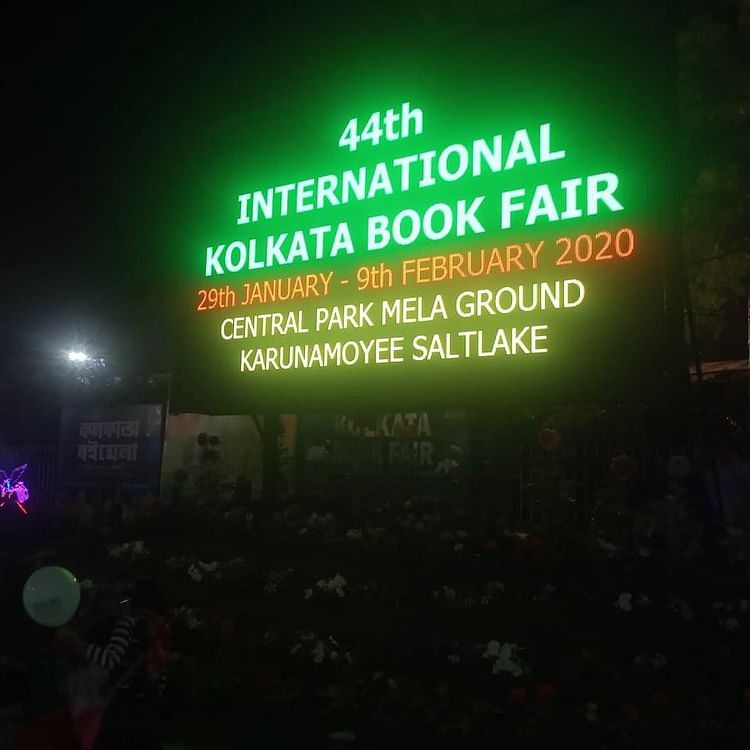 Kolkata International Book Fair, big and bright
As I came onto some old articles, I gathered some significant information about the conceptualization of the Kolkata Book Fair or "Kolkata Boi Mela" as we Bengalis fondly call it. In the early 1970s, a group of literature enthusiasts, wanted to organize a commercial trade fair of books in Kolkata, inspired from and modeled after the Frankfurt Book Fair. It would be a place where book lovers could meet their favorite authors, exchange ideas and thoughts with them and friends, and buy books of their interest and liking.
1976 was the historic year when the first Kolkata Book Fair was held on the ground opposite Academy of Fine Arts. It became a huge success as the book loving people of Kolkata welcomed the idea and participated in the 10 day affair with boundless zest and keenness.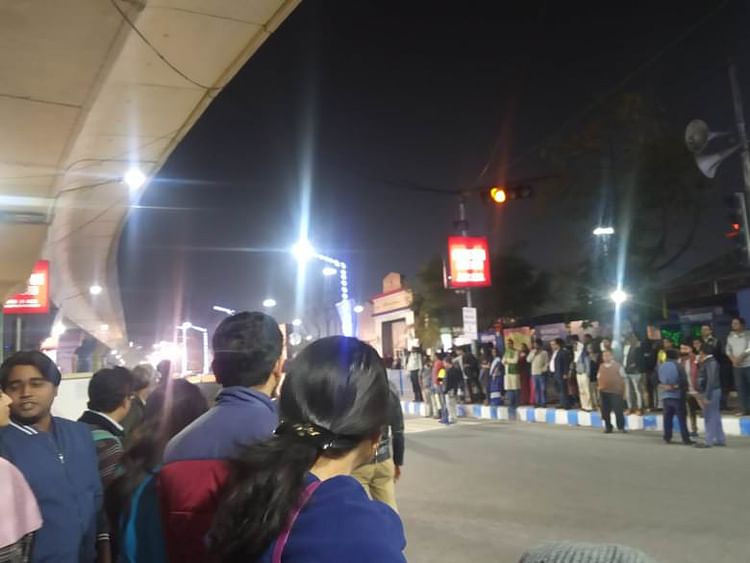 The street right opposite to the Kolkata Book Fair, always overcrowded with people from all over Bengal who came to attend the event and celebrate their love for books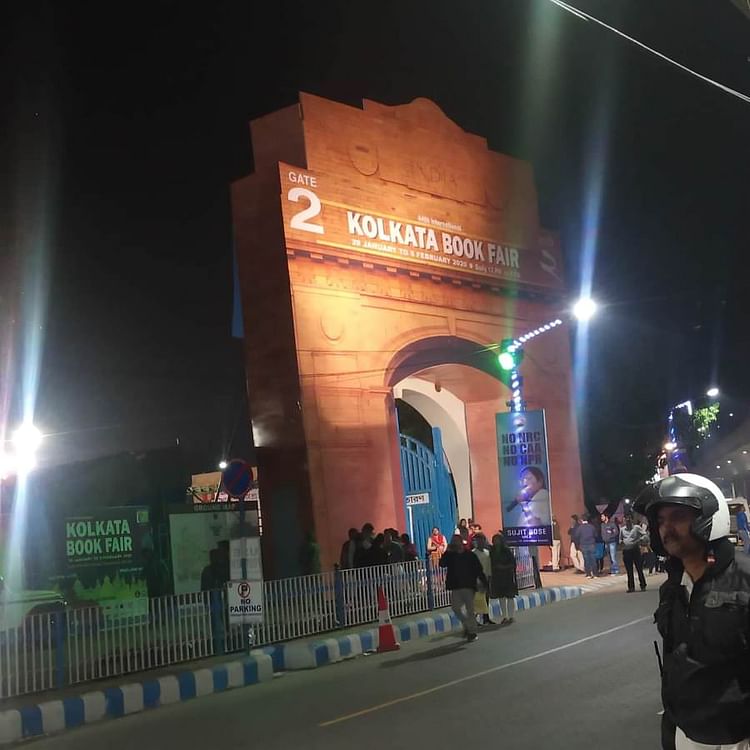 One of the main gateways to the Book Fair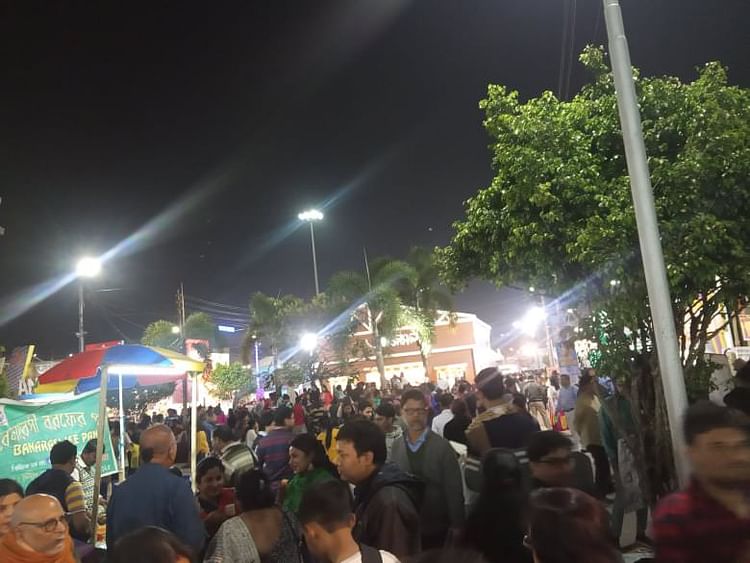 An inside glimpse of the Book Fair, and the crowd size was yet to grow to its usual optimum

However, it would be wrong to restrict Kolkata Book Fair's multifaceted identity and call it a mere book fair. It is far more than that. It is a place where artists gather and draw portraits and landscapes of various shapes, sizes, forms and objects, sometimes for sale, sometimes just to satiate their own thirsty souls. It is a place where the regional musicians of Bengal assemble and display their skills that can magically transform the feel of a book fair into a live concert's.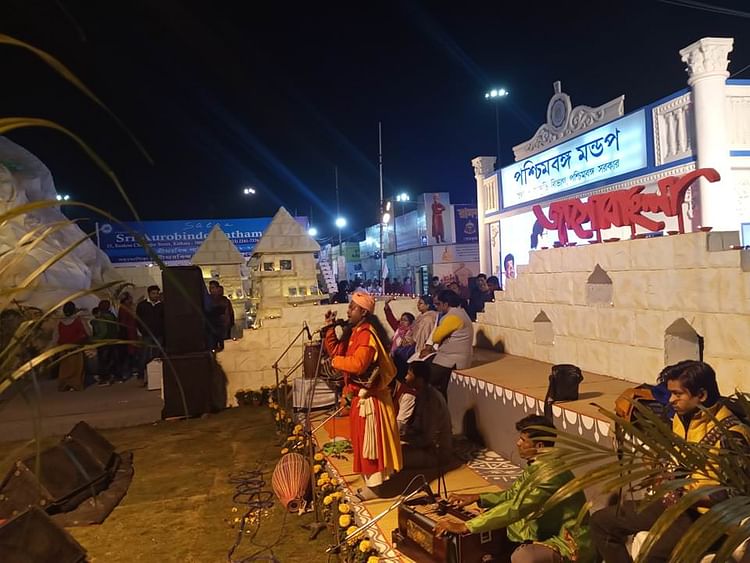 A "Baul" singer performing before live audience
It is a place where commoners can actually engage in informal conversations with celebrities, and everybody feels the same without being on the receiving or giving end of bias and discrimination.
The stalls do not only sell books, but there are many which deal in various handicraft items which are otherwise not very commonly found in local markets. And who doesn't know how big time foodies the Bengalis are.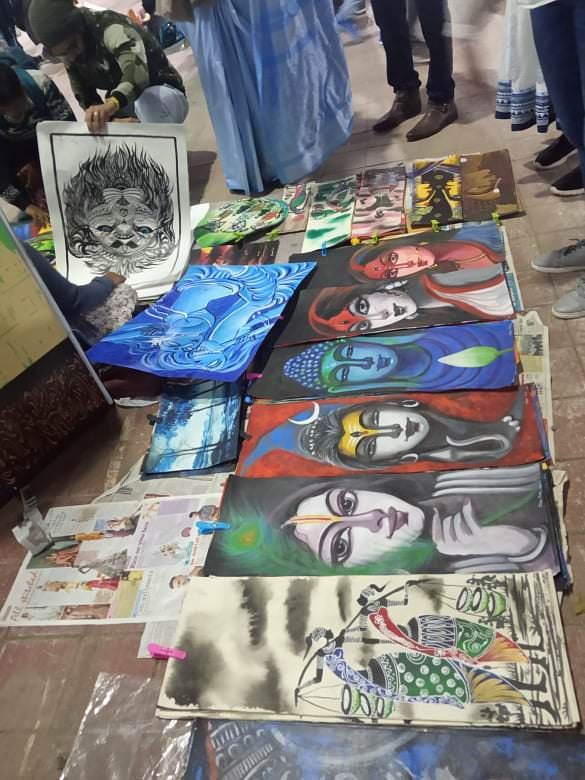 Beautiful hand-painted portraits for sale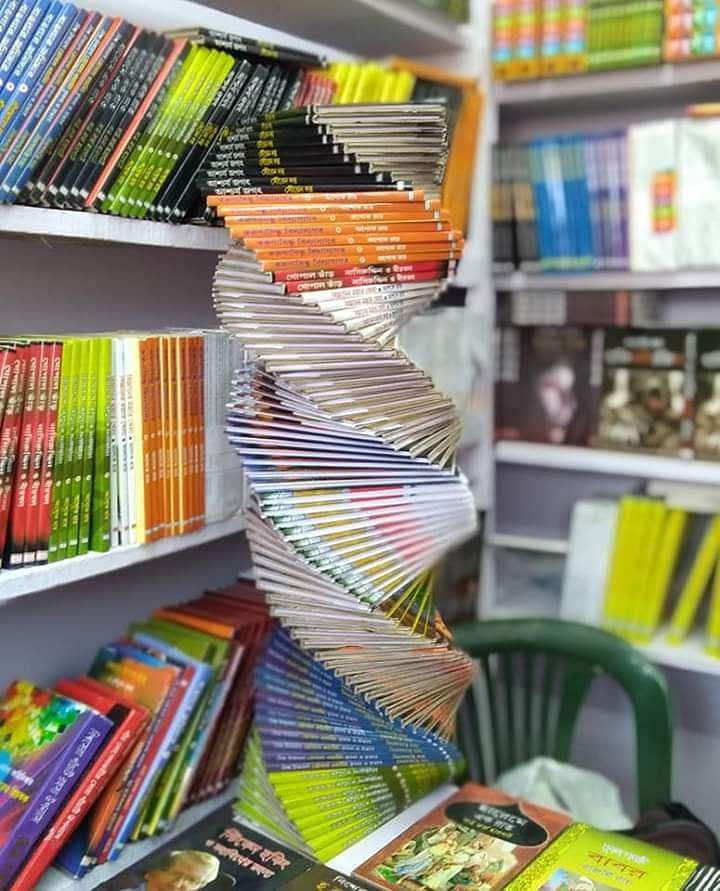 A playfully artistic display of books

Besides walking throughout the compound, searching for one's favorite author to click a selfie with or ask for an autograph, and looking for a book from the list of must-buys, is sure to fill one with hunger and a little fatigue. Keeping that in mind, the Organizers have arranged for a special corner in the Book Fair, where various food stalls are lined one after the other, where one can taste the famous street food of Kolkata and even have full course meals.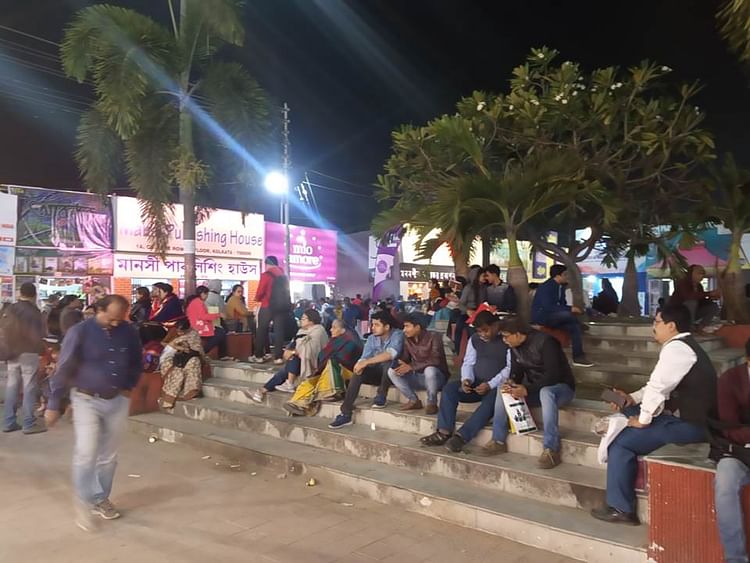 People giving some rest to their feet from the constant walking and shopping and having plentiful "Adda"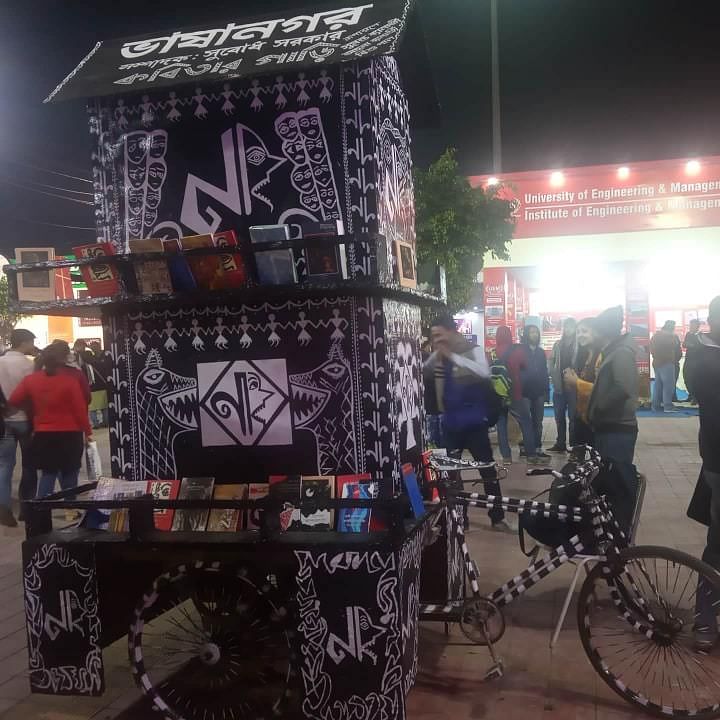 A beautifully decorated rickshaw, purely for aesthetic purposes, which only books can ride and not people
At the center of the Book Fair ground, there also exists a huge inbuilt sitting arrangement where book lovers can take rest for a minute or two, and engage in discussions about a wide variety of topics that could range from politics to books to places to personalities. These discussion and debate sessions that are very commonly seen in Book Fair and also various other hangout places in Kolkata are termed "Adda" in Bengali. It's a natural inborn talent they say, that Bengalis can talk for hours about any topic and they actually happen to know about it. In Kolkata Book Fair, one significant thing that one cannot seem to ignore is the formal debate sessions on stage, where extremely well educated and well placed academics and intellectuals are invited to take part in, and the themes are many and they do strike a chord with the old and young alike. One particular session that I managed to witness dealt with women empowerment and girl child education. A very informative session it was.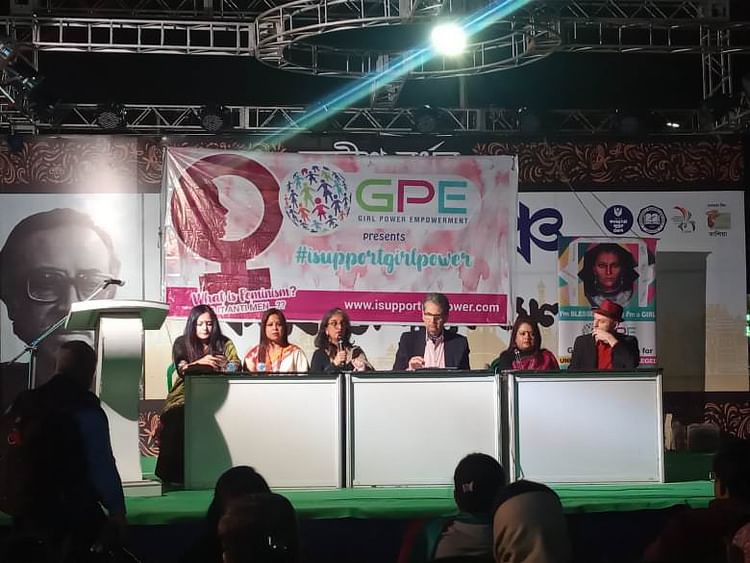 An ongoing debate session on stage, related to girl child education and women empowerment

Kolkata Book Fair is very international in its approach and arrangement. It has tie-ups with several countries and their respective high commissions and councils, which also put up stalls, exhibiting their vast literary possessions. It becomes a significant part of cultural exchange between nations. Ananda and Dey's Publishing Houses are the traditional favorites of Calcuttans, and their shops are seen to remain literally "houseful" at any hour of the day during the book fair event. Long queues of people wait outside their stalls for hours, as if their visit to Book Fair is not going to be felt complete without buying books from either of these publishing giants of Bengal.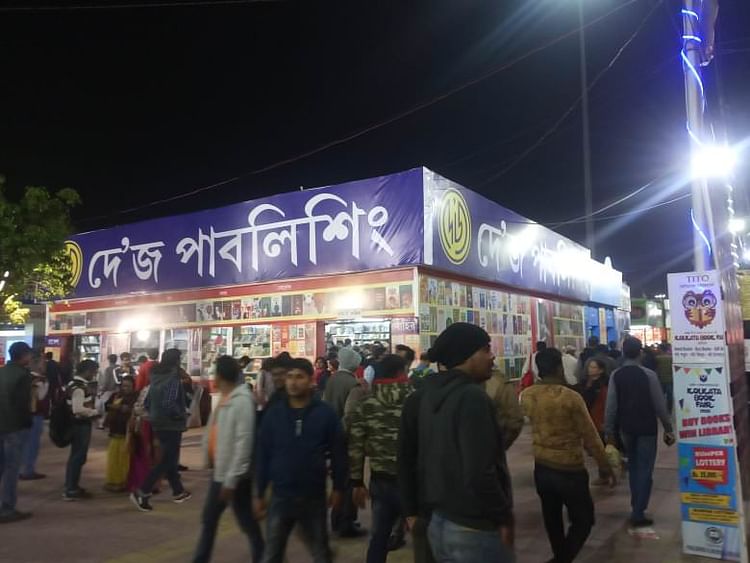 The stall of the famous Dey's Publishing House of Kolkata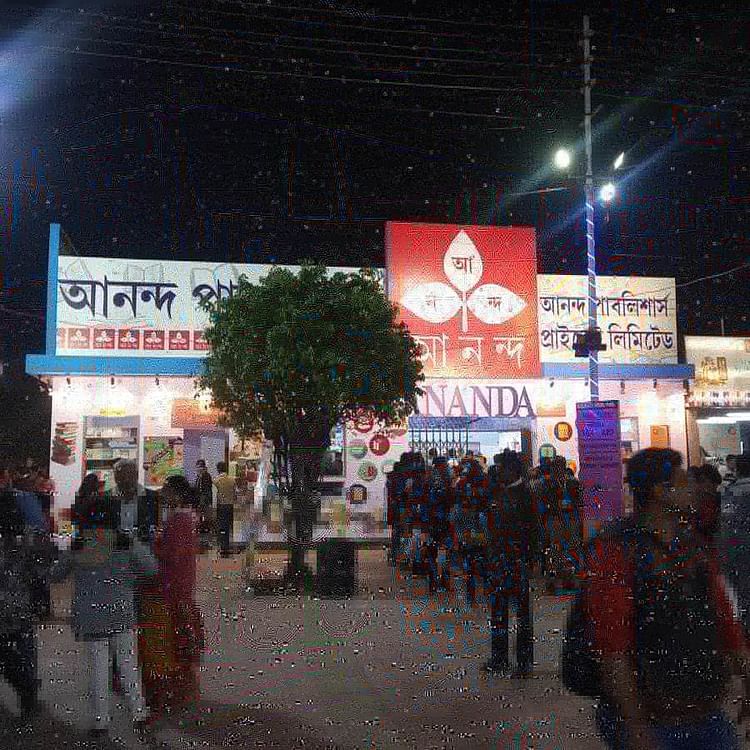 Another publishing giant of Kolkata, Ananda Publishers
I personally feel though that book-lovers could try and look beyond the big publishers and encourage smaller publishing agents who work tremendously hard in assembling well written pieces and releasing books that despite not having fancy covers are in extremely rich in content. The Little Mag or Magazines' Pavilion in Kolkata Book Fair is one such treasure trove. Publishing houses with lesser means, who cannot afford the exorbitant prices of separate individual stalls in the fair complex, can exhibit their books by reserving and renting a table in the pavilion. If book lovers look closely and without any bias or prejudice, they can expect to find some of the best written pieces here. This year, the Little Mag's efforts and talent have been widely recognized and appreciated by various sections of the media and intellectuals.
Kolkata Book Fair is very well decorated and well mapped with each and every stall having a distinct stall number. The aestheticism at the event is boosted by the display of a wide number and kind of quirky specimens of art round every corner of the fair. It is a place and an event which can be and is attended by all, irrespective of age, gender, caste and economic status. It is where a father and a mother introduce their child to his or her first tryst with books. It is where a book lover gets to find the book he or she might have searched for long but not received hold of. It is where a group of friends hang out and argue over which celebrated poet's poems resonate more with the feelings of a person, "Joy Goswami's" or "Srijato's". It is where artists can freely display their boldest specimen of art. It is where a commoner's voice against societal oppression is heard and not kept under wraps. It is where a book lover seeks his soul and if he is lucky enough finds it too. Kolkata Book Fair is a feeling, an emotion that binds the entire book loving Bengali community and Calcuttans together.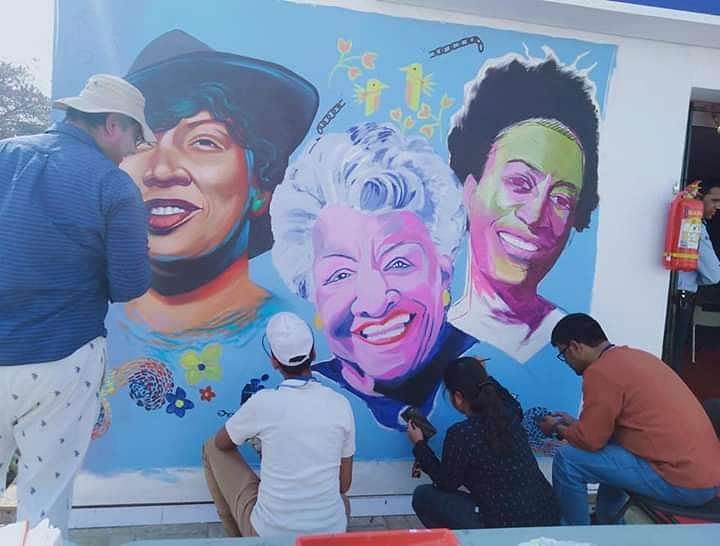 Live painting at the Kolkata Book Fair