Kolkata is said to be the Cultural Capital of India. However, it should also be named the Capital of exhibitions. No, I am not exaggerating just because I happen to belong from there. It's just that such year round events don't offer you a bit of recess, and visiting such functions are actually recess in themselves, providing all with a necessary break every now and then, from the daily life of chores and assignments. One such exhibition that is awaited keenly by possibly every single resident of Kolkata is the glorious "Agri Horticultural Society Flower Show", an annual 4 day event held at the Agri Horticultural Society of India, Alipore, a posh locality of Kolkata.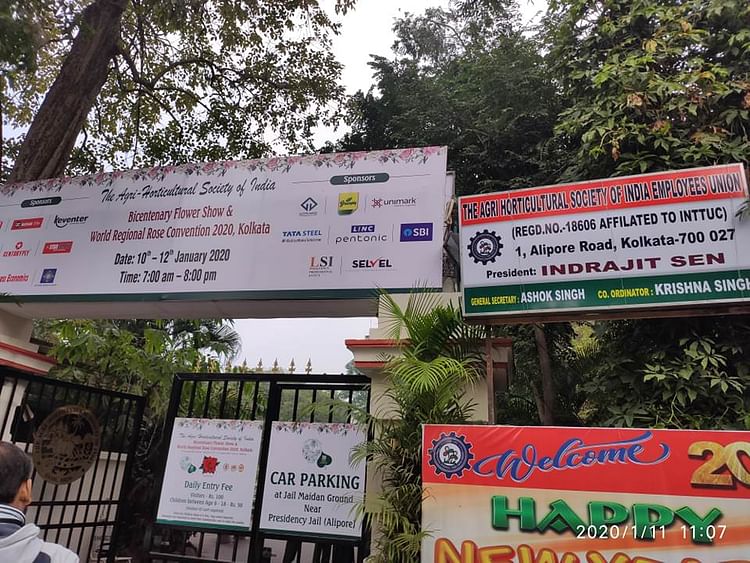 The entrance to the Agri Horticultural Society of India Flower Show, 2020
The first of its kind in India, this annual flower show was started in 1828. With innumerable varieties of Dahlias, Roses, Chrysanthemums, and several other flowers on display, this exhibition is a sight to behold. A place where people from all age groups living in Kolkata and also belonging from other parts of Bengal gather to get away from the concrete environment of the city, within the city itself, for a few good moments. They join in the celebration of the beauty of Horticulture and its specimens.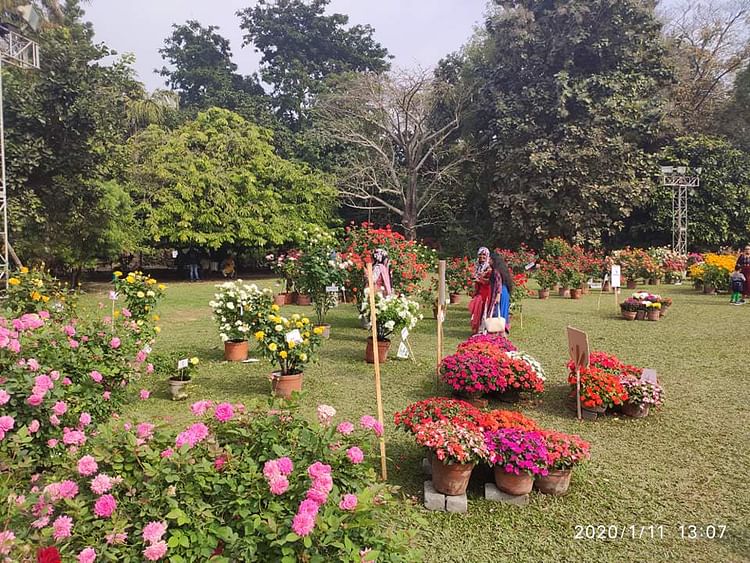 An inside glimpse of the Flower Show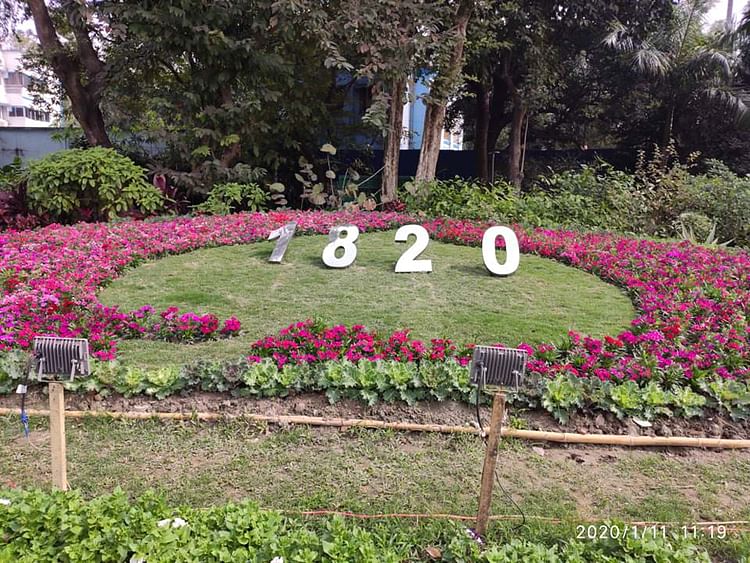 The year of foundation (1820) of the Agri Horticultural Society of India

The Agri Horticultural Society of India was founded in 1820 by William Carey in Alipore, Kolkata. It is not only significant in historic and aesthetic terms but is also an important storehouse of botanical collections. It houses flower garden, greenhouse, research laboratory, and not to miss, a massive collection of botanical species and cultivars. Not just flowers, but varieties of vegetables including the sizeable cole crops, are the showstoppers of the event. There is the eye catching Japanese floral arrangement globally known as the "Ikebana Art. The artful bonsais of Ficus and Bougainvilleas have the ability to trap your gaze for a significant duration of time. The blast of colors in form of the various known and unknown flowers makes you wonder with a pinch of confusion, "Has the festival of colors "Holi" arrived too soon this year?" It is practically the first institution for most kids of "Calcutta" where they learn the basics of gardening, where they get to differentiate between pinnate and palmate leaves. This is where differing ages or social strata are not counted as indices for meddling and making friends. Here everybody is keen to learn about nature and the various ways and techniques of enhancing its aestheticism.
When flowers play "Holi", the giant Dahlias are the showstopper of the flower show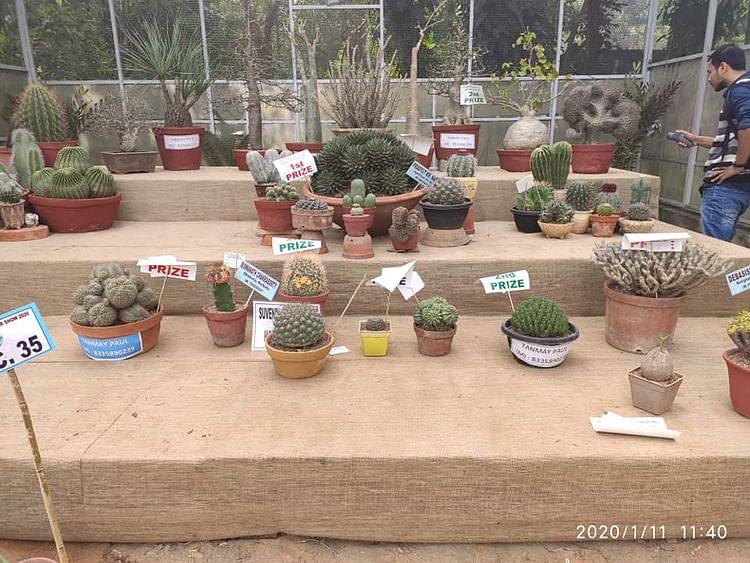 The society boasts of its rich collection of cacti and succulents
Notable horticulturists and nursery owners from Bengal and neighboring states partake in the event, showcasing some of their most beautiful and prized assets. There are a number of categories for prizes and winners, which act as an added bonus in convincing people to set up or expand their gardening ventures.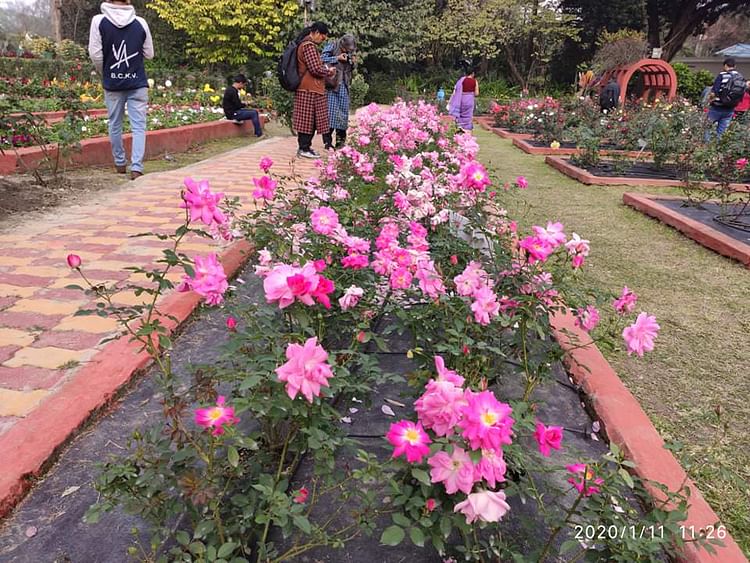 A tall stretch of beautiful pink roses
When roses are here, how can the exotic orchids remain far behind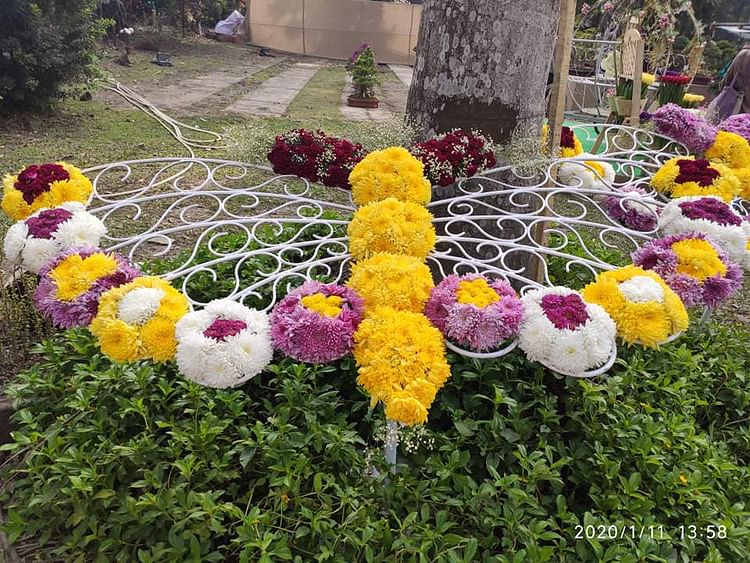 Artistic display of flowers
Also, it's a shoppers' paradise for gardening enthusiasts. Different growers and nurseries hailing from Bengal and a few other states set up their stalls, where people can find any item relating to gardening, ranging from seeds to fertilizers, to gardening tools and equipment. If one gets tired from the long walks inside the garden complex, he or she can always head to the food stalls area, where some of the well known eateries of Kolkata are found to be selling their best known dishes. The flower show, held usually at the end of January or during the early weeks of February, is an opportunity of respite for the city dwellers, a chance to breathe in fresh air and enjoy the greenness of Mother Nature, without actually being away from the city.