Update 20th Jan 2021:
Surbhi is recovering well. She now has a regrowth of tumor 1 year after the follow-up. Which will need a re-resection and chemotherapy for the same. She needs another 10 Lakhs for this to do a full recovery and completely normal.




Girl with crippling tumour on neck pins hope on netizen for life-saving treatment

Time is running out for this 15-year-old girl with a rugby ball-sized tumour on her neck that is now inching towards her heart, posing threat to her life.

Born in a family of farm labourers that struggles to make ends meet, Surbhi Ben is looking at a bleak future as her father cannot afford expensive treatment. According to the doctors, if left untreated the tumour can grow further and eventually turn fatal.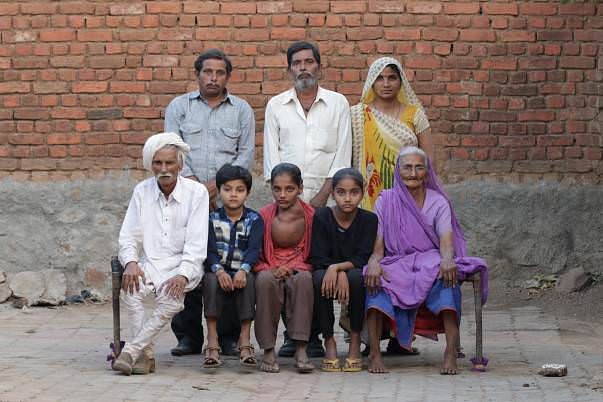 According to her family, Surbhi was still a toddler when her parents first noticed lumps around her face that have since engulfed her neck, making her social pariah of sorts.

Her father Parshottam Bhai Variya grew concerned as the tumour started growing with time.

The family has approached several doctors over the years in and around Amreli district of Gujarat. Some of them suggested that the tumour cannot be excised, some said she needs to be taken to a better hospital in a metro city.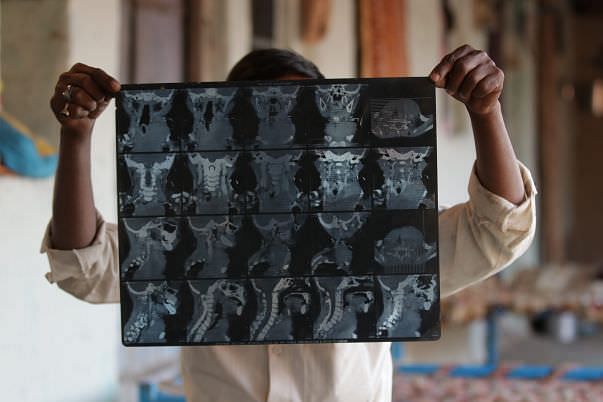 According to doctors, Surbhi suffers from cystic hygroma, a lymphatic malformation that generally affects the area around the neck or the head. Lymphatic malformations are a collection of small cysts which are filled with a clear fluid similar to the fluid in a blister. These cysts have no purpose and can cause problems.

Treatment involves surgeries and injection sclerotherapy, but the family is unable to do so due to financial constraints.

"Five years ago, one doctor told us that he can treat my daughter, but he quoted a price that I cannot afford. They told us the treatment would cost around Rs 800,000. Even if I sell my house and whatever little valuables I have, I won't able to get there. I started doing two jobs, hoping to be able to organise the funds, but that didn't sever the purpose. I am the sole breadwinner of a family of nine. Whatever little I earn is barely enough to feed the family," said Variya.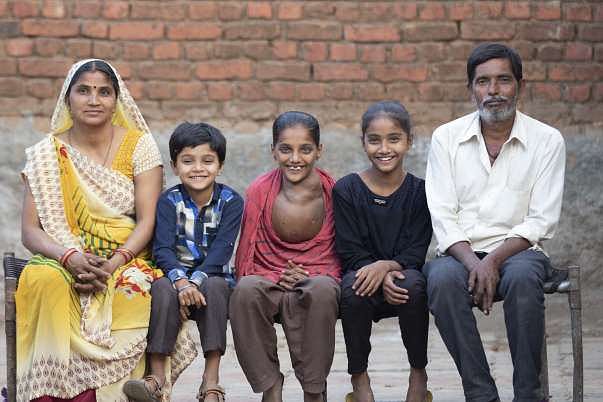 According to the doctors, there are three tumours present in her throat and 'they are intertwined with the nerves of the neck, which makes the surgery complicated'. On the other hand, medications haven't worked on Surbhi.

Despite her crippling ailment, Surbhi is known as a chirpy, joyful and bubbly girl with an optimistic outlook in her neighbourhood. Her family, however, cannot stop worrying about her future if she doesn't get proper treatment.

Until last year Surbhi was going to school, but she had to drop out of school as the tumour made it impossible for her to lower her chin for a long-time while writing something. Also, walking around with the heavy lump proves to be very taxing for her.

"I am unable to go anywhere because of the tumour. I dropped out of school a year ago because my neck hurts. I am unable to look down for a long time while doing homework or an assignment at school. I bad when I see my friends going to school as usual and I am confined to home because of the ever-growing lump on my neck," Surbhi grieves.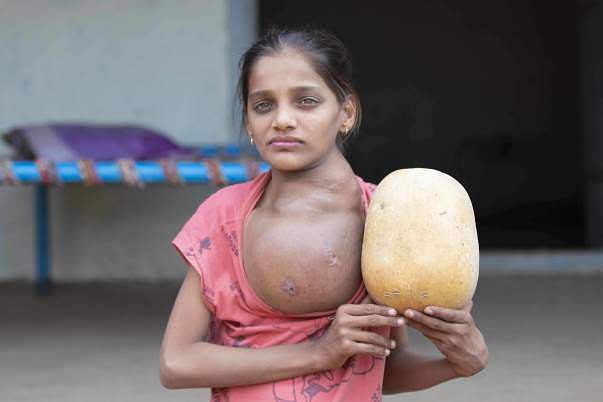 Surbhi wanted to be a teacher. "But I don't know how to realise that dream now as I cannot continue my studies due to the ailment. I feel so helpless and frustrated at the time. But I haven't given up on hope yet," she added.

Fortunately for Surbhi, she has caring friends who visit her at home to give her company. Those who know her personally never make fun of her appearance. But when she goes out, people stare at her and make derogatory remarks for her ungainly looks.

"Whenever I go out, I have to cover myself. Like other teenage girls, I also wish to wear good clothes. But I cannot wear normal dresses because of the ailment."

Rekha, Surbhi's mother, recalls how her condition deteriorated over the years. "It was not that bad earlier. Now, she gets tired very easily. Even doing household chores resulting in breathlessness and severe body pain. She cannot even eat the food and drink water properly because of the growth in her neck."

When a little low, Surbhi would often ask her mother: "Why am I the one suffering always?"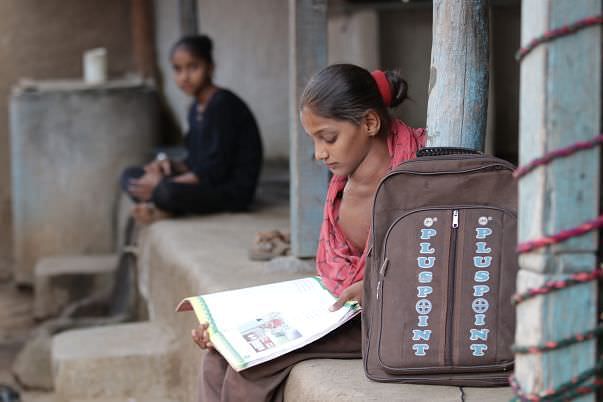 The family hasn't given up on hope. They believe if Surbhi is taken to qualified doctors and better medical facility, she can get the necessary treatment.

Unable to see their daughter dying a slow death for the paucity of funds, the Variyas have resorted to crowdfunding to raise the amount for Surbhi's treatment. "I believe if we take Surbhi to a better hospital in a metro city. They can remove the tumour and save my daughter's life. I am going to do everything possible to organise funds for her treatment. If that means I have to work shifts, go beg for support from the general public, I won't hesitate to do that, too.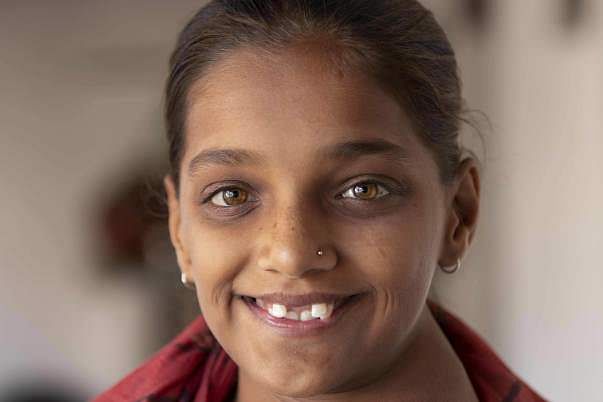 As per the latest estimation, Surbhi's operation and follow up treatment would cost around Rs 1,800,000. Unable to garner the necessary funds from anywhere else, Surbhi's family has now pinned hopes on the netizen. A crowdfunding campaign has been started to raise the required fund and gift her a life.

In a moving video appeal to the netizens, Surbhi said: "I request everyone watching this video come forward and help. Pray that I get operated soon. I want to live the rest of my life like a normal person."