A tumour on Raja Kumar's face, which is heavy and bulky leaves him depressed and discourages him to lead a normal life in the East Indian state of Bihar.

Raja, the son of Ram Lakhan Pandit, live with his family in the village of Deoria , Muzaffarpur District. He had the tumour since his childhood and at the age of 5, when the tumour had just formed, he was taken for a checkup in many of the city hospitals of Patna, Delhi and Mumbai.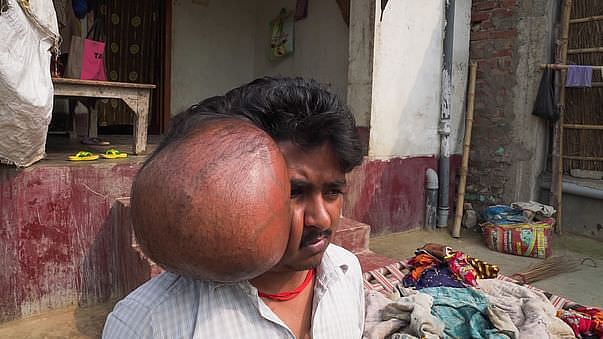 As Raj grew older, the tumour grew along with him.
The tumor is so heavy and big that it makes poor Raja feel uncomfortable in his day to day activities. "I have this tumour from my childhood. Since I was five-year-old, I have tried seeing various doctors from Patna, Delhi & Mumbai. We have spent a lot of money behind its treatment. Slowly with time, as I grew older, the tumour also grew in size. I can't hear from the right ear, I have trouble sleeping and eating. Even while riding a cycle, I feel unbalanced," says Raja Kumar.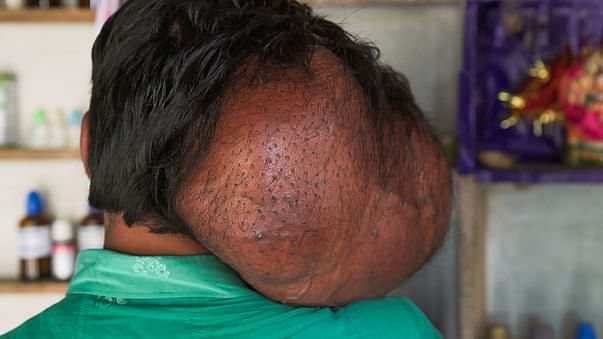 They have spent around Rs 2,00,000 to Rs 3,00,000 ($2713-$4070) for his check-up and treatment, but in vain.
Raja practises medicine in Homeopathy, Ayurvedic, Allopathic and Veterinary in his village Deoria which earns him a few thousand rupees. According to Raja's father, when Raja was young, the tumour was just 100 gms and 56 doctors had refused to treat him.

Raja's life became more miserable when people started questioning his tumour, due to which he is unable to concentrate on his work. "Wherever my son goes out in public, he faces severe criticisms for his tumour. People taunt him for how he looks, which does not make me feel good," Raja's father says.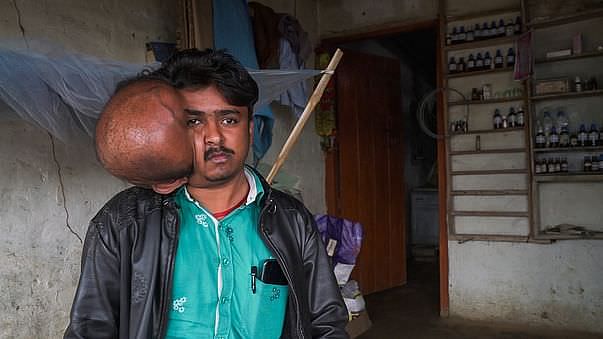 According to reports, the tumour is caused due to abnormal cells that form lumps and grows bigger as the number of cells starts multiplying. The tumour in Raja's case is a benign one, which is non-cancerous and it can be removed without any tissue damage.

Unable to garner the necessary funds from anywhere else, Raja and his family has now pinned hopes on the netizen. A crowdfunding campaign has been started to raise the required fund and gift him a life.

"If anyone can please help me lead a normal life, then I will be grateful to them", says Raja.



Contribute to give Raja a better life