A physically disabled 14-year-old has been making use of his feet to carry out his daily chores
in northern India's Uttar Pradesh after losing both his arms in a freak accident that occurred back in 2011. He hails from Jalalabad village in Kannauj.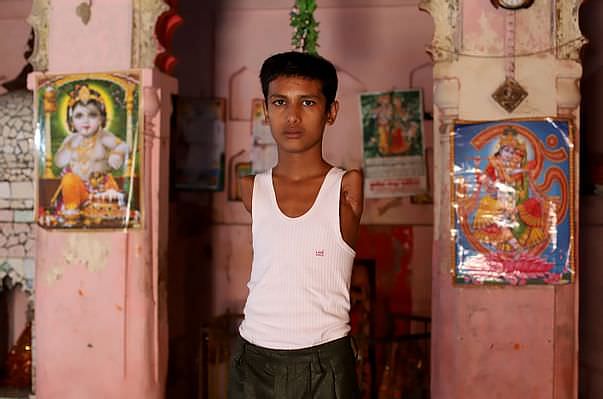 Gopal Dixit, the lionhearted young boy lost both of his arms while playing cricket on the unfateful day of June 8, 2011, when he was just three years old.
He accidentally touched a high voltage transformer's electrical wiring while fetching a cricket ball and was electrocuted.

On being taken to the hospital, doctors became bearers of the bad news and told his family that they would have to amputate both of his arms to save his life. He received critical medical care for over a year after the accident.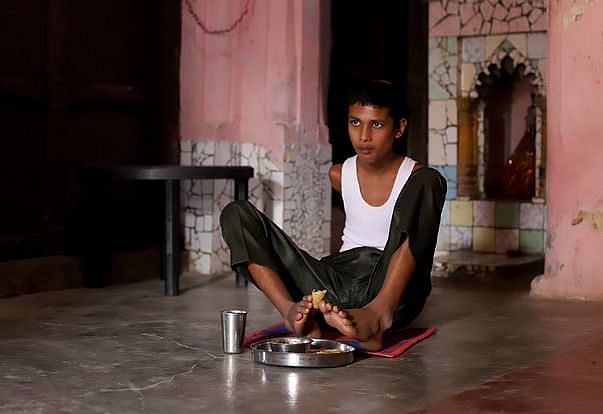 After completely recovering from his trauma, Gopal got back up on his feet and strived to move forward. He tried to write using his feet and in these years he has become completely adept at writing with his feet.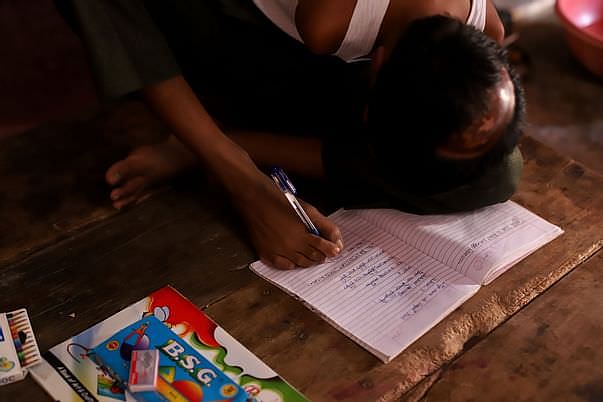 His father, Mukesh Chand Dixit was shown a ray of light for his lost arms by one of the doctors who treated Gopal after the accident. They notified him about prosthetic limbs that could be provided to Gopal in order to lead a normal life.
Mukesh says,
"I work in Shri Krishna cold storage unit and earn Rs 8000(USD 107) a month. I used to work in Siyaram Cold Storage in the year 2011, and my family used to stay with me, which is when Gopal sustained life-changing injuries while playing. In order to treat Gopal better, I used up all of my savings and even took loans from my relatives, but still could not save his arms. When nothing worked, I sold off my house to treat him. Now we do not have a roof over our heads and stay in temple premises."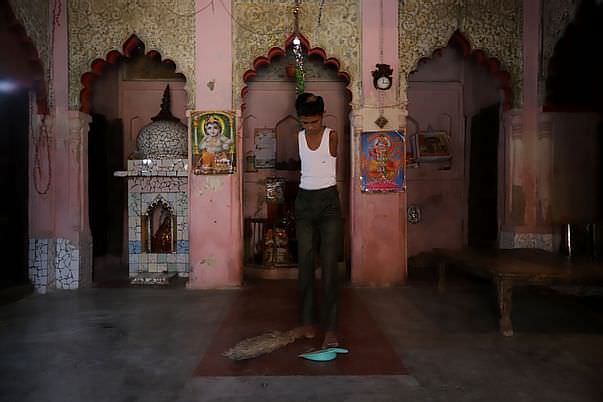 Prosthetic limbs can help Gopal lead a normal life, but his family cannot even afford his education right now, leaving him no choice, but to work in a shop to support them.
He added,
"Please help my son have a chance to live a normal life, by helping him get prosthetic limbs. He has a sharp mind and is an all-rounder, I want him to be able to continue his education. But we don't even have anything to be able to pay for his education. He uses his feet to carry out his daily tasks. I just want him to have an education that he deserves while providing for a roof over our heads."