Every month as Rinki's pregnancy progressed, she had a gut feeling that it would be a daughter. She would always narrate stories to her husband, Suraj, about how she would dress her up, do her hair or take her to school. She was ecstatic to be finally able to conceive after trying for 2 years.


As soon as she was born, she was put on a ventilator
One day in her 7th month, she woke up with a slight pain in her abdomen. Things got a bit worrisome when her pain escalated to the entire right side. She tried to rest but she was unable to lie or sit without pain.


"They gave me injections for relief but it didn't work. After 2 full days of pain, I got to know through the ultrasound that the water in my womb had completely dried up, putting my baby's life at risk. They tried their best, but even then the water wouldn't reach my womb. I was very dizzy by then and the last thing I heard before passing out was that they have to take my baby out right now."- Rinki, mother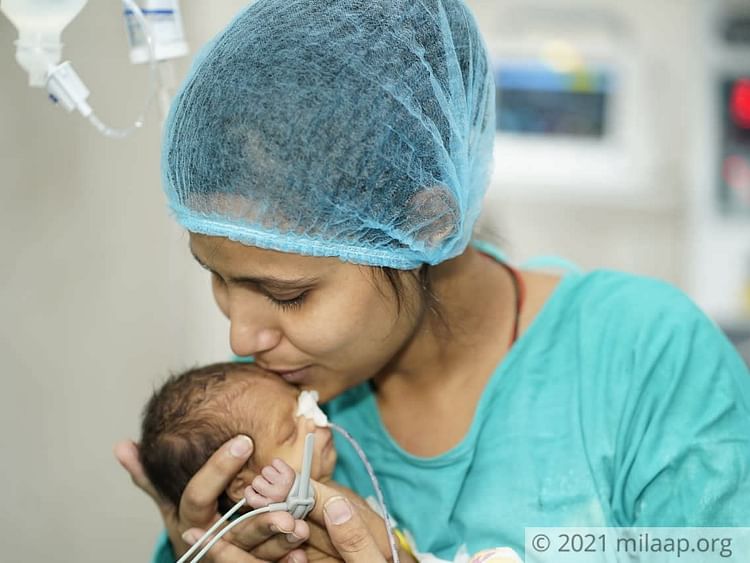 Within hours their daughter was born and put on a ventilator. Due to the lack of amniotic fluids in her womb, Rinki's baby had a preterm birth. Not only were her organs underdeveloped, but she was also extremely underweight. Rinki and Suraj had been eagerly awaiting the birth of their child, but before they could catch a glimpse of their daughter, she was taken away from them to the NICU.

They pray their baby girl doesn't give up so soon
The next 13 days after the delivery have been a constant struggle for them to keep their baby alive. She had pneumonia and severe sepsis, but the little girl kept fighting every second just to meet her parents. She still needs critical care to be able to let go of oxygen support and breathe on her own. However, just meeting her daily NICU costs have been tough for Suraj.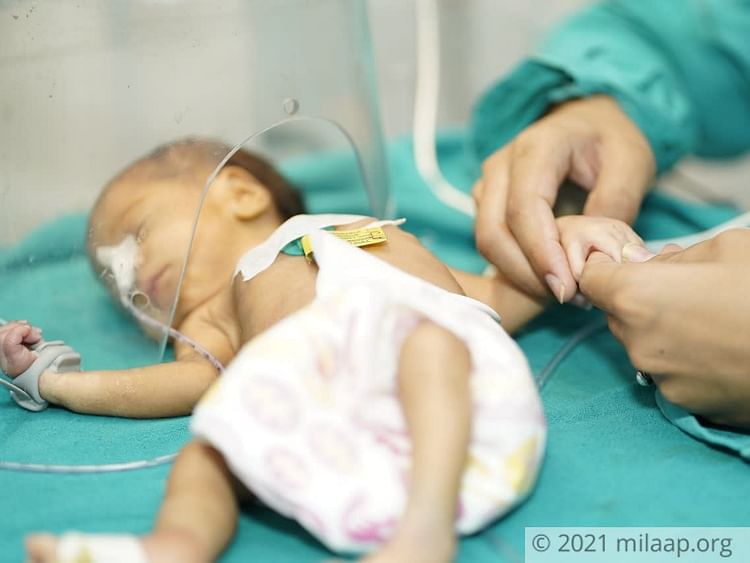 "My daughter still hasn't seen me. I wanted to welcome her home like a princess - everything was arranged in advance from the balloon decorators to food. Now I'm running here and there to be able to afford injections to clean out her lungs otherwise she can't breathe. Everyday my mother wants me to show her one photo of her grandchild, but it will break her heart when she sees all those tubes over her body!"- Suraj, father

This newborn needs a prolonged stay in NICU along with injections and medications that will cost her parents about INR 17 lakhs. Suraj has lost his job since he has been staying in the hospital for the past few weeks. Now, if he cannot get the funds he won't be able to keep her in the NICU, which means that every day the chances for his newborn's recovery will keep diminishing.

They are relentlessly praying, waiting for some miracle to happen because otherwise there is no way he can save her all on his own. They want to name their baby girl 'Koshish' (effort) for fighting so hard every day to survive. Please help them save their family.