"I could feel the pain of my cervical stitches breaking. Lying in the Ambulance, I was being taken to the hospital that day. My saree was soaked in blood and I was bleeding heavily. But in spite of the pain, I kept touching my abdomen…making sure that my twins are moving. I prayed for them to be alive but before I could confirm I went unconscious" - Kalaivani, Mother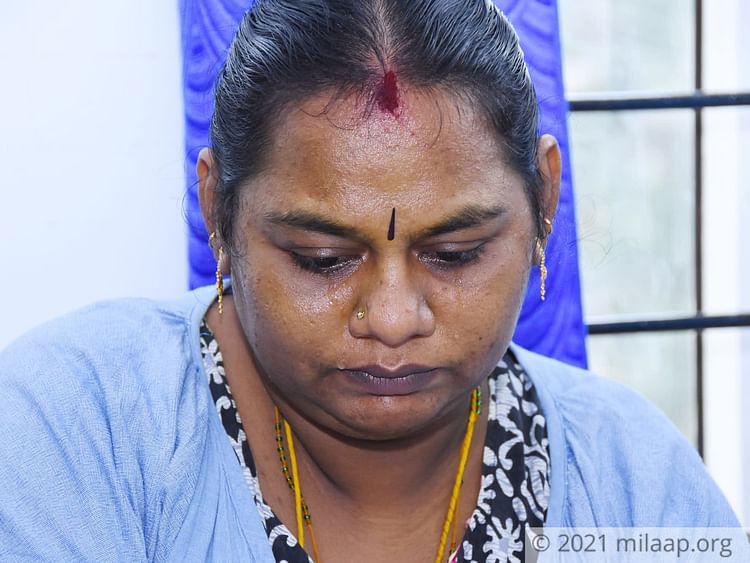 It has been a dream of Vigneswaran and Kalaivani for 14 years to have a child of their own. Kalaivani's spirit did not crumble down even after two miscarriages. The couple were determined to have a child and their last option was IVF

.



After 14 prolonged years and two miscarriages, Kalaivani conceived
"Taking all our saved money and the cash from selling my jewels, we went to the city to get treated. My joy was unexplainable when the IVF went successful. After a few months, during the first scan, I knew that I will become a mother, not to one but two little ones. I believed that God has given me back the two children that I already lost. But he had other plans. " - Mother

Owing to overweight, Kalaivani's cervix was stitched so that the twins don't move out of the uterus through the vagina. But due to complications, her stitches started loosening during the 7th month leading to premature birth. She had an immediate C-section and gave birth to two daughters.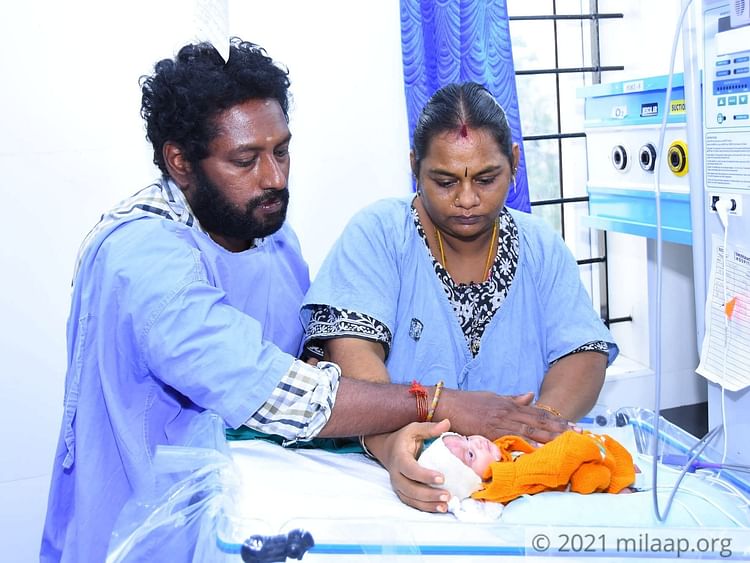 Her stomach started swelling and she went into distress
"My two little daughters were tiny…weighed not more than 1.5 kgs each. Even before I could touch them they were taken to NICU. Their organs aren't fully developed and cannot breathe on their own. They will need continuous ventilator support for the next two months. But as if these problems weren't enough one of my daughter's condition went critical with a swollen stomach" - Mother

Kalaivani's daughter was not able to pass stool due to underdeveloped intestines and her little abdomen started swelling. Soon her bowel got infected and now she needs immediate surgery to remove the blockage. While their one baby is slowly recovering their second one is fighting for life.
.

"I keep praying…my only wish is to take home these two blessings. I want them to survive. My wife is already worn out. She stands for hours beside the incubator…I'm worried that her stitches might break again. She keeps crying and has turned inconsolable. I have promised her that I'll do everything in my strength to save our children…but looks like I might fail to keep up" - Vigneshwaran, Father


The baby needs immediate surgery else the infection might spread, leading to loss of life. The surgery and the NICU stay costs around 10 lakhs and Vigneswaran is struggling to afford the increasing medical bills.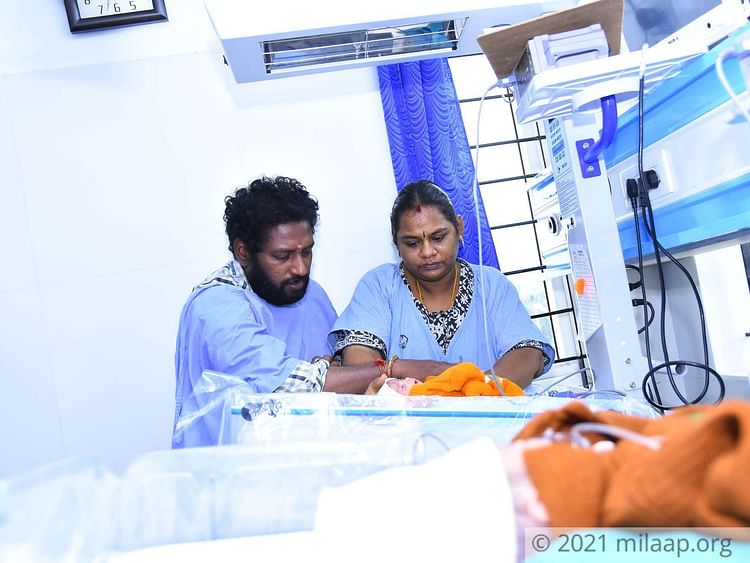 "I work in a garment factory. While the pandemic left me jobless, I couldn't get back to work even after the industries were open…I had to be with my family. I need to look after my wife and the medical necessities of my two babies. I'm holding on only through the borrowed money from friends and families. But the cash is slowly exhausting and I need 10 more lakhs to save my children" - Father

Vigneswaran and Kalaivani's only dream of having their own children cannot be fruitful if they fail to offer uninterrupted medical support to their premature babies. Only you can help their children receive surgery, continuous NICU stay and medications.