Beggars and destitute people struggling to survive is a common sight on Indian streets. When they approach people, they are either ignored and dismissed, or are given few pennies which may not even be enough for a meal. Without no one to care for them and tend to their needs, most of them are belittled all their lives and perish without even so much as a proper burial.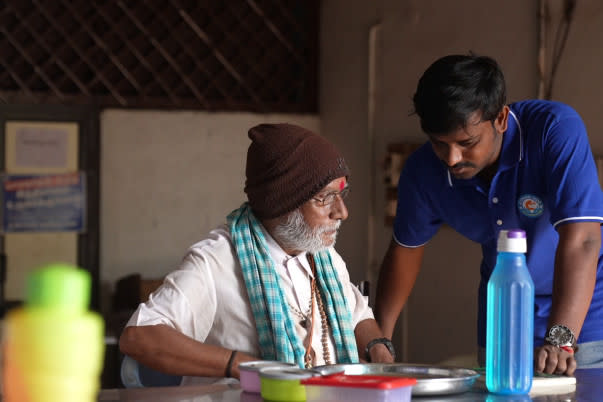 Recognising that even beggars need to be given an opportunity to live a dignified life, Naveen Kumar, a full-time professor at the JKKN College of Engineering and Technology, Tamil Nadu founded

Atchayam Trust

in 2014. Through this organisation, Naveen rescues and rehabilitates people, and also helps provide job opportunities to those who are physically able to work. He provides skill-training to help them receive better jobs, to be able to stand on their own feet, and start a new life. He has the support of more than 400 college students who joined the Trust as volunteers and help him with rescue and rehabilitation efforts.
"I come from a very poor background. I only had Rs. 10 or Rs. 20 to buy dinner every day. And this I would give to the beggars I met.

Many days, I couldn't sleep because of hunger, but it did not matter. Whenever I saw old people begging, I would think – 'If they were my family, how could I allow them to beg?

'" - Naveen, who was all of 19 years when he started out on his mission.
Though what he is doing is considered praise-worthy by many, many others have expressed their displeasure at his initiative too. It was not at all easy for Naveen when he started out.
"My colleagues, students would act indifferently towards me. They told me to focus on my studies, and that it was impossible to rebuild a beggar's life. I wanted to prove them all wrong. If youngsters don't take up this initiative, who will?" - Naveen
Atchayam Trust's motto is to create a beggar-free India.

Till date, Naveen and associates have been able to provide 10,000 beggars counselling, medical treatment, food, and other necessities. Out of which, they have rehabilitated 1054 persons, some of whom are working in private organisations, some of whom are reunited with their families and few other elderly people are admitted in old age homes.

For many of these beggars, Naveen not only provides a chance at a better life but also an opportunity for a dignified death.
"We rescue those who need medical treatment, and for those who are too old and have no family of their own. We give them a haircut, and also fresh change of clothes. We support them so that even in the last days of their life, they are healthy and have someone to care for them." - Naveen
The pandemic-related lockdown impacted the poor and the destitute the most. With no jobs and increased pay cuts, many were unable to pay their house rent leading to them residing on roads without proper shelter and food to eat. In this situation, Atchayam Trust helped more people than they usually would, but it came with bearing additional costs and resources - which was way beyond Naveen's financial capabilities.

Currently, Naveen is facing a lot of difficulty in supporting people he has rescued so far, and also in serving many more on the streets who are dependent on his kindness.

Naveen wants to save each and every one of them, but his financial limitations are holding him back.



These hapless people deserve a chance at life, and Naveen needs your support to be able to continue to help them. Your contribution will ensure that every rescued person gets a fresh start in life through Atchayam's initiatives.