"I wish to walk and play like my friends and my siblings. I want to be able to use my legs, and stand on my own feet. But my family doesn't have the money for my treatment. Will I have to spend the rest of my life on my hands and knees, or will I ever have the chance to live like a normal child?"

- Anas
A surgical complication led to him not being able to walk
Anas is only 11 years old, but he has suffered more than most adults in their entire lifetime. Due to

a pimple-like cyst on his back, he started fall very sick, experiencing multiple symptoms like fever and vomiting as a newborn.
Around the time he turned 6 months old, doctors advised surgery to remove the cyst. But a complication during the procedure left him with severe consequences. One of his nerves responsible for carrying blood to his legs and aiding with motor function was damaged. Since then, he has been unable to walk.
Multiple joint and spinal issues threaten to leave him paralysed
"The first time my son said he couldn't feel his legs is vivid in my memory. Now, he has lost all sensation in his legs and doesn't realise it when he hurts himself. He moves about on his hands and knees. The coarse ground inflicts wounds on his legs, but my child - he can't feel anything. " - Saniya, mother
Due to a lack of blood supply, Anas's legs are decomposing

. In addition to that, he suffers from multiple joint and spine-related issues. He was diagnosed with

lumbar strain, an injury to the lower back leading to damaged tendons and muscles that can spasm and feel sore.
He suffers from

degenerative spondylosis or spinal oseteoarthritis, a condition of spinal joints

- where the disc lose their cushioning, ligaments become weaker, and verterbrae can develop bony growth. He also has degenerative disc disease, where the normal changes taking place in the discs of his spinecause pain.
He is entirely dependent on his parents for everything
As a result of all these problems, Anas cannot stand or walk without support. His legs are weak and skinny, while his feet are curved inwards. There are terrible and painful-looking wounds and cuts scattered on his legs. Treating the injuries is useless, as they refuse to heal and only fester.
"I experience headaches and pain near my hip. I can't endure it enough to even sit down properly. My mother has to carry me and help me with my daily activities, even using the toilet. I have to depend on my parents for everything." - Anas

Without immediate surgery, his legs may have to be amputated
Anas needs to undergo L-spine surgery, athroplasty and lower limb surgery on an emergency basis, followed by multiple physiotherapy sessions, to make a full recovery. If the treatment is delayed any further, his condition will worsen to the point that his legs will have to be amputated.
'How will I support my family and save my child, when I only earn 400 rupees a day?'
Anas' father, Fajil Khan, works as a labourer, and his mother, Saniya, is a housewife. After spending everything he ever had on Anas' treatment and now finds himself empty-handed. Seeing his son in such a state has disheartened him. These parents even begged local school authorities to enrol their Anas school, hoping to give him some normalcy in life, only to be refused. They yearn to see Anas walk, run, play and go to school like the other children, but they cannot provide him the treatment he needs.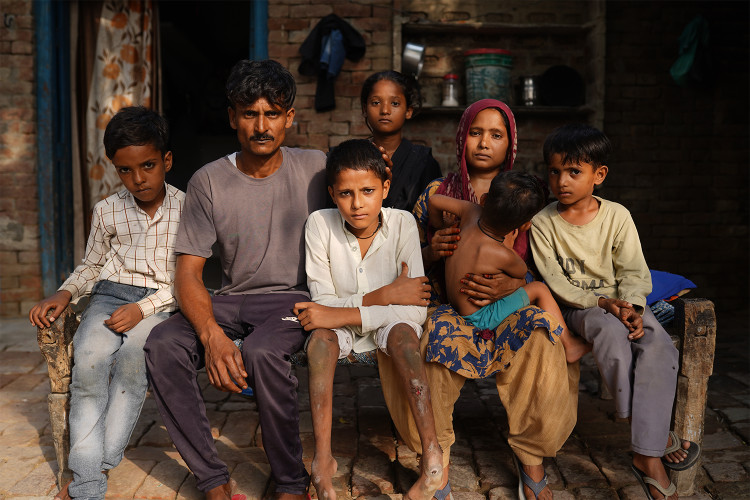 "He was only a few weeks old, then. I had come home after being away for work for 3-months during the festival season. But the next thing I know, I was running to the doctor with my sick baby in my arms, in the middle of the night. I spent all my money, begging him to save my child. But that was just the beginning. Today, my poor son is suffering more than ever, and I feel so helpless. How will I save my son and provide for my family, with just 400 rupees in my pocket?" - Fajil Khan, father
This family needs your help. With your support and generous contributions, Anas can undergo timely treatment and avoid getting his leg amputated.