"Three hospitals told me that they don't know what was wrong with my baby boy. They said his blood tests are fine but then his condition was not getting any better. The yellowness in his eyes - it wasn't going. And then finally, it was in the fourth hospital that I got to know what was it that was making my son sick. His liver is failing rapidly and we have only 2 weeks to get him a transplant. Any further delay can kill my son," - Revathi, mother of 7-month-old Vikranth.
He needs injections every day - his condition is getting worse
The last hospital to which Revathi and her husband, Mahesh, had taken Vikranth advised them to go to Bangalore. For the last one month, they have been in Bangalore, in a small rented apartment. Their elder son is also with them.


"We have to take Vikranth to the hospital every day - he needs regular medicines and injections. His stomach has started swelling and now his only cure is the transplant. These medicines are just buying us some time but I don't know for how long," - Revathi, mother.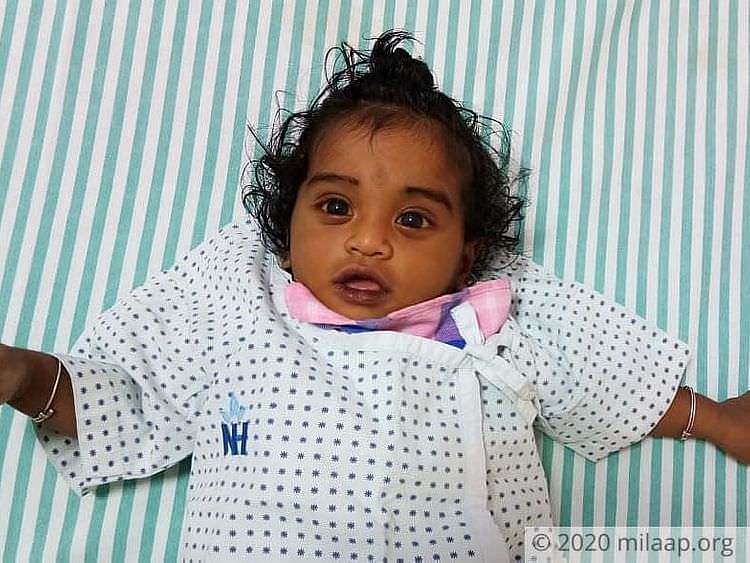 Both of us have lost our jobs, we don't know if we can pay this month's house rent
Revathi used to work in the education department of Kundapur, Mangalore, as a computer operator, where she earned around Rs 9,000 a month. Mahesh was a manager of a small hotel in Bangalore. He used to make around Rs 15,000. Together, they did everything possible to give a comfortable life to their sons but Vikranth's sickness changed all their plans.


"I quit my job this month because we had to come to Bangalore for Vikranth's treatment and the hotel in which Mahesh worked closed down due to the lockdown. Now, we have used up all our savings and there's no income. We don't know how we can afford the liver transplant that would cost us over 18 lakhs. We don't even know if we can pay the rent for this month for the house," - Revathi, mother.
I can save his life but how will we afford the transplant?
Vikranth is slowly showing signs of getting worse - his swelling is increasing. The next two weeks will decide his fate and luckily for little Vikranth, Revathi is a matched donor.


"But we have so less time in our hands, we can't even afford to borrow from people. My relatives have helped us a lot, we have almost spent over 2 lakhs with their help. But 18 lakhs is beyond our capacity. My baby is dying... I need your help," - Revathi, pleads.
Vikranth's condition is getting worse by the day. Only a transplant can save his life, but his parents can't afford it. Click here to donate.