"

We thought the dark times were finally behind us. Our son had beat cancer and we were just happy he was recovering. The thought of a relapse did cross my mind briefly and I hoped that as long as we were being very careful to follow the doctor's advice, everything would be okay. I was so wrong. Now, this disease is back to torment him and us." - Rajni, mother
After almost a year in remission, his cancer relapsed
Varun was first diagnosed with

acute myeloid leukemia

, cancer of the blood and bone marrow, in October 2020. The 13-year-old was confirmed to be in remission following a tough battle, where he underwent intensive chemotherapy and radiation treatment for 5 months. But earlier this month it was found to have relapsed.
"When the doctor broke the news of his relapse, we were absolutely devastated. It came as such a shock to us. All the suffering my son endured, and the progress he made - everything was in vain. His condition has deteriorated so rapidly again, it's as if he is back to square one. I can't believe we have to watch him go through this all over again. Why is life so cruel to my child?" - Rajni
This time chemotherapy alone won't help him, he needs a bone marrow transplant
Following the relapse, Varun immediately started undergoing salvage chemotherapy. AML is an aggressive cancer that starts in the bone marrow and can quickly metastasize into the blood and eventually to other organs. So, chemotherapy alone will not be enough to beat cancer this time around.
What Varun needs is a bone marrow transplant, which is the only way he will be able to survive.
"The treatment may have taken a huge toll on his body, but it has strengthened his resolve to fight this disease again. He always has a smile on his face, and is very optimistic about the future - unlike us, who are overwhelmed with the fear of losing him, and the guilt of not being able to save him because of our financial shortcomings." - Pankaj, father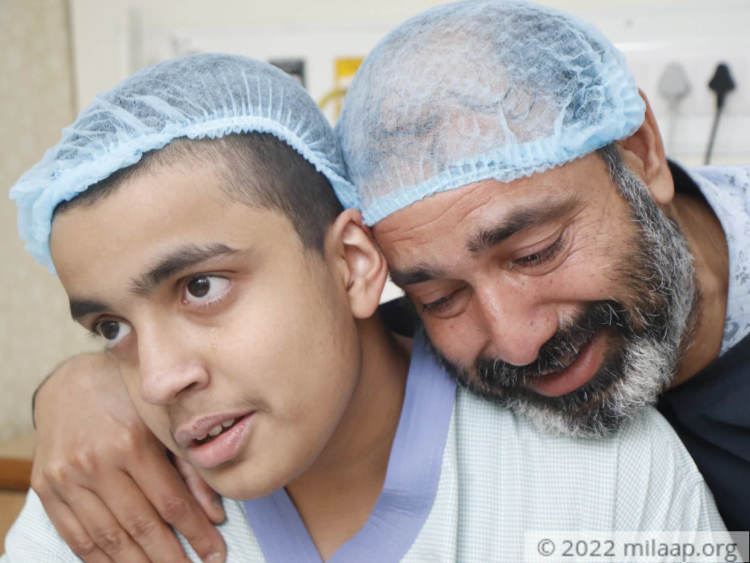 His parents cannot bear the exorbitant cost of his life-saving treatment
A school teacher by profession, Pankaj is the only breadwinner in his family. He makes a decent income that has allowed the family to live comfortably so far. But, after spending all of his savings, availing loans, borrowing from relatives and even selling all their valuables for his son's treatment, he has nothing left.
"The doctors say the more the delay in getting him the appropriate treatment, the more danger he will be in… I can't lose my son like this. He's still so young and has so much to live for! He wants to go to school, and I want to see him grow into a capable young man. Instead, at the age where he should be learning new things and enjoying his childhood, he has to fight for his life - Pankaj
"Our son can tell from one look, when we feel stressed or anxious, and that gets him down too. He often consoles us by telling us to stop worrying and that he will be okay. I have to stop the tears from falling when I hear those words. I can't let him see me cry." - Rajni
Varun needs to undergo bone marrow transplant at the earliest, and you can make that happen. Click here to donate.