"In April 2021, when the second coronavirus pandemic was at its peak and claiming thousands of lives across the country, our whole family tested positive too. But we were most worried about Tiyasha as she appeared weaker than everyone else. After we learned that she also had cancer, we thought we would lose her forever."

- Arpita, mother.
13-year-old Tiyasha has been suffering for more than a year now.

It all started with frequent headaches, low platelet and hemoglobin levels which turned out to be symptoms of acute myeloid leukemia, a deadly form of blood cancer in which abnormal cancer cells grow and multiply in the blood and bone marrow.



But Tiyasha is a fighter. She fought both COVID-19 and cancer bravely at the same time. But now her cancer has become more aggressive in nature and her body is slowly giving up.

'Without another transplant, she will not live'
Tiyasha had to undergo an emergency bone marrow transplant within a few months of being diagnosed with blood cancer. Both doctors and her family believed that her cancer would go away once and for all after this. The transplant was successful, but unfortunately her cancer relapsed just last month. Her parents are heartbroken, and are still reeling in shock from the news.

"

Her face and body are swollen. She cannot eat anything properly. Her entire body hurts

. Bad memories from the last time are coming back to us. What did she do to deserve this?" – Arpita, tearfully.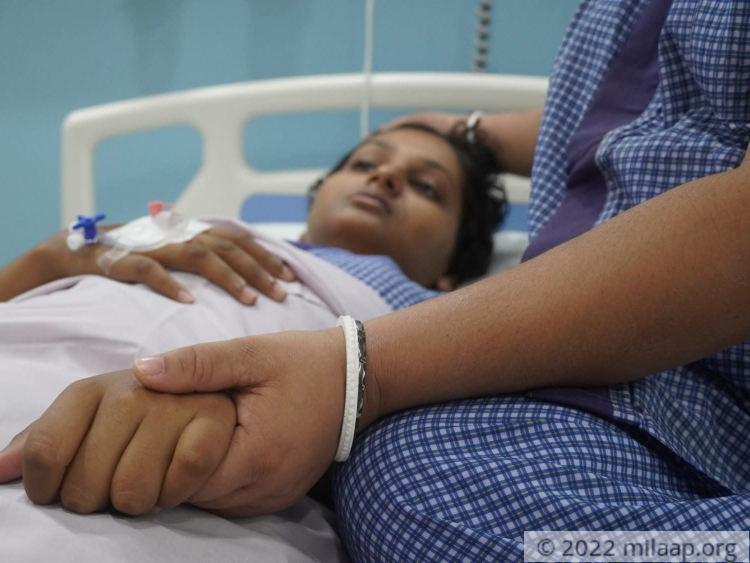 This family has lost all hope and money, need your urgent help
Tiyasha's father Prasanta owns a small shop and earns a living from its earnings. But business has not been doing well, ever since the pandemic. He had to borrow a lot of money from friends and relatives to pay for Tiyasha's first transplant.

He had to spend more than INR 60 lakhs and is still in debt. Now, he has absolutely no way to afford her second transplant.



"Tiyasha is my only child. She was always at the top of her class and aced her exams. She is such a smart young girl! She deserves a good future. I want to free her from this pain. Please help me save her." - Prasanta, father.
Tiyasha can beat cancer once and for all with your kind help. Click here to contribute.