It had been 10 years since they got married, and Ravindranath and Prabhavathi ached for a child. Hospitals, prayers, temples, fasts – nothing could help them. They spent every minute in misery. Just then, his younger brother Murali who lived next door, was blessed with a second child. Unable to see the couple's plight, the couple handed over their new-born to a confused, but elated Prabhavathi. Thus, adopted within the family, Teja was the luckiest baby who had the love of four doting parents. But everything came to a standstill when he was diagnosed with Thalassemia. Today, the two families are struggling to save an 8-year-old Teja who's the light of their lives. Without an immediate bone marrow transplant, he will not survive.

Prabhavathi was still thanking her stars when one day, Teja fell extremely sick
"When he turned 3 months, one day, he vomited all that he ate. He was burning with fever, and wouldn't stop crying. We rushed him to the clinic, and there

they said he had no blood.

He underwent transfusion immediately, and everything was alright.

But two months later, this repeated and another transfusion followed. Then, again, and again. Every time, we took him to different doctors hoping somebody would tell us what was happening…but nobody knew

!" – Prabhavathi, mother.


Diagnosed with Thalassemia, Teja was the child who didn't know what it meant to play
"He was one, when we were told he has to live off transfusions.

Every month, we would all four of us die within, when the needles went inside him; even if it was only to save him

. It was unfair.

When all other kids played, Teja would sit in a corner and watch them, wondering why he couldn't too.

When there was even a slight delay in transfusions, Teja would grow so weak, we'd get scared for his life.

Will he ever lead a normal life? Will he survive this at all?

" – Ravindranath, father, breaks down.
Thalassemia is a genetic blood disorder that results in the destruction of red blood cells. Patients fighting this survive on monthly transfusions, like Teja has had to.


He can't live off transfusions anymore...only a bone-marrow transplant can save him
"While we are only grateful for his sacrifice, Murali won't stop blaming himself for giving us Teja. He has done all he could, to help us afford transfusions every month. But today, after years of pricking and surviving, when his disease threatens to take his life, we are all devastated! If something were to happen to Teja, we will all be shattered! Only a bone marrow transplant can save him now." – Prabhavathi.

Ravindranath, a farmer, struggles to gather the 20 lakhs required to save Teja
A daily-wage farmer, Ravindranath earns no more than Rs. 10,000 a month. Teja needs an urgent bone-marrow transplant, that will cost them 25 lakhs.
"

We have done everything in our strength in the last 8 years, just to give Teja a long happy life

. During this pandemic, it was especially difficult to get blood for transfusions.

We've managed to cross those hurdles, only to come here. It's too much for us.

Please help us save him!" – Ravindranath.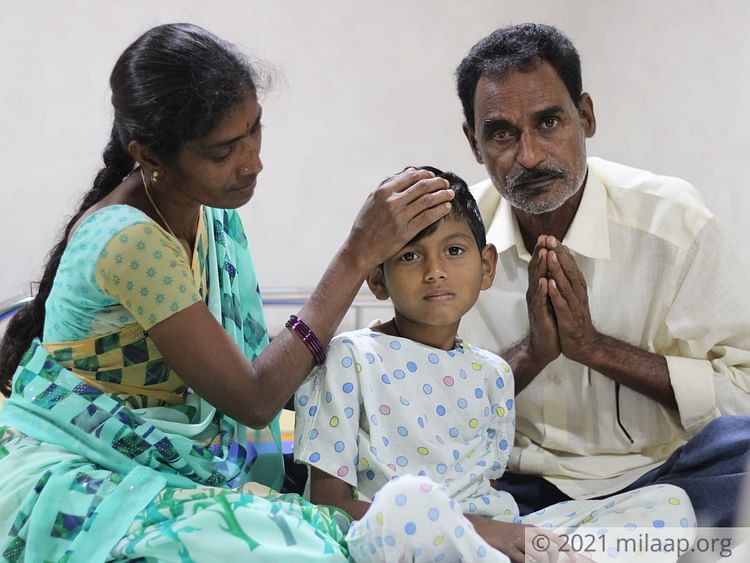 Your generous contribution can save little Teja, and thus the two families. Click here to help.