"Was it not enough that my son suffers from deadly cancer? He is now tested positive for COVID too. Being a cancer patient his immunity is already compromised and with COVID, I fear that I would lose him… Why is God being so cruel to my young child?"
- Dharmaro, father
He couldn't walk or even get up from a chair without stumbling
Last month all of a sudden Shiv felt extremely weak. He couldn't walk or even get up from a chair without stumbling. When blood tests were done, his hemoglobin was dangerously down to 3 when it should have been somewhere between 12-14 for his age.


"He was immediately admitted for blood transfusion and the doctor asked us to take him to a bigger hospital immediately where his disease was diagnosed later. I have only heard of what cancer can do to a person but watching it all happen to my child is devastating. I almost lost him that day and if I can't afford the treatment I might lose him forever." - Dharmaro
He is all alone and I desperately want to be by his side
Shiv Kumar is a hardworking and intelligent child who is very fond of learning computers. In his spare time at school, he would walk up to his computer teacher to learn a thing or two. He knows that his poor father cannot afford one so he always dreams of buying a computer once he gets older. But ever since he has fallen sick, the poor child doesn't feel like getting up from his bed.


"When I was with him I would cheer him up, call his friends, but now he is alone and I desperately want to be by his side. I want to tell him that I am right outside if he needs me and that everything will be okay but I can't." - Dharmaro
I know he would beat COVID but he still might succumb to cancer
"I never had a proper education or proper job. I do odd jobs to support my family with income only enough to fulfill basic necessities. I wanted things to be different for my child so I put him into a good school. But now I am unable to even save his life. I know he would beat COVID but he might still succumb to cancer and it will all be my fault, because I can't afford his treatment." - Dharmaro

Shiv Kumar is asymptomatic and is likely to get well soon but his cancer has only one cure, chemotherapy, which this poor father is unable to afford.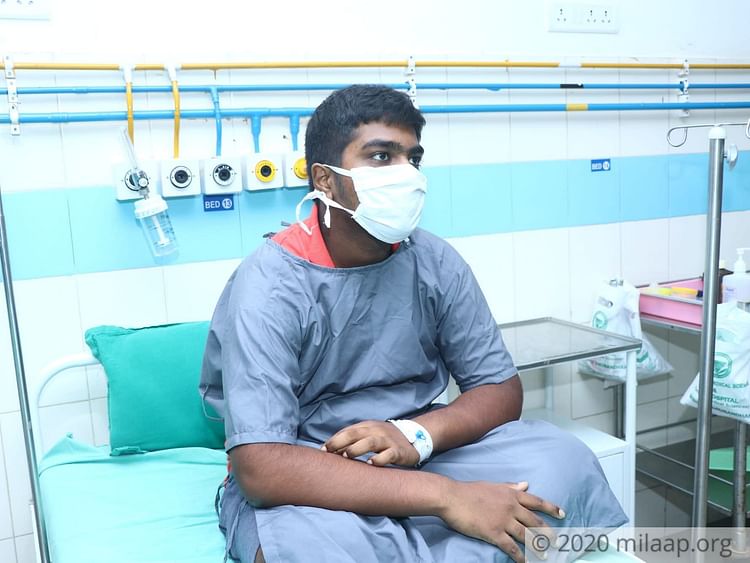 His cancer treatment cannot be paused for long and needs to be resumed as soon as possible but Dharmaro doesn't know what to do or whom to ask help from. All that he had he has spent for Shiv's treatment so far and he is unable to keep up with the expenses. You are his only hope! Click here to contribute.