Last week, a little girl fighting cancer beside Shantanu's hospital bed passed away. This has shaken 10-year-old Shantanu to the core because he keeps asking his mother questions about what will happen to him and will he also die.
"It's not just my son, I'm scared too because the little girl seemed fine the previous day and in less than 24 hours, she was gone. Now Shantanu keeps asking me if the hospital staff will take him away too. When I think about my son and how his cancer

has progressed from his liver to the neck in just a few weeks

, I dread every time his reports arrive. My child is getting weaker and weaker with every passing day."- Soni, mother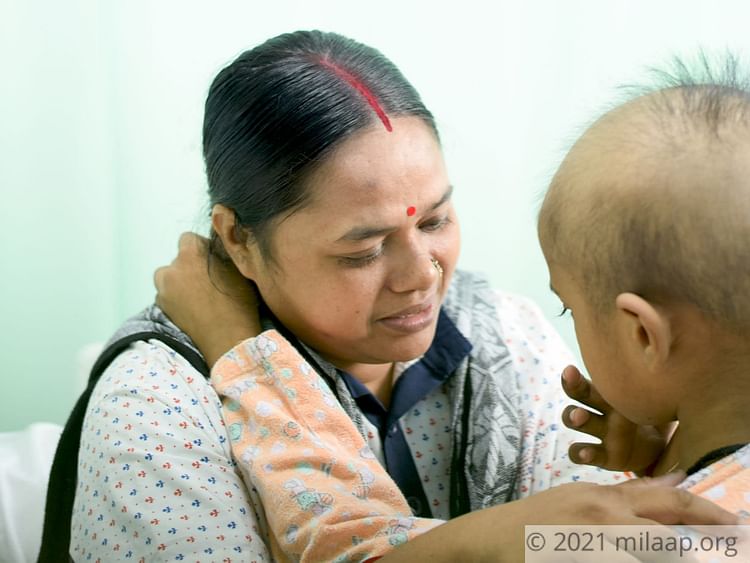 A wrong diagnosis delayed his cancer treatment, making it worse
Shantanu had severe stomach aches and fever last year in April. The local doctor had started his medicines for Tuberculosis due to his family's medical history regarding the same. This went on for a year with Shantanu falling sick every other day without any relief. Seeing her active child become sluggish made Soni, his mother, bring him to Kolkata from Bihar for treatment.

It took them a year to realize Shantanu has

Neuroblastoma

, a cancer affecting the nerve cells aggressively. It started near his adrenal glands and now there are traces of it around his neck too. Along with chemo, he needs

Stem Cell Transplant

along with a possible

surgery and radiotherapy

which will cost these parents around 15 lakhs. Any delay in the transplant now can reduce his chances of recovery to half, as this cancer is spreading to his other organs too.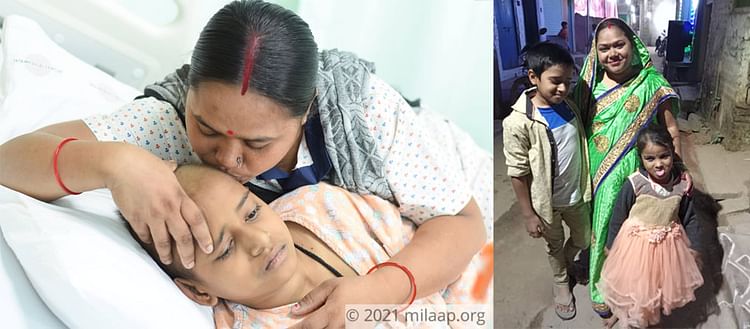 The cries of the other kids in the cancer ward scares him
"I don't know what cancer is but I know it is very strong. I don't like this hospital anymore nor do I like to eat or play here. When the other kids are given injections and they cry in pain...those screams terrify me. I not only miss my sisters but I also miss fighting with them. I'm just waiting to go back home soon."- Shantanu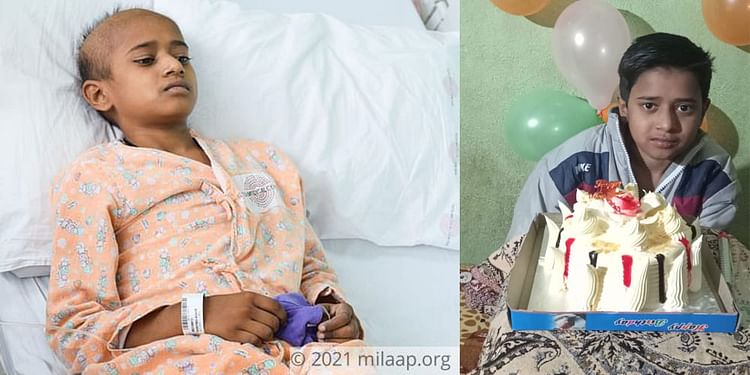 His money lenders threaten him, thinking he ran away with their money
Sonu, Shantanu's father, used to work as a temporary driver before he came to Kolkata for Shantanu's treatment. He has been spending sleepless nights, worrying not only about his son but also for the safety of his daughters, who are in Patna, their hometown.


"I had borrowed a lot of money to start Shantanu's chemo as soon as I got to know of his cancer. My lenders think I'm absconding with their money and threaten me because I haven't been to my village for 2 months. We delayed Shantanu's treatment for a year, so as soon as the doctors found out, they immediately admitted him and I haven't stepped out of this hospital since then. I worry if I don't repay them soon, they will trouble my daughters too."- Sonu, father

With empty pockets and mounting bills, Shantanu's family has no one to seek help from. Since they delayed their son's cancer treatment for a year due to a wrong diagnosis, they are now running out of time to arrange 15 lakhs. They are struggling to even afford his basic day-to-day medicines now, so by no means can arrange money for his Transplant on their own.

Please come forward to help 10-year old Shantanu complete his treatment without any delay.