"Up until he was diagnosed with this disease, he'd never even been to a hospital. But now, he's so tired of staring at these white walls and begs me to take him home. He has to be pricked with all these needles, and it's so painful for him to bear! I know this is all part of his treatment, but seeing him like this is killing me. My once energetic little boy is so pale and weak now. I wish I could take all his pain away.."

- Sathyabama, mother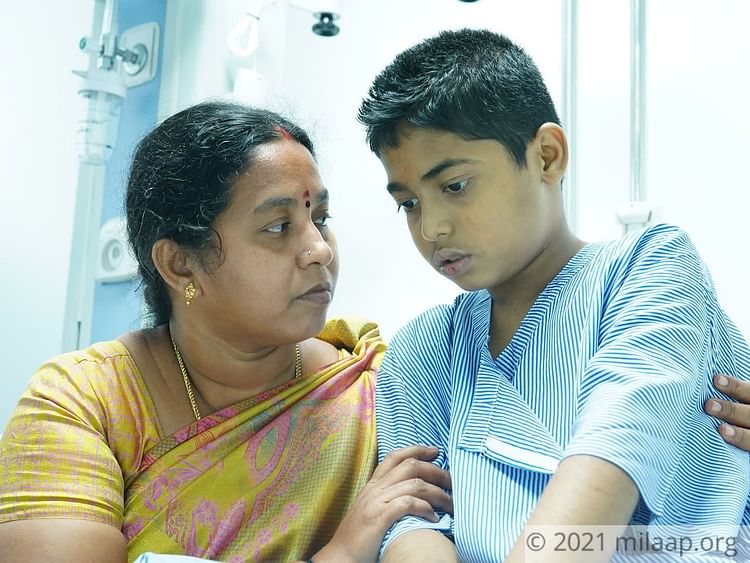 A high fever and stomach pain left him very weak
In the past 10 years of his life, Sanjay had always been hearty and hale. Never once had he fallen gravely ill, except for the occasional temperature or cold, that would easily subside in a matter of days. So, the high fever and excruciating stomach pain Sanjay suddenly started complaining of in June 2020, caught his parents off-guard. Their worries only grew when they realised he was very weak and could barely move about.


"I knew something was wrong, instantly and rushed him to the hospital. They said Sanjay had a problem in his liver, due to which he had contracted jaundice. We spent almost 5 lakh rupees on his treatment, which was so difficult for us to bear. We were just relieved that Sanjay was recovering. When the colour came back onto his pale face and the doctor gave him a clean bill of health, we had hoped that that was a one time thing and never again would we need to visit a hospital. Oh, how wrong I had been..." - Sathyabama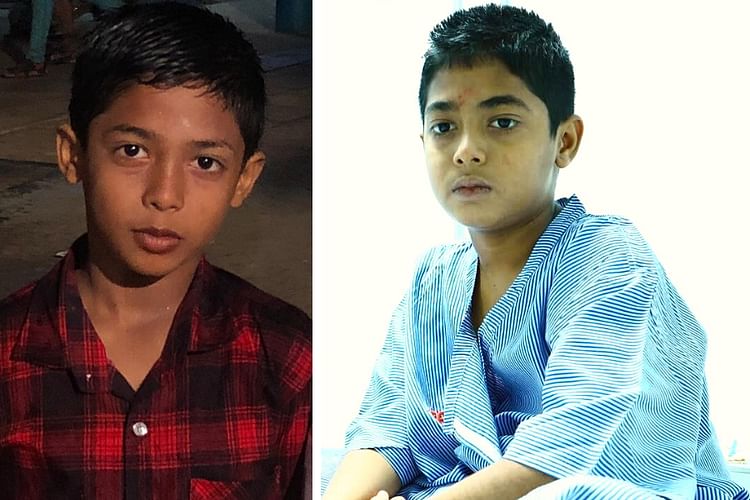 He has a rare blood disorder, and only a bone marrow transplant can save him
In the following months, Sanjay had remained in good health. Until in November, at his routine check-up, tests showed that his platelet count was extremely low. Another test confirmed that Sanjay has Severe Aplastic Anemia (SAA), a rare blood disorder. His body has stopped producing enough new blood cells, as a result of bone-marrow damage. Sanjay started treatment in December with prescription medicine and high dose injections, but they didn't work.

In March of this year, he was administered anti-thymocyte globulin (ATG), a standard treatment for SAA that requires at least 3 months to show results. That too was a failure. Currently Sanjay is undergoing regular blood and platelet transfusion to improve his counts, but the only long-term cure for SAA is a bone marrow transplant. Sanjay needs to get a bone marrow transplant at the earliest, or his condition will only worsen.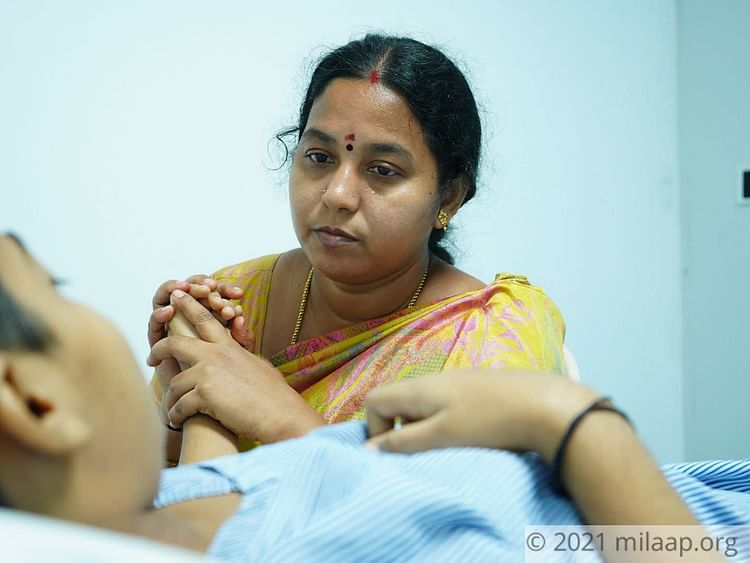 They've spent everything they had to save their son, now they are failing
Sanjay's current treatment has had adverse effects on his little body. He's uneasy, but he has been enduring the discomfort and fighting against this disease like a champ. A bone marrow transplant can end his suffering once and for all and give him a new chance at life. However the price it comes at is beyond his parents' reach.


"After spending over 30 lakh rupees on my son's treatment, I have nothing left. I am only a farmer, and I've sold my land and all my assets so I can afford the medicines and injections that Sanjay needed. I even borrowed money from so many people. I have a huge debt weighing down on me already, I don't know how I will arrange for another 25 lakh rupees. I was so happy when I learned that I have been matched as his donor. I would do anything to save my son, but the expenses for this transplant are just beyond my means." - Srinivasan, father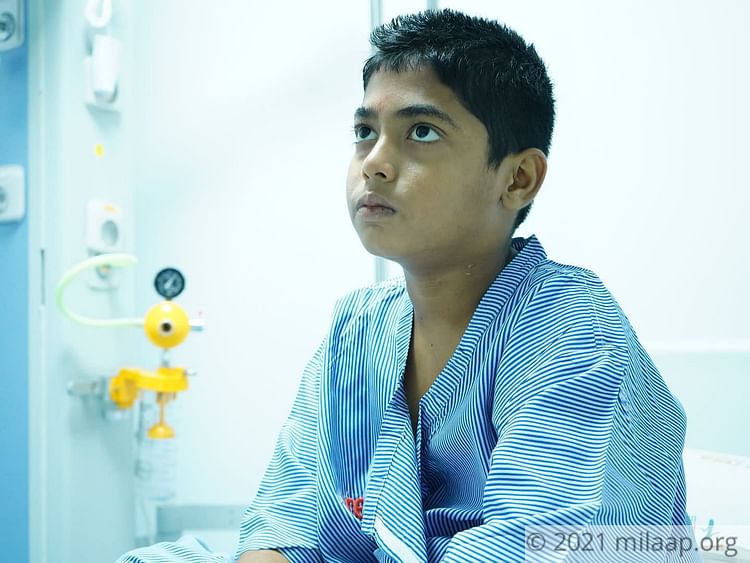 Sathyabama and Srinivasan are in desperate need of your help. This blood disease is claiming their 10-year-old's life and they are struggling to save him. Your contributions can help Sanjay get a bone marrow transplant and live a long life. Click here to donate.