"I was on duty when I got a call from my wife. She was crying and was asking me to come back immediately. She said she was at the hospital and that our little girl was not well. What I heard next left me devastated, I couldn't think straight.
Samiksha was diagnosed with cancer."
- Deepak, father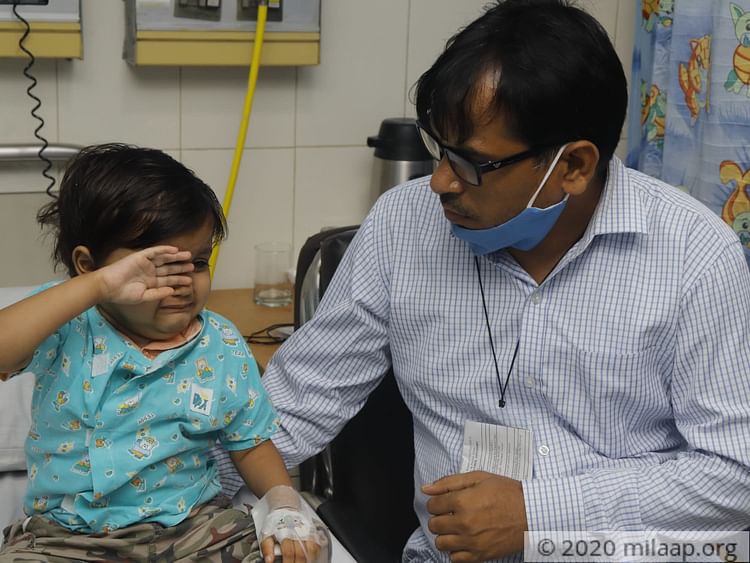 She was losing weight rapidly and her blood levels were dangerously low
Deepak works as a gateman at a railway crossing in Punjab whereas his family lives back in their village in Meerut. He visits them whenever possible and on one such visit, he noticed that his 2-year-old daughter Samiksha wasn't eating properly and that she lost a considerable amount of weight just within the one week of his last visit. He took her to a doctor who prescribed some medicines and he left for his work feeling a little relieved.

But within the next few days, her condition got worse. She was suffering from high recurrent fever and her blood levels got dangerously down. Further tests and reports revealed that the little girl has Acute Lymphoblastic Leukemia, a type of blood cancer.


Cancer was growing inside her and we had no idea
"She has always been different from her siblings. She was never that active or enthusiastic to play. She sat most of the time and just watched the people around her. She used to put her hands on her knees for support to stand up. We thought she is still young and it is okay. But we never thought that cancer was growing inside her, making her weak. She can't tell me her pain but I can see her struggling. She cries so much and no matter what I do it is not making it better. I don't want cancer to take her away." - Rajni, mother
She needs chemotherapy to kill the cancer cells
"I spent all the little money I had to save Samiksha. I borrowed and took loans too but I could only manage to complete her first cycle of chemotherapy. I have nothing left to continue her treatment, not even my monthly income. Where will I get 5 lakh rupees from?"

Deepak has been on leave for 2 months now and without the salary, he is struggling to even provide the family with food let alone the treatment. Samiksha needs continuous chemotherapy to kill the cancer cells and stop them from growing. Without the treatment, the little girl will not be able to make it.


You are their only hope. Your generous contributions can save 2-year-old Samiksha. Click here to contribute.