"For the last three years, he's only been fed milk because he can't eat anything. It pains me to watch him being fed through a pipe attached to his stomach. I yearn to hear him asking me to make him his favourite food. I want to see him sitting at the table, eating the food that I cooked for him. But it all seems like a distant dream, right now" - Neelam, mother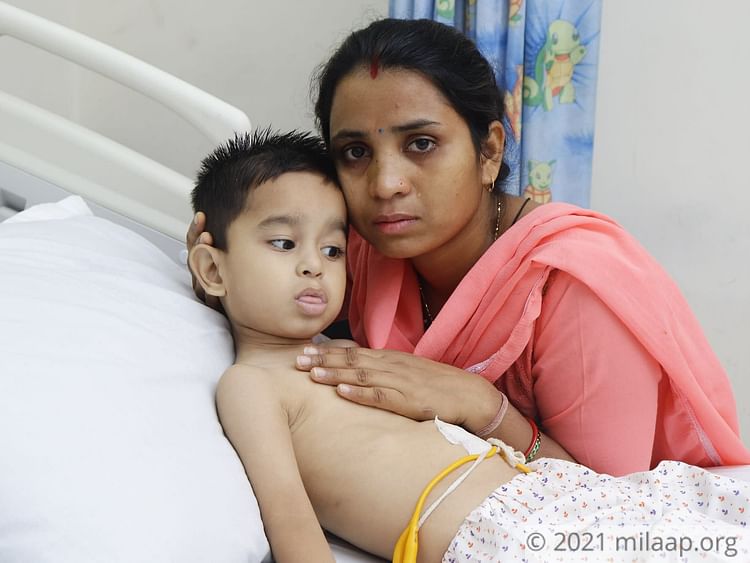 An underdeveloped food-pipe triggered their baby's breathing difficulties
Neelam had a normal delivery and the couple had been overjoyed at little Samarth's arrival, and nothing had initially seemed out of the ordinary. Until about 3 days later, his parents realized their newborn was having trouble breathing.


"The hospital he was born in was not equipped enough to examine him. Every ticking second we spent waiting was so agonizing. I couldn't imagine losing him. He had been with us for only a few days and he was already struggling to survive! We were referred to a bigger hospital and that is when we found out that his foodpipe was underdeveloped and he would need surgery ..." - Amit, father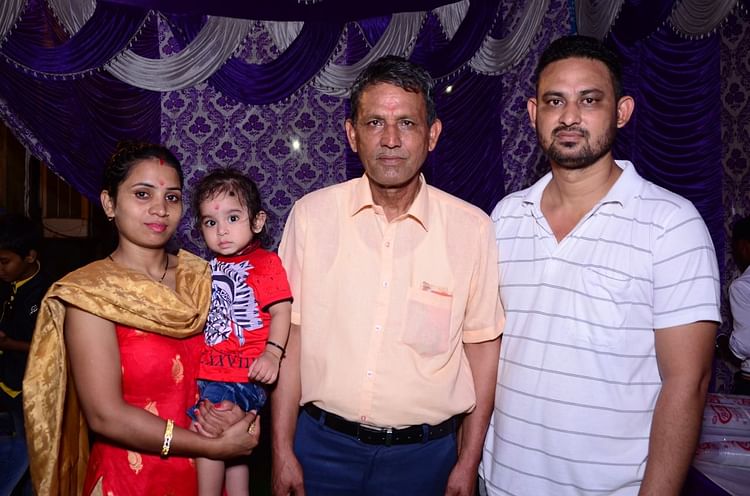 He needed to undergo surgery to be able to drink milk
Desperate to get their baby treated, these grief-stricken parents shuffled from one hospital to another. But they were either in equipped or beyond their affordability. Finally, they found a hospital where little Samarth underwent surgery to insert a pipe in his stomach, so he could be fed food and other nutrition.


"When they told us our baby wouldn't be able to eat or drink normally, I was floored. Getting the tube attached to his stomach itself was so expensive. I used to be an auto-rickshaw driver at the time, and I sold my vehicle so I could afford the procedure. But that was only a temporary solution. I knew that going forward, he would require much more for his treatment.." - Amit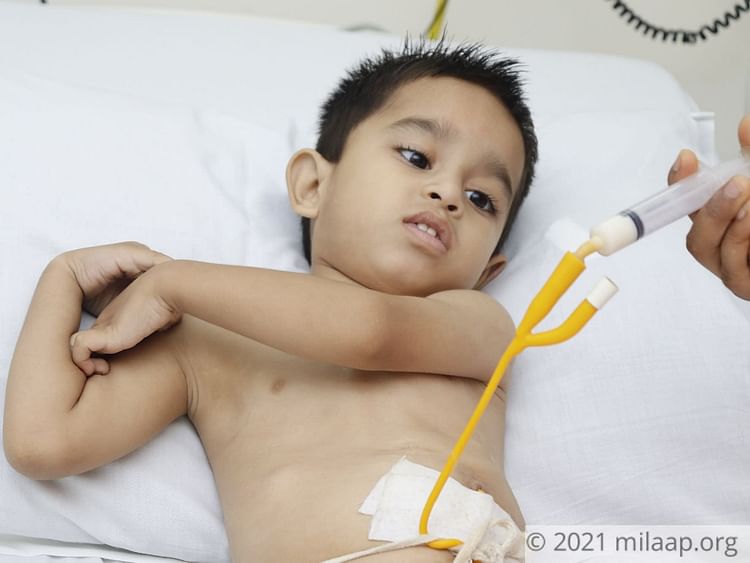 He needs a major surgery to help him live a normal life, but his parents can't afford it
For the past 3 years, baby Samarth's life has revolved around hospital visits.

He can only be fed liquids through the tube in his stomach, which needs to be changed every month.

Now Samarth urgently needs to undergo major surgery, including an Esophagectomy, Jejunostomy and Laparotomy, to rectify his condition. But it will cost his parents INR 10.7 lakhs, a sum that is way beyond their means.


"As a mother, all I had ever wanted was for my baby to grow up healthy and happy. I can see how much this has affected him not only physically, but also mentally. He's so antsy, easily irritable and tends to have sudden bursts of anger. But most days, he's so weak! At 3 years old, he should weigh at least 15 kgs, but he's barely 11 kgs." - Neelam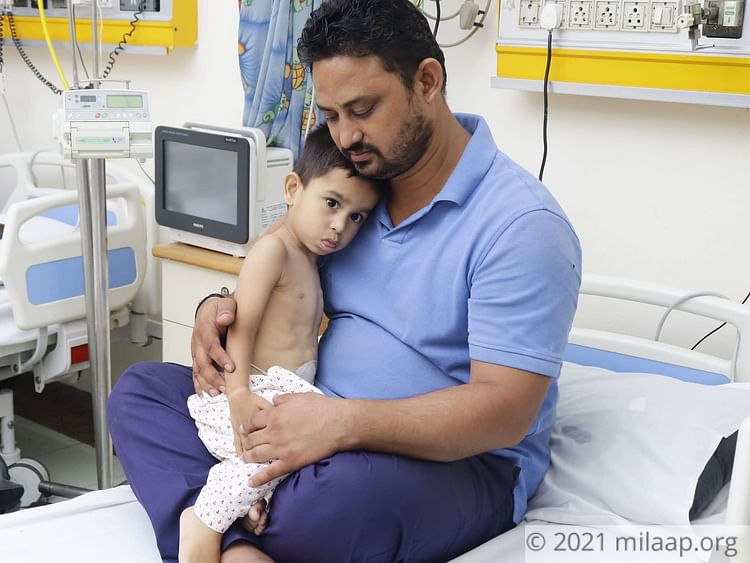 "These past 3 years I've spent about 5 lakhs, which is practically all the money I had. We've even sent my younger son to live with his grandparents in our hometown, because without any money, I can't give him the life he deserves. It kills me to see Samarth like this. I feel guilty to even eat in front of him, seeing how much he longs to eat proper food. I just want him to get better soon, but I'm failing to afford the surgery that he needs. " - Amit
Little Samarth needs this surgery at the earliest. His parents only wish for him to live like any other child his age, but they are struggling to give him that. You can make that happen for him with your generous contributions. Click here to donate.