Sometimes the pain is unbearable. It feels like someone is hitting me with sticks and pricking me with needles... I want it to stop.
"She knows she won't survive without these medicines and injections. She is 13... just 13 years old. She should be playing, going to school, making mischief, but all she does is worry. She worries if she would be alive the next day."
"I am tired of all these pills, I don't want to take it anymore"
Sakshi was 6 months old when she was diagnosed with thalassemia major, a blood disease. Ever since then, she has been on medication and regular blood transfusions.


"She cries inconsolably sometimes complaining about how she is different from her friends, about having to take so many pills. But then pulls herself together. She is brave, braver than I ever will be. And now that I see the solution to her deadly disease I want her suffering to end."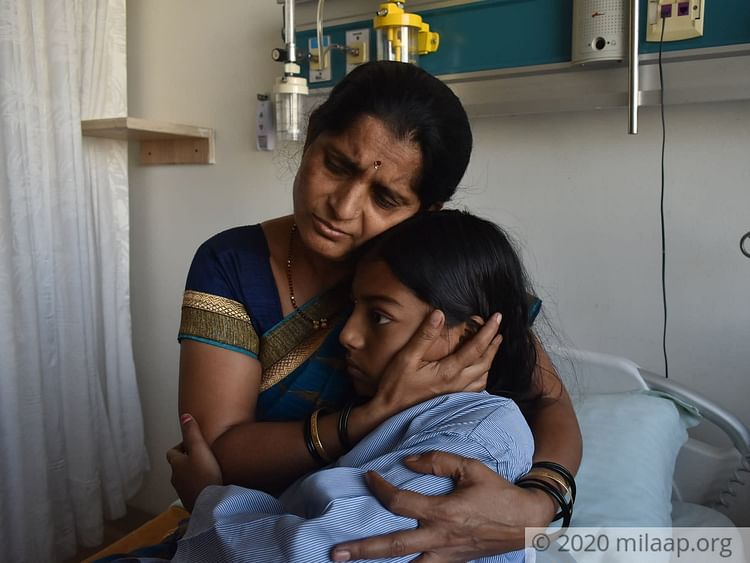 There is a solution that can take her pain and suffering away
Sakshi is living on borrowed time. If she misses even a single blood transfusion, she won't survive. A bone marrow transplant is the only thing that can save her life.


"As she grows old, her health risks will increase. I am also getting old and it's scary... how will she live on her own if something happens to me? This transplant can save her and my elder son is ready to be the donor but... but we can't afford it."
No matter how much we save or starve, it will never be enough
Raosaheb works as a clerk in a small private institution in Kolhapur. His income is just enough for monthly expenses, most of it going towards Sakshi and her brother's education, and also her treatment.


"I always gave their education #1 priority, working extra hours to manage everything. But now I have no savings, and I don't know if I can save Sakshi. No matter how much we save or starve, we will never be able to arrange 18 lakh rupees... I am just a clerk."
Your little contribution can save Sakshi's life. Click here to help.