Sakshi hasn't been able to sleep for 2 days now, largely due to the high blood pressure brought on by her latest round of chemotherapy.

After two back-to-back strokes in less than a month, she has been terrified to sleep alone in the hospital room. Her vision gets blurry and sometimes she has difficulty moving her hands and legs on her own.



Things started getting critical around March this year when she started vomiting blood and her gums would bleed profusely. No one could have imagined that those frequent fevers and constipation, would actually turn out to be blood cancer.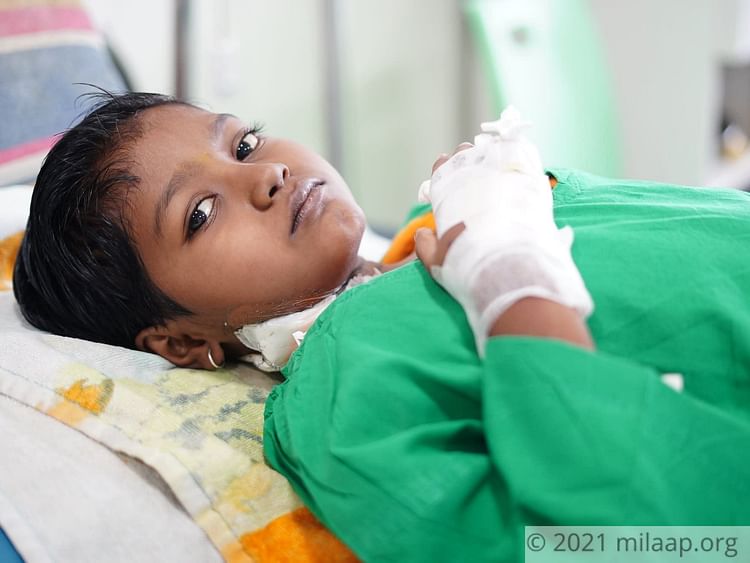 She rushed to her mother with bleeding gums
"It was very unusual for us when Sakshi, who is always chirpy, started staying quiet. She would sleep for hours complaining of weakness. I thought it was just a regular fever due to the change in weather. But one day, when she came running to me shouting Ma-Ma, with her mouth filled with blood, I was terrified. We could never imagine that all this while something as deadly as cancer was making a home inside our little Sakshi's body."- Anita, mother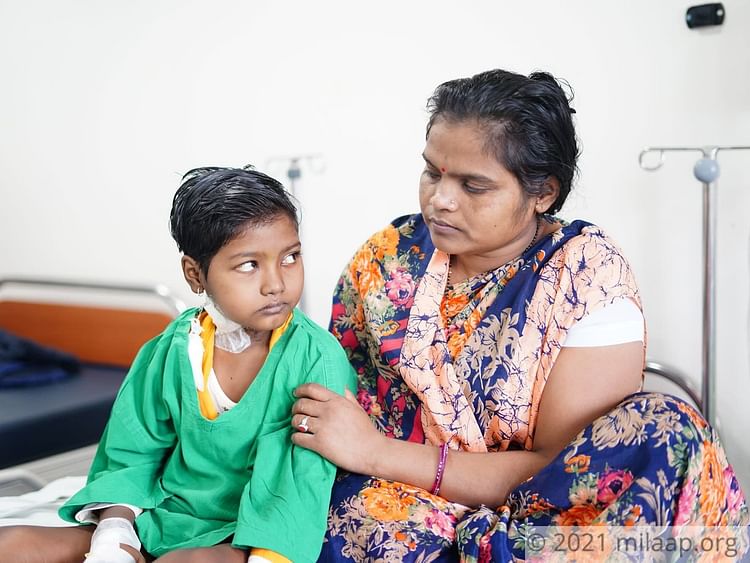 8-year old Sakshi has been diagnosed with Pre-B Cell Acute Lymphoblastic Leukemia, an aggressive form of blood cancer. Her body is producing white blood cells rapidly, instead of normal blood cells, making her prone to severe infections. With regular chemotherapy and care, she can cure herself of cancer but that would require 5 lakhs - something the Honmane family are failing to arrange.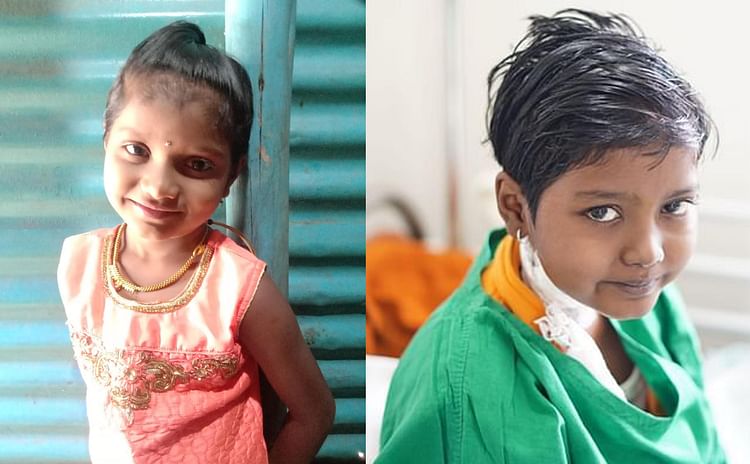 Just when they thought she is recovering, her condition worsened
After showing signs of recovery, Sakshi was discharged in April 2021. However, even before her parents could get time to rejoice, they had to rush her back to the hospital, with a severe stroke and low platelets.

To add to their woes, the after-effects of chemo have made Sakshi more irritable. She rarely responds to her parents' frantic attempts to cheer her up now.


"Every other day, Sakshi would just demand one thing from me - Baba, get me noodles after work; and we used to eat it together, hiding from her Aai. After her stroke, when she was lying unconscious for days, I got her noodles and pleaded with her to open her eyes and eat them, but she just wouldn't. I've sold my wife's mangalsutra and our two-wheeler, but still, I'm short of 5 lakhs. Now, I just fear, what if Sakshi won't be there to call me Baba anymore...just because her Baba can't afford her treatment."- Maruthi, Father

Maruthi sells mangoes while Anita works as a househelp for a living. They are both striving to give their children all the facilities which they couldn't afford for themselves. They have even left their son in the village, as they are desperately trying to save Sakshi. Every time Sakshi asks for her brother, they lie to her about trains not moving in the lockdown. But in reality, they are just trying to save every single penny for her daily medicines.

These parents blame themselves for delaying Sakshi's treatment. They have sold every single thing they had to save Sakshi. You are their only hope now. Please help them save her.