Mariammal has to hold back her tears as a nurse attempts to feed her barely 7-month-old baby, through a tube in her stomach. This is how it's been since the day Saisha was born - her baby's short life has revolved only around hospital visits. Saisha cannot do the things that normal babies her age do and that alone has been difficult for her mother to grasp.

Baby Saisha was diagnosed with Esophageal Atresia as soon as she was born. It is a birth defect causing her esophagus (food pipe) to not develop properly, making her unable to swallow. With reconstructive surgery, she will be able to make a full recovery, but her parents don't have any way to pay for it.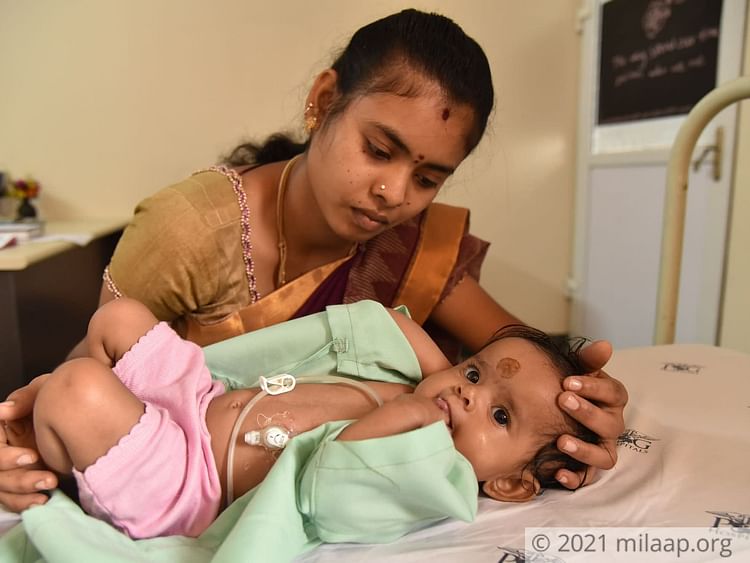 She was rushed to NICU as soon as she was born
Somasundaram had been struggling to make ends meet because of the pandemic-led lockdown, last year. The news of his wife's pregnancy had sparked hope in the couple, and they had been looking forward to being parents for the first time. But neither of them had ever imagined that things would end up taking a turn for the worse.


"The thought of being a father gave me the motivation I needed to do my best - if not for myself, at least for my child. At every prenatal scan, we were told that my wife was doing well and that our baby was healthy. So, I had never thought of the possibility that something may go wrong. But when our daughter didn't come into the world crying her lungs out, my fears got the best of me. I tried to tell myself that it was alright, that these things could happen and that our baby was fine. But only minutes later, when she was being wheeled into the NICU, I knew my hunch had been right." - Somasundaram, father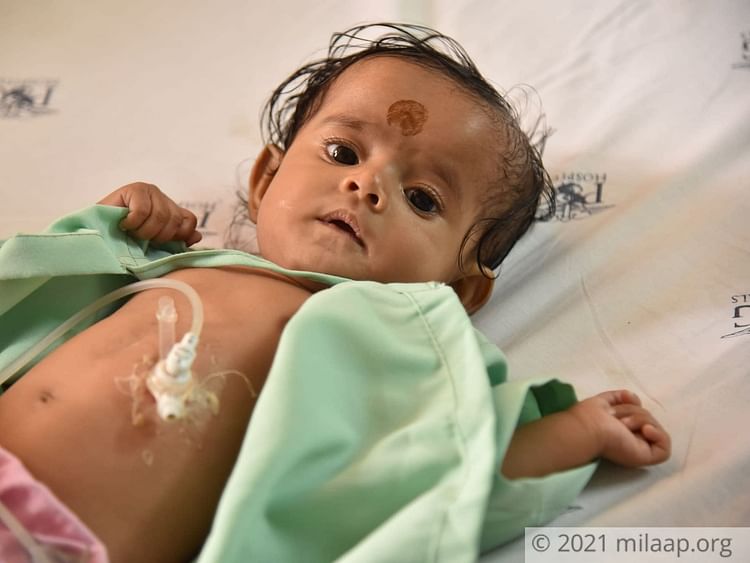 She had to undergo an emergency surgery the very next day
Only a day after she'd taken her first breath, Saisha's parents were informed that their baby girl needed to undergo emergency surgery. Her tests and scans revealed that her oesophagus had not developed, making it difficult to swallow even her own saliva. Her mother was still recovering from giving birth, and hearing that her baby had to go under the knife left her devastated.


"It was so painful for me to even digest the fact that my one-day-old baby would need surgery, or she wouldn't be able to survive. They said that her food pipe hadn't developed properly, so they had to connect a tube to her stomach to get food in her body. She had excessive saliva which had to be drained out, so they had to make a hole in her neck. There was even fluid build-up in her back, which needed to be cleared out. I couldn't even begin to understand how or why this happened to our baby, when we were told she would be born healthy." - Mariammal, mother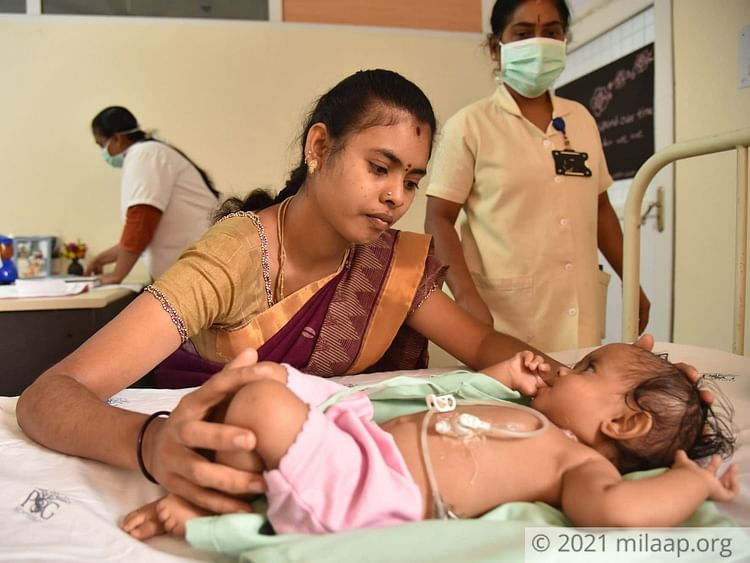 Only a daily wager, her father cannot afford her reconstructive surgery
For the past 7 months, little Saisha's source of nutrition has come through the tube connected to her stomach. She's been growing steadily, but she's still much too small for her age. She needs to get reconstructive surgery which will cost INR 8 lakhs, but her parents are poor and have no money to afford it


"The past few months have been extremely hard on us. My wife has been inconsolable and cries all the time, even when she's holding her. The doctors have told us that with this last surgery, our baby will be able to recover and eat by herself. But it is so expensive, and I will never be able to afford it. I am only a daily wage labourer, earning very little that is barely enough to get us by. I've managed to come this far by borrowing from my relatives, but they too are poor and can't help us more than they already have. She is our only child, I cannot save her on my own. Please help me…" - Somasundaram
Somasundaram and Mariammal need your help. They only want to be able to hold their healthy baby in their arms. Their daughter's life depends on this final surgery, and your contribution can help them afford it. Click here to donate!