His surgery is successful and soon you can take your child home
Roma and Shyamal rejoiced when they heard this good news but little did they know that Rohit's battle against cancer was not over yet. It is spreading and only chemotherapy can save this little child.
"He use to get frequent fevers but how can any parent ever think it could be cancer, neither did we... until one day when his tumour started showing up. He is just 5...just a little baby and he's battling cancer. I wish it was me who got it instead."- Roma, mother

I can't even afford the cost of cleaning up his wound
5-year-old Rohit was diagnosed with
Metastatic Ewing Sarcoma, a bone cancer
that had spread to various parts of his body. Just after he got the tumour on his back removed, a tumour on his leg started growing and this will not stop without continuous chemo cycles, radiation therapy and intensive care. However, his parents cannot afford the treatment any longer.
"The area where he had the surgery, it is bleeding now and the doctors say he needs to stay in the ICU otherwise he will get infections which can also be fatal. I can't even afford the cost of cleaning up his wound let alone lakhs for his treatment...I don't want to lose him."- Shyamal, father

Rohit is so close to beating cancer for good
Shyamal sold everything possible, his land, his house, even his mother's jewellery to save his child.
Rohit is so close to beating cancer, but his father is unable to bear even the minimum cost of Rohit's daily medicines.
"If I take him home without the treatment, this cancer will kill my child. I want it to go away and never bother my child again. He is in so much pain. Although he doesn't say a word or ever complain, I can sense it. Tears keep rolling down his eyes and he remains silent most of the time."- Roma

How long will my family have to suffer?
Once an active child who loved running around and playing with his toys, Rohit now, has become weak and is unable to even get up from the bed without support. He has lost his appetite completely and barely talks unless he really needs something.
"While we struggle here in Bangalore, my mother and my daughter are waiting for us at home in Siliguri. They live in a rented house and since 2 months, I couldn't pay the rent too… What will I do if they are asked to leave? How long will my family have to suffer like this because I can't afford anything?"- Shyamal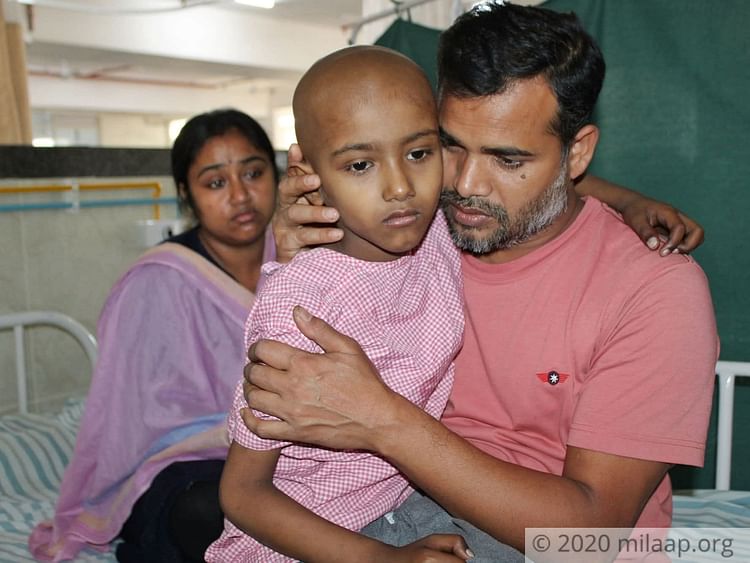 They have been desperately looking for work
Shyamal worked at a clothes shop back in his town but couldn't continue as he had to support Rohit here in Bangalore. For the last 6 months, both
Shyamal and Roma have been trying extremely hard to find a job but nothing seems to work out and nothing pays enough to keep up with the expenses.
"Some say I don't have experience and some don't pay enough. I even tried being a labourer but I don't have the skills or strength to do it. I can't even afford the 80 rupees shelter for my wife to sleep at night. I don't know what to do anymore."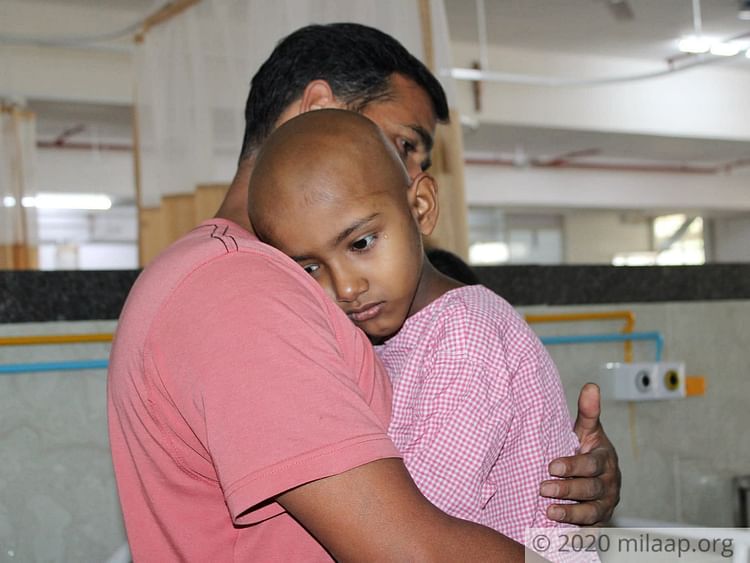 Click here to save this 5-year-old. Only your generous contributions can help Shyamal and Roma take their son home. Only you can save him from cancer.