"Before the disease came and ruined my son's life, he was such a happy boy. He found happiness in simple little things like playing with his younger brother and taking care of him, helping me with the chores at home and watching movies with his father. He never complained about the things we couldn't get him that his friends had but now we can't even give him a normal childhood, a life. This horrible disease is taking him away from us."- Madhulatha
He needs an urgent transplant to survive
Revanth had a deadly disease hiding inside of him since birth but it never came to light up until the day when the parents noticed that his eyes and skin were turning yellow and his stomach started to swell abnormally. Fearing, the parents took him to the hospital and found out about his liver disease.

He suffers from Wilson's disease, a chronic genetic disorder that is causing his liver to fail. The poor child suffers from fluid accumulation in the stomach that is being removed frequently to relieve the pain along with heavy medication but none of it can save him. The only cure to save him is a liver transplant without which he will lose his life and he needs it immediately.


He has lost his will to do anything
"I have never seen my son like this and it is scary. He is so weak that he can't walk, sit or even open his eyes properly. His stomach is swelling uncontrollably and I am failing to free him from this pain. His liver is failing and I am unable to do anything except watch him suffer every minute." - Madhulatha, mother

Revanth has lost his will to do anything. He is unable to gather up enough energy even to talk to his little brother who he adores so much. He just lies in the bed all day trying to sleep hoping that the pain and dullness would go if he just takes rest, unknown that the disease is rapidly spreading in his body.


We couldn't even afford a one-way ticket to go to the hospital
"My husband and I both work as handloom workers. We get daily wages for the work we do and that is how we survive. We are just labourers who live from hand to mouth and no matter how hard we try we will never be able to afford so much money. In fact, we couldn't even afford a ticket to the city for his check-up, it was our people in the village who helped us get this far but now we don't know what to do or where to go. You are our only hope. Please save my child " - Madhulatha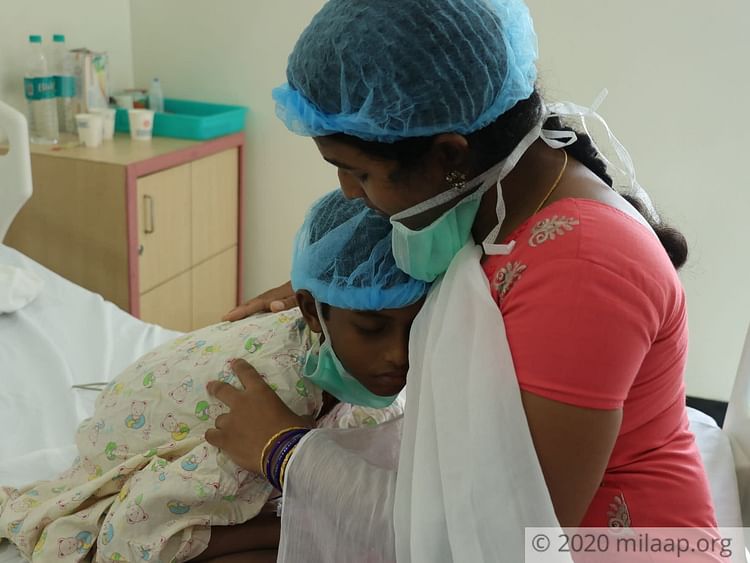 Without an urgent transplant, this 8-year-old will lose his life. Your generous help can save Revanth's life and give him a chance to live a normal life. Only you can save him from failing liver. Click here to contribute.