"Last year, when the doctor told us that my son had beaten cancer, after months of treatment, we were so relieved. Until then, we had lived each day with the constant fear of losing him. But he fought so hard and so bravely, and recovered. We had hoped then that all our troubles were far behind us… Little did I know how wrong I would be."

- Smitha, mother
He was declared cancer-free, but only months later it relapsed
6-year-old Pranam was first diagnosed with

Acute Myeloid Leukemia

, a type of cancer of the blood and bone marrow with excess immature white blood cells, in February of last year. He initially developed rashes all over his body and at a local hospital, blood tests showed a spike in his white blood cell count, confirming he was suffering from cancer.
"He was diagnosed just before the pandemic struck, and we couldn't start his treatment right away because of the nation-wide lockdown. It had also been an incredibly difficult time for us, as we were struggling financially too. Then suddenly in April, his condition deteriorated, and he was extremely critical. I thought we were going to lose him right then." - Smitha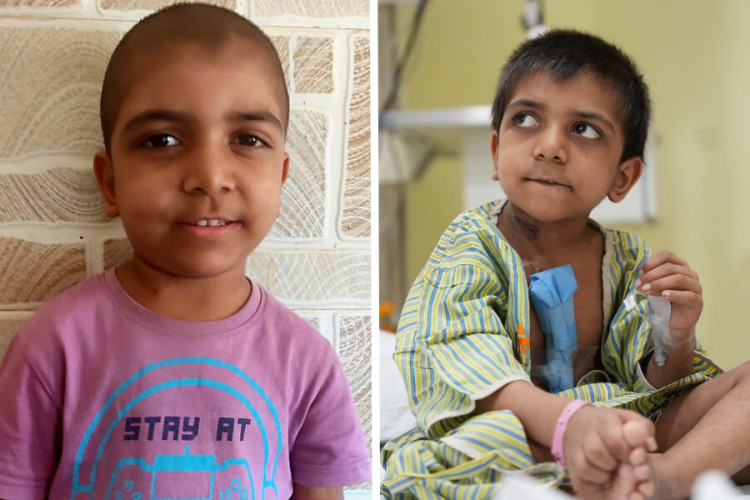 After undergoing intensive chemotherapy for over 5 months, his cancer was in remission.
Until June, this year, when in a follow up treatment, it was found to have relapsed. He began showing the same symptoms again - rashes littering his body, along with high and persistent fevers.
"I didn't even think of the possibility that his cancer would relapse like this… Now they tell us that chemotherapy alone won't be enough. He needs a bone marrow transplant, or the disease could worsen and kill him. " - Siddhalingesh, father
I can save his life, but I am failing miserably
"As soon as his relapse was detected, they began administering him chemotherapy. After 6 cycles of treatment, they said he would need a bone marrow transplant as soon as possible. I have even been matched as his donor. But the procedure costs 20 lakh rupees, and that is just impossible for us to afford. I can save my son's life, but I am failing miserably…" - Smitha
They can't meet the exorbitant expense of their son's transplant
"Because of the pandemic, I was forced to close my photocopy shop. Without our business, we didn't have any means of living. All my savings were spent within the first few days on just the hospital expenses. We begged and borrowed from our family and relatives, and even took out a loan, to keep my son's treatment going. Yet again, I'm at a dead end. We're struggling to afford one meal a day. I have nothing left now, and I don't know what to do.." - Siddhalingesh
These parents have gone above and beyond their capacity to save their son, but now they've exhausted all of their resources. They're in a difficult predicament, and could lose their son to the deadly disease that is plaguing him. They are in desperate need of your help, and will be eternally grateful to you for any support you can give them. Click here to donate.