"Sometimes I can't help but feel that I am cursed. It's been less than a year since I lost my younger son to liver failure, and now Prachi is also fighting a similar disease. I am 5 months pregnant and I am torn between taking care of my 8-year-old Prachi and my unborn baby. No mother should have to go through this, no mother should have to choose between her kids, but that's what fate is making me do now. I don't want to leave Prachi's side, but I keep fearing I'm ignoring the child in my womb," - Parvati, mother.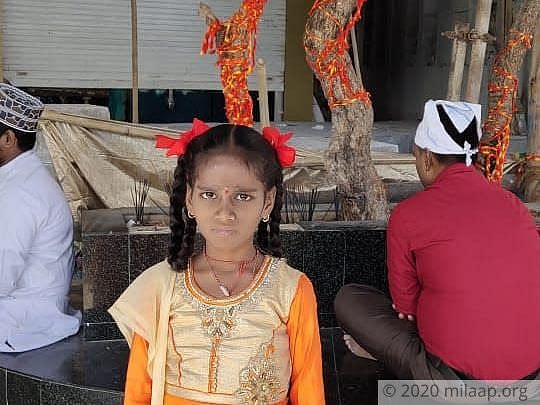 She can't turn sides because of her swollen stomach
Prachi's swollen stomach, yellow coloured eyes and body, are all clear symptoms of Wilson's Disease. It is scarring her liver and she needs urgent treatment. Any delay could mean Prachi facing the same fate as that of her brother.
Ever since she was diagnosed a year and a half ago, her parents, Parvati and Krishnarama, have ensured she takes her medicines regularly. They even took her all the way to Mumbai for frequent checkups.

"It was all going fine, or so we thought until two months ago, when her condition became worse. Her stomach started swelling up and she couldn't even turn sides. With no available public transport, we had to rent a car and bring her immediately to Mumbai. She has been in the hospital ever since," - Parvati.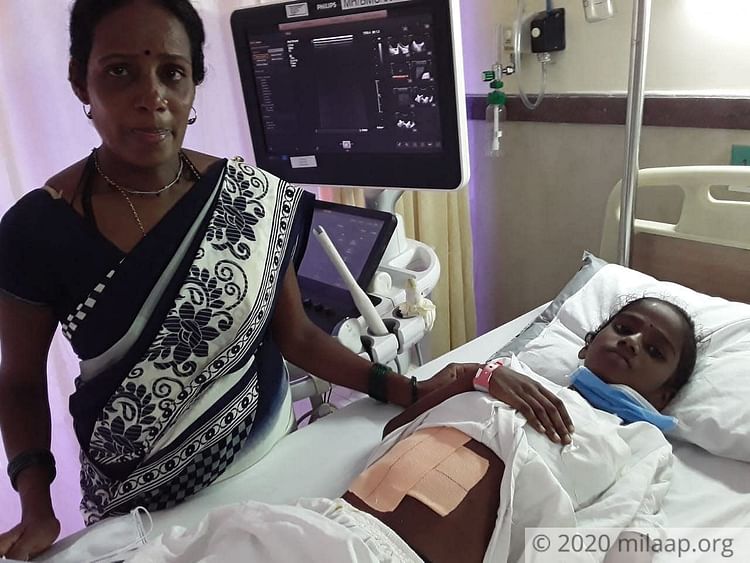 'I can't afford to lose another child'
Parvati and Krishnarama are scared. They are scared thinking they may lose their Prachi just like they lost their son. They are scrambling for funds: they have borrowed from friends, relatives, and even begged strangers! But it's not enough.

"Prachi doesn't have much time. Her stomach is swelling up and the doctors need to drain out the water very frequently. Her medication can't stop and we need 3 lakhs for that. How will we ever afford it?" - Parvati, mother.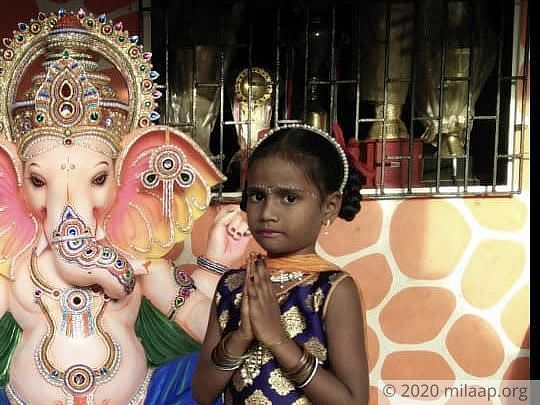 How you can help them
Krishnarama is a fisherman in a small village in Maharashtra. He earns around Rs. 4,000 a month. He neither has savings, nor does he have anything to sell to afford Prachi's treatment. The poor man is so helpless that he hasn't even been able to afford his wife's sonography and the regular medicines that she needs at this time.

"He is doing his best but unfortunately it is not enough. Now only you can save our family. Please save my daughter," - Parvati.
Parvati is 5 months pregnant, yet she has stopped thinking about herself. All she worries about is her daughter, Prachi, now. Prachi's father is helpless too - there is nothing more he can do to save his daughter's life. Even a small contribution from your side will go a long way.