"The surgery could've paralyzed him, maybe even killed him. But without the surgery, they said he definitely would die. So I sold everything of value that we had, borrowed money, and let the doctors cut into my son's brain so they could remove the huge tumor growing there.

But now, months later, the tumor is back! And it has spread to his spine! My son is once again on the brink of death, in an even worse position, but this time... this time there's no way I can save him.

"

— Gangadhar, Pavan's father
Even blinking made this 11-year-old cry in pain
Little Pavan started complaining of a severe headache early this year. His parents had been dumbfounded for weeks as they took him from one clinic to another, getting him all the medicines that were prescribed, because the headache only got worse with each passing day.
"The ache was at the back of his head. It got so bad at one point that even blinking would make him wince and cry in pain!

He would collapse sometimes, holding his head!

"

— Savita, mother
'The word "tumor" knocked the breath out of us'
"When our local doctors couldn't take his pain away, we took Pavan for a scan in the city, nearly 30km away from our village. That's where we found out that... that Pavan had a brain tumor. The word just knocked the breath out of us. He was such a normal, active, boy! A tumor?! When we stepped out of the doctor's office he was sitting outside with his elder sister.

He looked up and tried to smile at us, and asked if we got medicines to make the pain stop. Both Savita and I just broke down into tears that day.

"

— Gangadhar
They thought the surgery would be the end of their troubles
Despite their fears, Gangadhar and Savita did their best to arrange the money for the surgery, praying day and night that their son would return to them safe and sound. The surgery was able to get most of the tumor out of little Pavan's brain, and a course of radiation and some chemotherapy after was able to remove the rest.
"After it all, he couldn't walk or balance properly, and one of his eyes developed a squint. But we were just happy that our son had made it out alive.

We even borrowed a car from a neighbor and went to a temple, to show God our gratitude. But now the tumor is back, and he needs urgent chemotherapy!

"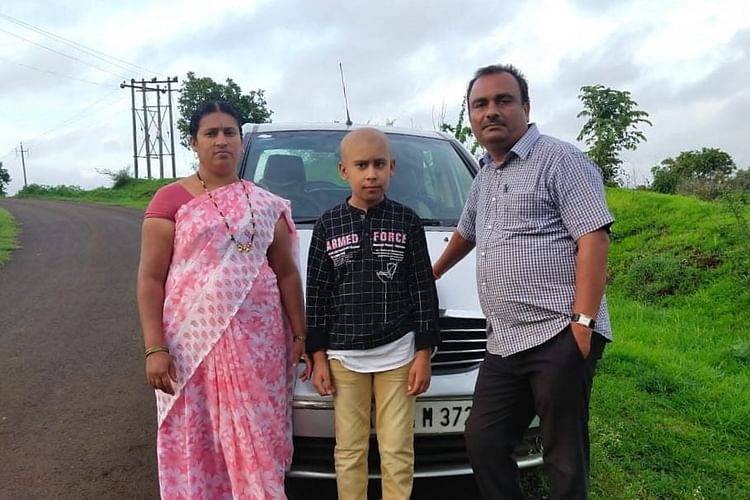 On the way to a temple with a rented car; they were grateful their son was out of danger

This man has tried his best, but he simply cannot save his son's life
"I work in agriculture. I've done everything in my power to keep my son alive this long, selling valuables, borrowing money, using up what little savings we had. I've gotten him two rounds of chemotherapy with the last of our money, but he needs so much more. Every day that there's a delay in his treatment, I fear, could be his last! He doesn't deserve any of this. The other day I asked him if he felt bad about losing his hair again, but he said it looks cool! He's such an innocent boy, please help us save him..."