Sudha hurriedly makes lunch, feeds her youngest child and then rushes to the hospital with a tiffin to meet her eldest daughter, Navya. This has been her daily schedule ever since 11-year-old Navya was diagnosed with

Multiorgan Dysfunction with ARDS (Acute Respiratory Distress Syndrome).

The diagnosis means that the fluid build-up in her lungs is restricting oxygen from reaching other organs.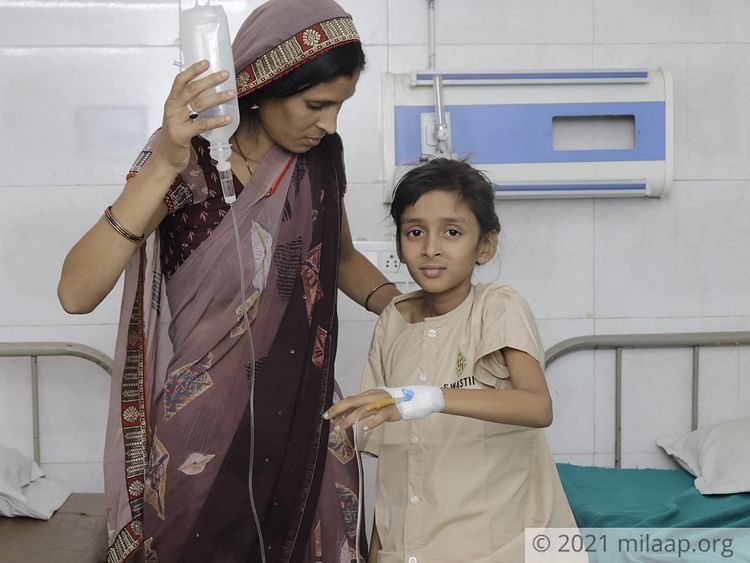 Overnight this family's happiness turned into grief
"My tears have all dried up now. All I know is that I have four daughters to take care of and I can't break down in front of them like this. My husband doesn't tell me much because he is afraid I won't be able to bear how rapidly Navya's organs are failing. But her cries already tell me how much pain she is going through. At home, all her sisters keep asking about her, but we don't have answers for them, anymore."- Sudha, mother

Navya was hospitalized in the first week of May, this year, with high fever and abdominal pain. Her parents realised something was wrong when her belly began swelling up due to an enlarged liver. It was later diagnosed as Hepatitis. Now, her liver and abdomen are retaining excess fluids. With a severe infection in her bloodstream, little Navya is in the PICU on oxygen support, as her lungs are damaged. She needs to stay in the PICU for a few more weeks so that she can get better and fight the infection.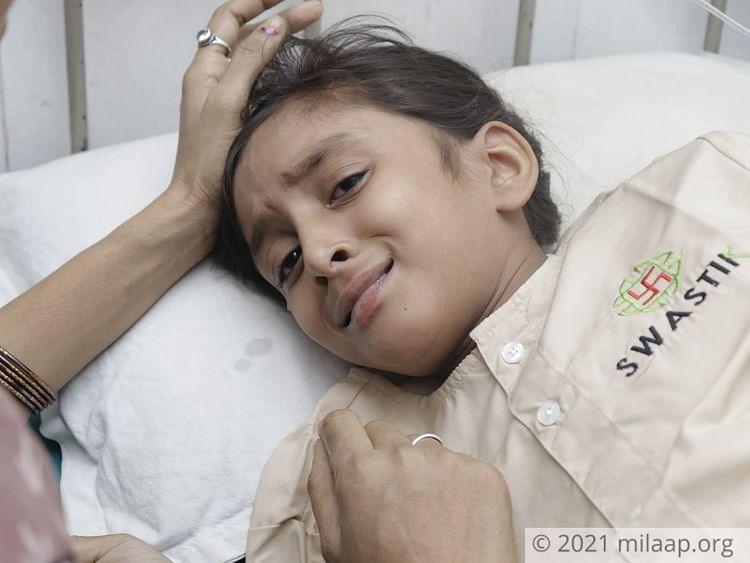 Little Navya is lonely and misses her sisters in the PICU
"Once when I was a kid I had a stomach ache and I recovered within a day. Ma and baba tell me that this time I have bigger germs to fight. I try to breathe and walk without the oxygen mask, but it just hurts so much. The hospital won't allow my sisters to meet me and I miss them so much! It's lonely here; nobody plays or talks to me at all. I just want to go back home soon." - Navya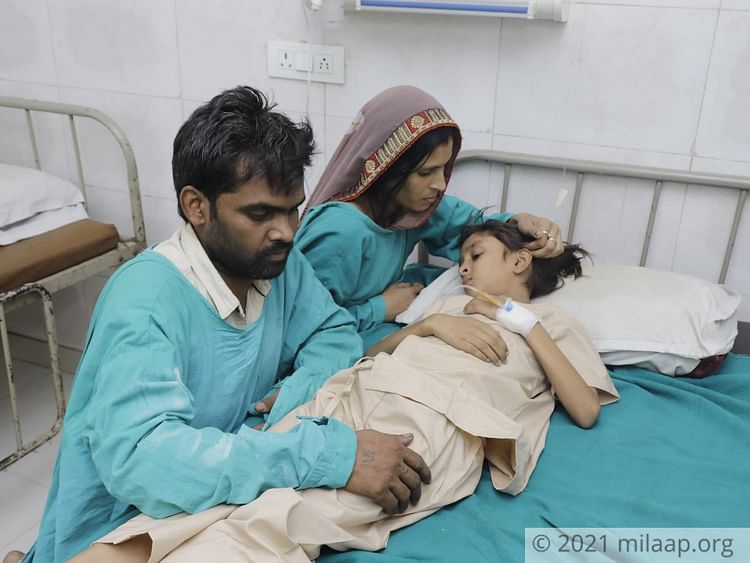 Despite being taunted for having four daughters, Manoj and Sudha dreamed of seeing Navya becoming a successful police officer. They take pride in their daughters and have left no stone unturned to give them the best they can. However, with Navya's mounting medical expenses, Manoj's earnings from labour work are not enough to sustain his family of 7 members. Just her daily medicines cost more than what he makes in a month. The family survives on whatever Manoj manages to earn in a day; if he is lucky even to find work that day, he is able to put food on the table. For him, to even think of arranging 7 lakhs all by himself in few days is next to impossible. But he refuses to give up on his daughter.

With each passing day, Navya faces new health challenges. Her breathing difficulties are getting worse and if not treated urgently, it will only be a matter of time before this infection spreads and damages other organs in her body. She requires intensive PICU care for at least a month to recover, costing approximately INR 7 lakhs. Any break in the treatment schedule could be fatal for Navya; but without a source of adequate funds, it's a possibility the family may just have to face.

Please come forward and help little Navya fight this deadly disease. You can return this little girl's smile!