"The last three weeks have been the hardest. I've spent every day fearing and worrying for my child's life. Seeing him helplessly lying on a hospital bed, kills me. I feel so helpless watching him struggle to even move around without crying because of the pain in his stomach. Why is life being so cruel to my child? Why is it trying to take him away from me?"


- Parameshwari, mother
Thinking it was just constipation, they weren't expecting to learn that their son has cancer
Only a month ago, the house had been filled with the pitter-patter of little Trishar's feet. Life was all about playing and running around for this 4-year-old. But in the blink of an eye, it took an unexpected turn that left his parents absolutely crushed. Initially, they started taking notice of how Trishar was having trouble passing motion. But they never imagined that the cause for his discomfort would be a deadly disease.


"Thinking it was just constipation and he just needed some medicine, I took him to a doctor. He was administered some first aid, but it didn't work. The doctor said he would need a scan, to determine what the problem was. Alarmed at the doctor's words, I immediately heeded to his advice and approached a bigger hospital. But, I wasn't prepared to learn from the reports that my son, my only child, had liver cancer…." - Rohidas, father
A rare cancer has damaged his liver, he needs urgent treatment
Trishar suffers from

Hepatoblastoma

, a very rare cancer of the liver which usually affects children less than 3 or 4 years old. It starts with a tumor in the liver, but the cancer cells can spread to other parts of the body like the lungs. Hepatoblastoma is treatable and patients can recover with chemotherapy and surgical treatments.

The cancer has caused Trishar's liver to swell. As a result his stomach has bulged out abnormally and the little boy is writhing in unbearable pain. He needs to be administered chemotherapy to shrink the tumour, followed by a surgery to remove the cancerous mass.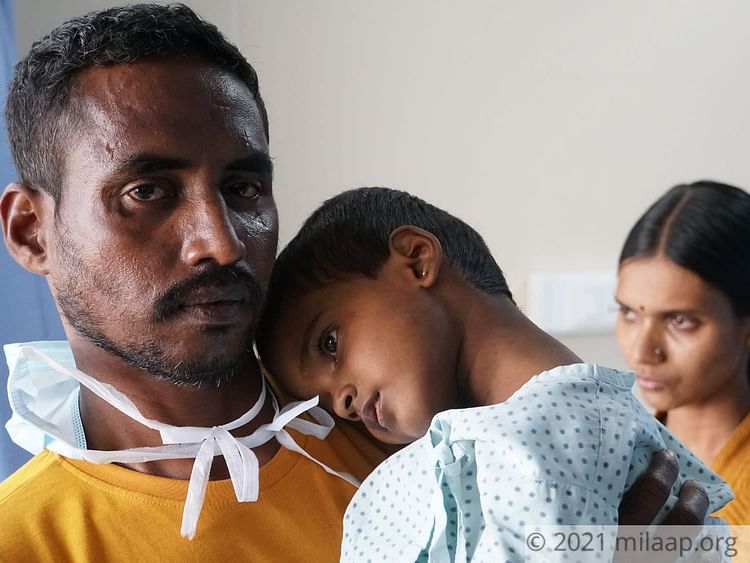 Only a coolie, he is struggling to save his son with no money
Trishar is currently on medication to help ease his problem with passing motion. He needs chemotherapy at the earliest, so he can undergo the surgery and be cancer-free, once and for all. But the treatment costs are beyond his parents' reach.


"When the doctors told me that my son's treatment would cost 11 lakh rupees, I was floored. This is an amount I would never be able to make even if I spent my whole lifetime toiling away. I am just a coolie, with nothing in my pocket. I somehow managed to borrow over 90,000 rupees from my relatives for initial expenses… but now I am at a loss. I don't know what to do. I have been trying to get a loan, but in vain. How will I save my son, with no money?" - Rohidas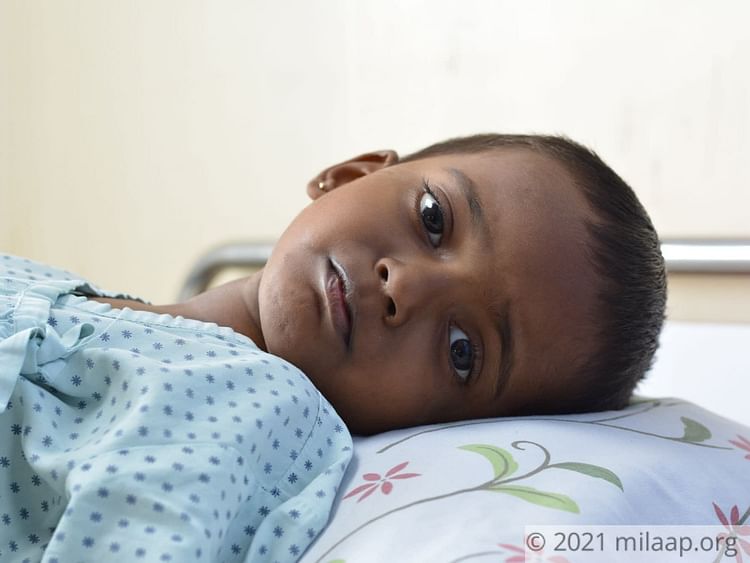 Rohidas and Parameshwari are appealing to you for your help. Their son has been fighting this disease with all his might. But without timely treatment and surgery, they might lose their only child. Your contribution will be of immense help to this family. Click here to donate.