"I had waited to hold him for so long and my delivery had taken a toll on me. When he was finally in my arms, I felt so content and complete. But only a few days later, that happiness turned into dread. I had been feeding him, when I noticed his irregular breathing and sweaty skin. I placed my hand on his chest, and felt his heart beating at a faster pace than normal. That is when I knew something was terribly wrong."


- Jyothi, mother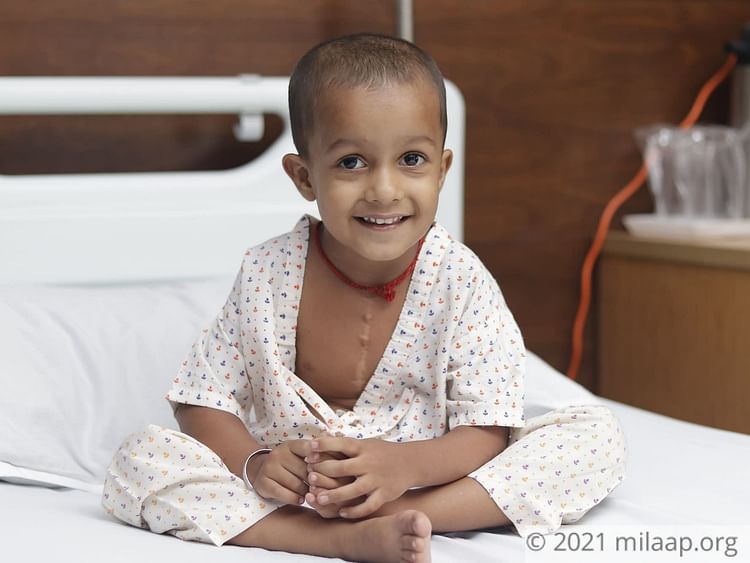 He has a hole in his heart and an open-heart surgery is his only option
Only 4 days after he was born, little Ahaan was found to have a hole in his heart and multiple heart defects. He was diagnosed with Congenital Heart Disease and underwent a surgery at only 7 months old.


"We were hopeful and thought that this surgery was all he needed to get better. Even though we didn't have the money, we somehow managed to get the surgery done. But the doctors told us that he was only out of immediate danger, and would require an open-heart surgery when he was older." - Pradeep, father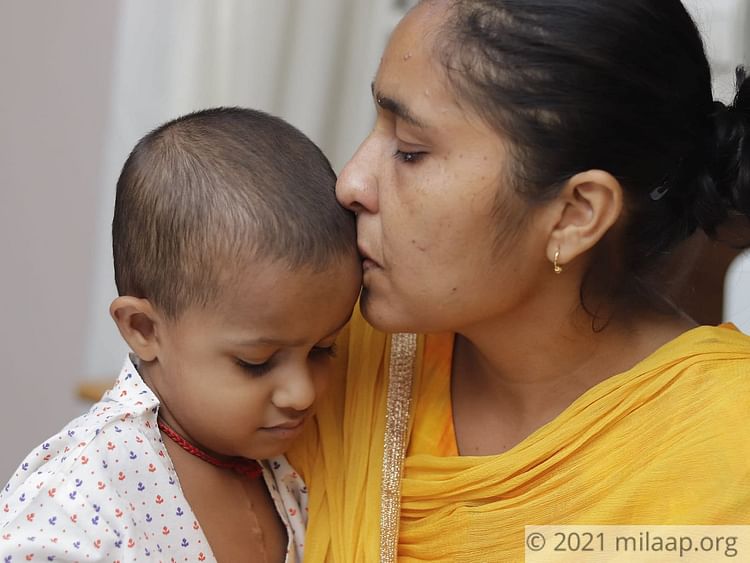 She's terrified that she'll wake up one day and find her son unresponsive
Jyothi lost her father and brother to a brain hemorrhage caused by hypertension. They had both breathed their last whilst asleep, and she had been the one to find them unresponsive. Jyothi's mother also has hypertension, and suffered a brain aneurysm a while ago. She is unable to move an arm and leg, and cannot speak in coherent sentences.


"These past 3 years, not a single night has gone by where my worries haven't kept me up. After losing my father and brother the way I did, I worry that I will wake up one morning and find that my son has succumbed to the same fate. Even his doctors have especially advised me to not let him out of my sight, even for a second…" - Jyothi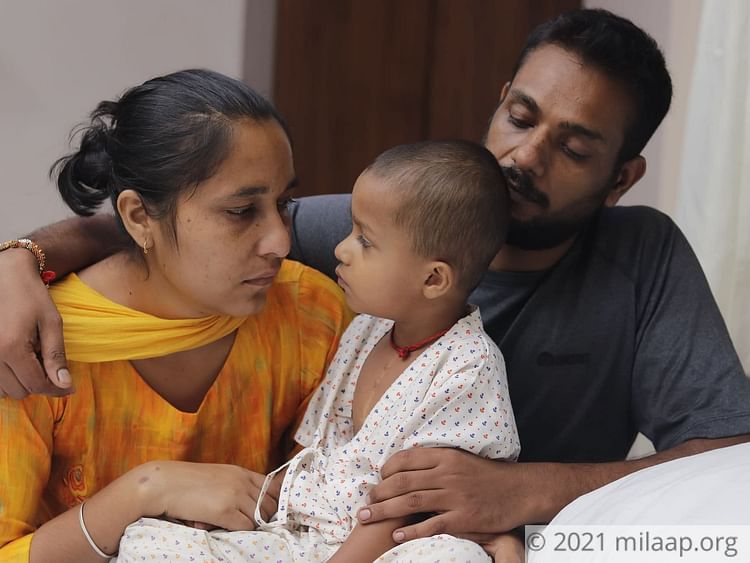 He is so weak, even taking a single step is difficult for him
Ahaan's condition is deteriorating rapidly, that even medicines are not effective anymore. The only thing that can save him now is an open-heart surgery and he needs it as soon as possible. The hole in his heart has in turn left a gaping hole in this 3-year-old's life, as Ahaan has never had the opportunity to live like a normal child. The little boy has no strength left in him. Every step he takes zaps his energy, and he can barely speak a single word without gasping for breath.


Unable to afford the surgery, they are struggling to save their only child
Jyothi and Pradeep hope that this open-heart surgery will give their first and only son a chance to experience the life that he was deprived of. But with no more money in their hands, there is no way they can afford the expensive procedure. For Jyothi, a domestic help, and Pradeep, a sweeper, who earn a measly income, INR 8 lakh is an amount far beyond their reach.


"I feel so helpless, I don't know what to do! Our relatives don't talk to us anymore because we are unable to return the money we borrowed from them, previously. We have no support from my family, since they kicked us out. Now we have no one to turn to in our time of need. Knowing that Ahaan can be saved but I just don't have the money for his surgery, is killing me. I pray every day and beg God to ease his suffering or take it away and give it to me, instead. He's only a small child, he doesn't deserve this pain!" - Pradeep
You can help these poor parents save their child from this life-threatening disease. Click here to donate.